Despite the age groups displayed on LEGO set boxes that usually go up to 18+, LEGO has always transcended age and is loved by both children and adults.
With Father's Day just around the corner, the search for suitable gifts can sometimes be frustrating. What present can you buy to make your father or husband happy?
Even if your dad is not particularly interested in LEGO, you can surely find a LEGO set from a theme that suits his interests and presents a unique gift that he wouldn't expect.
Here are our Top 12 LEGO sets for dad that would make a great gift on Father's day.
75810 LEGO Stranger Things: The Upside Down
Perhaps your father has never watched Stranger Things despite it being a major Netflix hit. Even if this is the case, we recommend this set since it has one of the most innovative designs in the history of LEGO.
We guarantee that your dad will appreciate the cleverness behind this set that can literally be turned upside down. The set also comes with eight incredible minifigures of most of the main characters in the series.
Even if your father is not familiar with Stranger Things, this set could spark the interest and you can end up binge-watching it as a family. Despite the hefty price tag, this is one of the sets that truly delivers in every category – building experience, playability, and variety.
Year: 2019
Piece Count: 2287
Ages: 16+
Minifigures: Demogorgon, Dustin Henderson, Eleven, Jim Hopper, Joyce Byers, Lucas Sinclair, Mike Wheeler, Will Byers
Original Retail Price: $199.99
Theme: Stranger Things
75277 Boba Fett Helmet Bust
After the series of sets released for the youngest generation of fans in 2018 and 2019, LEGO turned their attention to the adult market and announced their brand new bust sets.
Giving fans the opportunity to recreate and own iconic display pieces of some of the old fan-favorite characters, 75277 Boba Fett Helmet Bust is an incredible gift idea to consider for Father's day this year.
Besides the actual set design that impresses with movie accuracy and size, we need to mention the collector's box that significantly surpasses the usual LEGO boxes that we are used to. Perhaps this is also why the price appears to be higher than usual, but the box is truly significant and aimed to commemorate the 40th anniversary of  Star Wars Episode V: The Empire Strikes Back.
Year: 2020
Piece Count: 625
Ages: 18+
Minifigures: no minifigures
Original Retail Price: $59.99
Theme: Star Wars
76139 1989 Batmobile
Batman has been around for decades and in 2019, LEGO released the 76139 1989 Batmobile for the 30th anniversary of one of the greatest Batman movies of all time.
If you have a father who is a DC Universe fan, this is a set that will bring up the nostalgia and perhaps turn out to be his favorite gift ever. The design is an exact copy of the Batmobile from the 1989 movie and it truly brings that exclusive feeling that you want from a set like that.
And if the actual model isn't great enough, the set comes with three iconic minifigures based on real-life actors from the movie. We cannot stress enough how unique this Joker minifigure is. It perfectly captures the Joker of Jack Nicholson with outstanding printing that easily ranks it among the greatest LEGO minifigures of all time.
As for the Batmobile, LEGO did an outstanding job with the design and scale of the model. Somehow, they succeeded in recreating all the unusual curves and edges of the iconic car and we guarantee that it looks even better in person than on the box.
Last but not least, we believe that the price tag here is an absolute steal in comparison to most LEGO sets in recent years.
Year: 2019
Piece Count: 3306
Ages: 16+
Minifigures: Batman, the Joker, Vicki Vale
Original Retail Price: $249.99
Theme: Super Heroes
42111 Dom's Dodge Charger
LEGO has continuously been releasing incredible car models and the 42111 Dom's Dodge Charger is one of the newest additions to this iconic line of sets.
Few people dislike the Fast and Furious franchise which is why we believe that this is one of the most suitable car sets to gift to your dad. Furthermore, even if your father is not a fan of the movies, is there a man that hasn't dreamt of the 1970s Dodge Charger at least once in his life?
Generally, this is a medium-sized set that perfectly captures all the details involved in Dominic Toretto's car from the movie. It is a beautiful display piece that will draw attention despite it being all black. In addition, the build differs from all other Technic vehicle sets which add more to the whole experience.
Year: 2020
Piece Count: 1077
Ages: 10+
Minifigures: no minifigures
Original Retail Price: $99.99
Theme: Technic
21321 International Space Station
Space has been one of the major interests of humanity for thousands of years but only in the last century has mankind made any significant scientific progress in this direction. For this Father's Day, you can bring one of our greatest achievements to your home – the 21321 International Space Station.
This brand new LEGO Ideas model is highly affordable and quite a steal for its price. It is relatively smaller than you would expect from such a grand vessel but the design is spot on and makes for an amazing display piece.
The construction is sturdy, it combines different smart techniques throughout the build, and the overall design is impressively accurate and detail-oriented. It is definitely not your typical playset which is another reason why we recommend it for dads.
Year: 2020
Piece Count: 864
Ages: 16+
Minifigures: nanofigure x2
Original Retail Price: $69.99
Theme: LEGO Ideas
75244 LEGO Star Wars: Tantive IV
There are several iconic vehicles in Star Wars that always draw attention and receive an appraisal from fans. The CR90 Corvette, more commonly known as Tantive IV, was the first starship that people saw in the original Star Wars: A New Hope movie, and throughout the years, it has appeared in several unique sets.
The latest version from 2019 is an all-round outstanding set. If you have a father who is a Star Wars fan, we cannot recommend a better set from the ones that are currently available.
This new Tantive IV is by far the most accurate recreation of the iconic ship and combines all the small features and details from the original subject matter. It comes with a large minifigure selection that features some of the obvious main characters and several rare ones like Bail Organa and Raymus Antilles.
Last but not least, it comes at a great price in comparison to most sets from the recent waves which is another bonus point for you to consider.
Year: 2019
Piece Count: 1768
Ages: 12+
Minifigures: Leia Organa, C-3PO, Bail Organa, R2-D2, Raymus Antilles, Rebel Trooper
Original Retail Price: $199.99
Theme: Star Wars
10265 Ford Mustang
One of the most spectacular sets out of all the LEGO vehicles is the 10265 Ford Mustang. As you probably know, this is one of the most legendary cars in history and LEGO successfully captured most of its magnificence in this set.
With its incredible build and attention to detail, the community often ranks this model as the greatest vehicle set to have ever been released. You can expect to see all the features that this car is famous for, including a variety of customization options.
In other words, this set is an absolute must for any car fan and could be the perfect gift for your dad even if he is not too interested in either LEGO or cars.
Year: 2019
Piece Count: 1471
Ages: 16+
Minifigures: None
Original Retail Price: $149.99
Theme: Creator Expert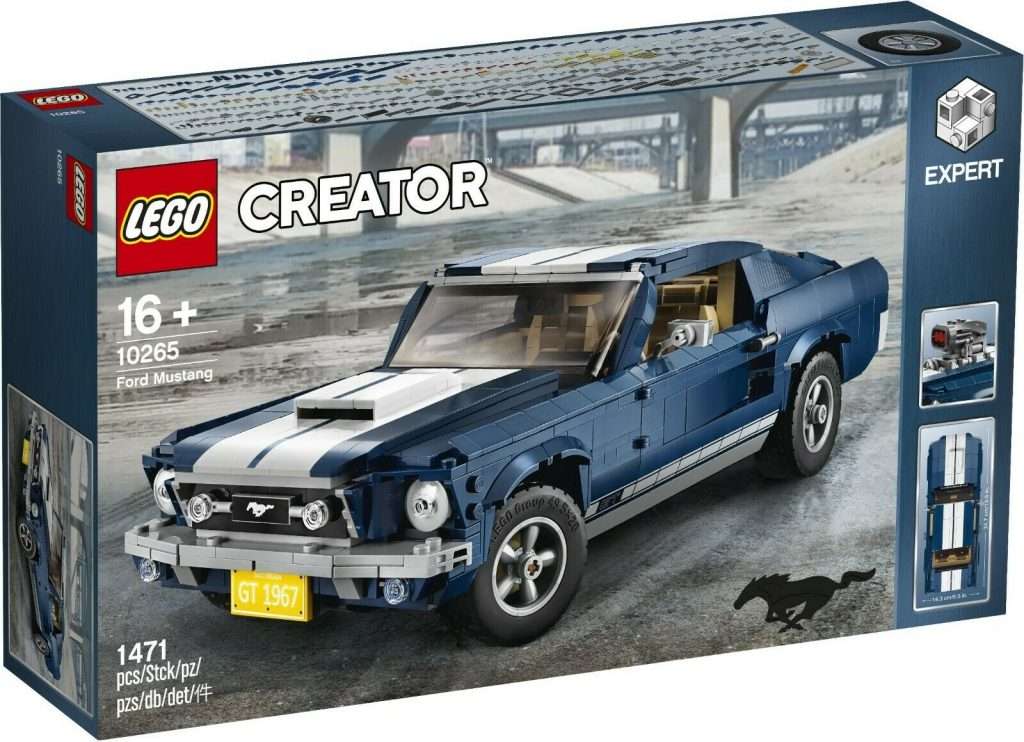 21322 Pirates of Barracuda Bay
Based on a classic set from 1989, the 21322 Pirates of Barracuda Bay is an outstanding set that is both innovative and perfectly designed. Since it is a LEGO Ideas set, you can either build the set to present the detailed shipwreck, or you can take the majority of excess items and build the actual Black Seas Barracuda ship.
The set includes a large minifigure selection comprised of pirates and numerous accessories that you rarely find in LEGO sets. We particularly consider this to be one of the sets that are most suitable for adults due to all the slightly complicated features that you can use. Besides that, who doesn't love pirates and treasures?
Last but not least, the price tag on this set is incredible and offers great value based on the number of pieces and more importantly, the number of outstanding features in the set. I imagine some fans getting two of these just to have both builds intact at the same time – the shipwreck and the actual ship.
Year: 2020
Piece Count: 2545
Ages: 16+
Minifigures: Captain Redbeard, Lady Anchor, Robin Loot, Port, Starboard, Quartermaster Riggings, Jack "Dark Shark" Doubloons, Tattoonga, Skeletons x2
Original Retail Price: $199.99
Theme: LEGO Ideas
10272 Old Trafford – Manchester United Stadium
The announcement of this set was surprising since LEGO has never produced anything similar before but we have to say that it is a truly impressive set that has only one issue – it is not as large as we imagined.
Having that most men and most dads are football fans or at least semi-interested in the sport, this is an absolutely suitable gift for nearly any father. As long as your dad is interested in the sport and is not a Liverpool or Manchester City fan, we guarantee that he will love this set as a gift.
Overall, this is a fantastic set and an even better display piece once built. The process is quite diverse and combines numerous smart techniques that you might have never used before. With close to 4000 pieces, it will keep you and your dad occupied for many hours.
The only way for this set to be more incredible would have been the addition of player minifigures but I guess that would have been too expensive to produce.
Year: 2020
Piece Count: 3898
Ages: 16+
Minifigures: None
Original Retail Price: $299.99
Theme: Creator Expert
75275 A-Wing Fighter
The latest addition to the LEGO Star Wars UCS theme is the 75275 A-Wing Fighter. This is a ship that has been released numerous times throughout the years and thus, many people were skeptical about the decision to make it into a UCS set.
Nevertheless, it is a surprisingly well-made A-Wing that truly is movie-accurate when compared to several of the older smaller versions. The build itself includes several smart techniques that you maybe did not expect and it is an overall fun build.
If your father is a dedicated Star Wars fan and you want to present him with a unique display piece, the new LEGO A-Wing could be the most suitable decision.
Year: 2020
Piece Count: 1673
Ages: 18+
Minifigures: A-Wing pilot
Original Retail Price: $199.99
Theme: Star Wars
71006 The Simpsons House
The Simpsons is one of the most iconic animation series in history and continues to be highly demanded to this day. Set 71006 The Simpsons House was released in 2014 to commemorate the 25th anniversary of the show and was an incredible hit.
Today, you can find it either brand new or used on websites like Amazon, eBay, and Bricklink. If you have a hardcore Simpsons fan at home, nothing would make a better gift.
Overall, it is a well-designed set that includes the iconic house and all of the main characters from the cartoon. Unlike many other similar sets, this house is incredibly sturdy and detailed – it has all the small features you would expect and more.
Last but not least, the minifigures are truly remarkable – easily some of the greatest minifigures of all time. Overall, this is a beautiful set that would make the perfect gift even if your dad is not too fond of the Simpsons.
Year: 2014
Piece Count: 2523
Ages: 12+
Minifigures: Bart Simpson, Homer Simpson, Lisa Simpson, Maggie Simpson, Marge Simpson, Ned Flanders
Original Retail Price: $199.99
Theme: The Simpsons
21108 Ghostbusters Ecto-1
The last recommendation on our list is an absolute classic and must-have if your father is a fan of the Ghostbusters. The franchise that started decades ago is surely something that will create nostalgia and there is no better set to do that than Ecto-1.
Unfortunately, this is a retired set from 2014 but it can easily be found on websites like Amazon and eBay, both brand new and used.
The set itself has a fun and detailed design that perfectly resembles the iconic vehicle. The minifigures aren't as significant as you would want but what more can you expect from four characters with identical outfits.
Overall, it is a smaller set than all others that we discussed but the fact that it is a LEGO Ideas set and specifically made for an anniversary adds up to the exclusiveness.
Year: 2014
Piece Count: 508
Ages: 10+
Minifigures: Dr. Peter Venkman, Dr. Raymond "Ray" Stantz, Dr. Egon Spengler, Winston Zeddemore
Original Retail Price: $49.99
Theme: Ghostbusters
Final Thoughts
If you have never thought about surprising your father with a highly-collectible LEGO set for father's day, by now you should realize that LEGO is an incredible idea with all the separate themes and thousands of sets.
Whether your father has a favorite movie or franchise, maybe a character or he prefers a certain type of vehicle, LEGO has got you covered with the perfect set for the occasion. Even if you did not find the most suitable present in the list above, make sure to check out the different LEGO themes.
If it was up to us, we recommend choosing one of the LEGO vehicle sets since there is no way to go wrong with a car.