Neopixel technology was created to make the most immersive and reactive lightsabers. The following article will give you 12 neopixel lightsaber companies that operate at a range of price points and levels of customization.
When people think of the Star Wars franchise, the first thing they might think of is the epic lightsaber battles between the Jedi and the Sith. Since the release of the movies, fans have been able to purchase custom lightsabers of their very own for Jedi cosplay, or to reenact those pivotal moments in the movie. Over the years the technology has drastically improved to make the most realistic and customizable lightsabers imaginable.
Neopixel lightsabers are also known as Plector Pixel Lightsabers, Pixel Sabers, or Neo Sabers. They are built with flexible LED strips inside the lightsaber blade itself. This does make neopixels more expensive than hollow blade lightsabers, but the effects that the LED strip allows makes it absolutely worth it for any fan or cosplayer who wants that authentic experience.
The neopixel lightsaber is usually controlled by the soundboard in the hilt so that the sound and light animations can be perfectly synced. A couple of popular options for neopixel compatible soundboards are the Proffleboard and the Plector Labs Crystal Focus 10 (CFX) soundboard.
Recommended Neopixel Lightsaber companies
Saberforge
Starting with one of the biggest names the lightsaber business is Saberforge. They are best known for their wide variety of customization options for any look or price that you want. All of their custom orders are done in-house, letting them provide dozens of blades, hilts, and wraps.
You could even pick up one of your favourite character's lightsabers. There are budget-friendly options with entry-level lightsabers starting at just under $100 USD.
The Eco Tier Sabers all have an optional Proffie Pixel upgrade. Proffie Pixel is simply Neopixel by another name. It contains a Proffieboard which is an open-source soundboard with neopixel support. The result is a more realistic sounding and acting saber. Also, the lightsaber color can be changed on the fly with a 360-degree color editor.
Originally the Hero Tier Sabers had an option neopixel upgrade and were equipped with a Golden Harvest V3 board. At the time of writing this, the Hero Tier isn't currently available however you may be able to find a used one on eBay.
Vader's Vault
Vader's Vault is the king in quality and durability. Their sabers are hand-made with the utmost care to ensure your lightsaber will survive through every battle. This does mean they are at a higher price point than most of the other saber companies on this list. They also have a very long wait time, but Vader's Vault will make the wait worth it.
If you're ordering one of their custom sabers, choose Plector Pixel RGB in the Blade Lighting options for a neopixel blade. If you already have your own blade, there is an option to simply have the hilt built neopixel ready. Their ready-built options may be called Plector Pixel Sabers, or Plector Sabers. They are equipped with a Plector Labs Crystal Focus 10 (CFX) soundboard.
Sabertrio
Found in Malaysia, Sabertrio is another company with budget-friendly options for a lightsaber. They have eight hilt styles to choose from and have a distinctive sleek and ergonomic design.
They don't offer character designs at this time, however many of their hilts have design features that have been inspired by character-based models. They also have options for weathering and etching. If you're not sure what you want, or if you have any problems, Sabertrio has forged a reputation to have great and responsive customer service.
Like Vader's Vault, Sabertrio uses the Plector Labs Crystal Focus 10 (CFX) soundboard to control the neopixel blades. Every one of their hilts has the option for a neopixel blade and they refer to them as Neo Sabers.
Electrum Sabercrafts
Electrum Sabercrafts is a newer company but they hit the ground running with their smart saber technology. Their smart sabers are able to connect to your phone via Bluetooth with their purpose build app. The app puts hundreds of customization options at your fingertips including blade colour, lighting effects, motion effects, and sounds.
They have eight saber types that have the option for a neopixel blade; the Scion Smart Saber, Aurora Smart Saber, Allegiant Smart Saber, Ebon Razor Smart Saber, Aegis Smart Saber, Neophyte Smart Saber, Evi-Flex Smart Saber, Remnant Smart Saber, and Torrent Smart Saber. Electrum Sabercraft sabers are equipped with the proprietary Diatium 3 soundboard.
Bendu Armory
Bendu Armory creates the first carbon fibre sabers that are combat-ready and indestructible. They have a few aluminum options as well. They also have a QuickSwap chassis that will let you swap the electronics from one hilt to another.
Bendu Armory uses either the Plector Labs Nano Biscotte V4 (NBV4) or Plector Labs Crystal Focus 10 (CFX) soundboard.
Kaizen Saber
Kaizen Saber is a Canada-based store that creates lightsabers built to last. Every hilt is made with a CNC machine from aircraft-grade aluminum. This makes the hilts both lightweight and rigid enough to survive any battle. Their hilts are intricately designed to make them absolute works of art.
Their two main lines, the Darksai V2, and the Okami, both have a neopixel option (look for the Crystal Chamber with Sound option). From there you can pick between the Proffie soundboard and the Plector Labs Cyrstal Focus 10 (CFX) soundboard.
The Pach Store
The Pach Store is where to look if you're working on a tight budget. They have plenty of options under $100 (even neopixel options). They have both character-inspired, and original designed lightsabers.
The Pach Store is able to offer these prices by acting as a reseller for other lightsaber brands. They have been seen to carry Ultimate Works, and Wonder Force lightsabers. There are also some OEM lightsabers. With Pach Store working with other brands, some of their models are a staple to the store, while others get cycled out.
Their neopixels sabers are equipped with the Proffieboard or the Asteria soundboard.
Dark Force Custom Sabers
This United States-based company creates custom lightsabers and lightsaber parts. They have a variety of lightsabers in their shop, but you can also commission a one-of-a-kind lightsaber that is all your own. They also have the parts for you to make your own lightsaber.
Their neopixel sabers are equipped with the Plector Labs Crystal Focus 10 (CFX) soundboard.
Korbanth Sabers
Korbanth Sabers are created with such high quality and contain such high visual detail that they were recognized by Disney and were used in The Last Jedi.
Korbanth is known for their stellar customer service, so if you need help picking your perfect lightsaber, or if something goes wrong, they will be there for you. Also, they tend to sell their sabers in batches, so if you see one you like, better grab it fast.
Their neopixel blades are built with a Proffieboard. If you're visiting their store, look for "N-Pixel" in the saber name, or "Neo Pixel Sabers".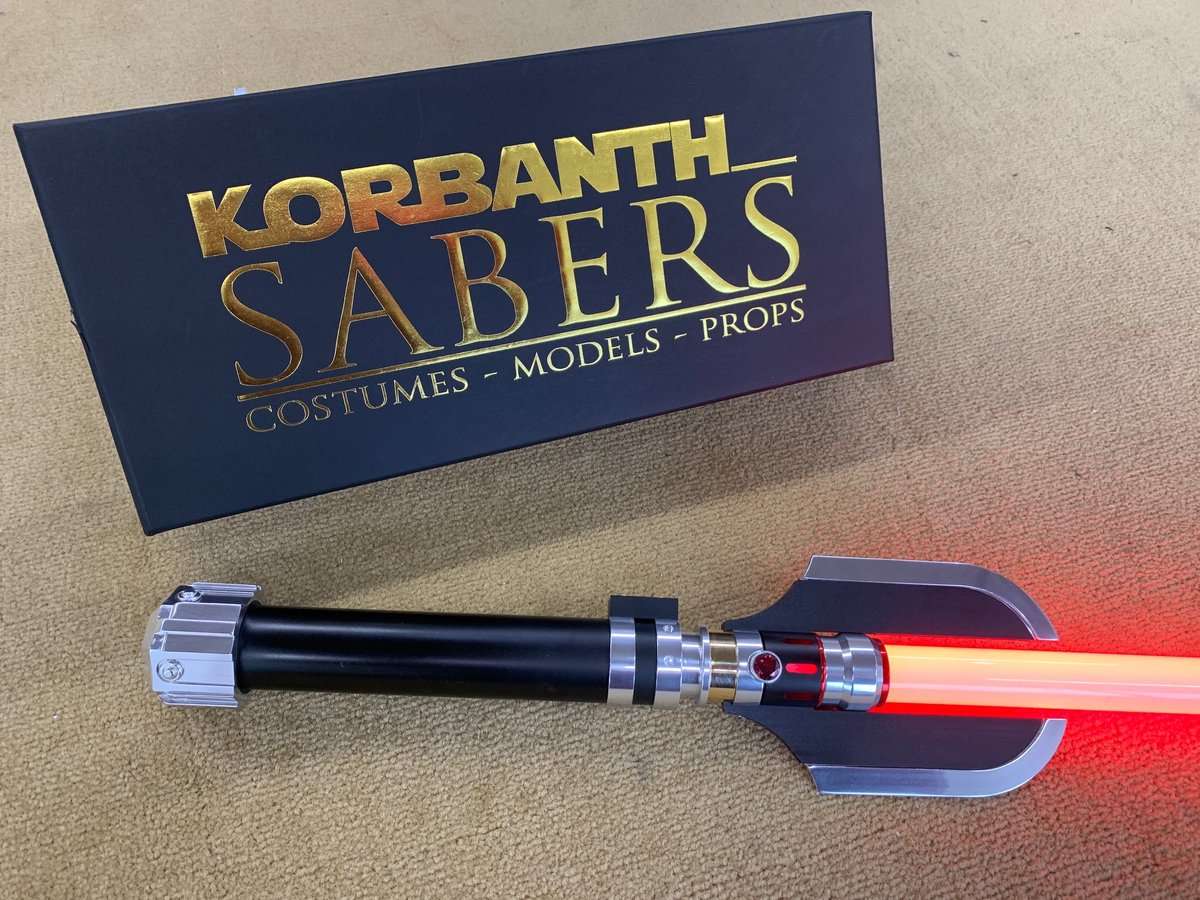 Genesis Custom Sabers
Genesis Sabers are created by one man, Rob Petkau. As an avid fan of the Star Wars Franchise, Rob Petkau set out to create and design the best lightsabers that any fan could hope to get their hands on.
He has been handcrafting lightsabers since 1998 and they are a work of art. His designs and finishes give his lightsabers the look and feel of having seen real battles and being in the hands of a real Jedi or Sith in a galaxy far far away.
This level of craftsmanship comes with a hefty price tag. The starting price is $2000, though with customizations it can far exceed that. Rob's attention to detail makes it absolutely worth it. They aren't open to commissions right now, but there is usually a ready-to-ship promotion on May 4th, also known as Star Wars Day.
Rob Petkau uses the Plector Labs Crystal Focus 10 (CFX) soundboard in his lightsabers.
JQ Sabers
JQ Sabers is based in the United Kingdom and supplies both paths and completed lightsabers. Their designs come in a wide variety, from sleek and metallic, to weathered and battle-scarred. From their website, you can either pick up one of their ready-to-ship lightsabers, or you can order a completely custom lightsaber.
Their neopixel blades are equipped with the Plector Labs Crystal Focus 10 (CFX soundboard.
The Custom Saber Shop
Say you don't want to buy a fully built lightsaber? If you're the type to roll up your sleeves and get hands-on with your lightsaber, then you need the Custom Saber Shop. They have established themselves as a one-stop-shop for anything you might need to build your very own lightsaber. This includes empty hilts, neopixel parts, electronics, and other supplies.
If you're planning on building a neopixel lightsaber, they carry both the neo pixel blades and the Plector Labs Crystal Focus 10 (CFX) soundboard.
What is your favourite place to find a neopixel saber? Let us know in the comments!