Fans of the Star Wars franchise, in our own little galaxy far far away, have a profound fondness for recreating epic duels with realistic custom lightsabers. Whether their intention is to learn the art of dueling akin to a Jedi Knight or to indulge in cosplay as their beloved characters, the unparalleled popularity of the franchise has made this a widespread fascination. Fortunately, enthusiasts are not restricted to solely relying on toys and Force FX lightsabers for their creative endeavors.
There are many custom lightsaber companies that design and build custom sabers to fit your every need and specification. And if you would rather build your own lightsaber, several of the companies mentioned below sell the parts to make that dream a reality. Each company offer many different color lightsabers too.
The lightsaber is one of the most iconic weapons within the Star Wars universe. It is typically used by the Jedi, the Sith, and other Force-sensitive individuals. The weapon itself consists of a metal hilt with a laser beam that is powered by a Kyber crystal.
Best Lightsaber
It is important to note that none of the custom lightsaber companies on this list are officially licensed by Lucasfilm, so they are unable to use the character names for their lightsabers. But without further ado, here is a list of our ten favourites lightsaber companies.
Custom Lightsabers by Korbanth Sabers
At the top of our list, we have Korbanth. Their lightsabers are of such high quality and contain such visual detail that they were recognized by Disney and were used in The Last Jedi.
Korbanth has both empty hilts, and neopixel sabers, meaning there is something there for both the fan who just wants to hold a lightsaber in their hand and the builder who wants to build it with their two hands.
They sell their lightsabers in limited runs so if you see the one you want, be sure to grab it while you can. While you're there, don't forget to check out their costumes and models as well.
Korbanth is reported to have some stellar customer service, so you're never left wondering where in the universe your new lightsaber might have floated off to.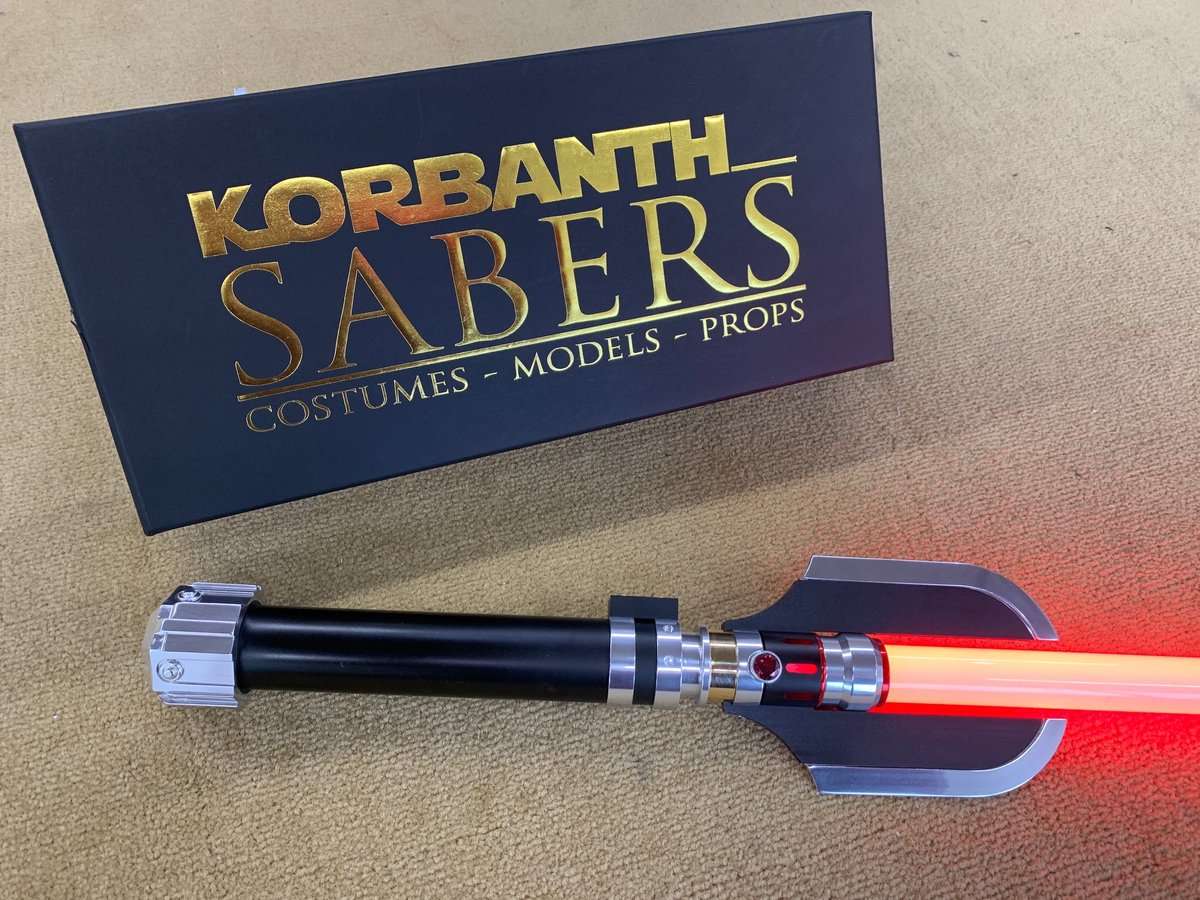 Saberforge
No list of lightsabers would be complete without Saberforge. They are by far the biggest name in custom lightsabers for their quality, variety, and price. These sabers are made with stunning movie quality detail and are built to endure full contact duelling.
They are also budget-friendly, with the entry-level sabers starting at just over $100 USD.
The true highlight of Saberforge however is their variety. There is simply no other company that matches their range of customization, from your favourite characters' lightsaber to one that is all your own.
They do all of their custom orders in-house, letting them provide dozens of blade, hilt, and wrap colours, providing thousands of combination possibilities. Including white sabers wielded by Ahsoka Tano.
Aside from their lightsabers, Saberforge also sells props, cosplay accessories, blasters, and datacrons.
Vader's Vault Custom Lightsabers
If you dream of duelling against the toughest of foes, Vader's Vault will make the lightsaber for you. Every one of their lightsabers is masterfully crafted to make them the absolute most durable on the market.
The care it takes to make a single lightsaber does mean that these sabers are more expensive than others on this list. Your saber is also made to order, meaning it may take some time for your order to be processed.
Depending on the model, Vader's Vault currently estimates 6 to 12 months to build and receive your order. However, Vader's Vault will make the wait worth it.
If you can't wait, Vader's Vault does occasionally have ready-to-ship options. These sabers are usually created when the company is experimenting, either with new features or powder coat colours.
Ultrasabers
When most people thinks of lightsabers, they think of the duels. The sound of laser blade powering on, the hum of power as it lies in wait, and the clashing sound of two lightsabers duelling against each other.
This is what the Ultrasaber was built for, to give everyone the cinematic feeling of being right there in the Star Wars universe.
Ultrasabers are built to withstand intense duels, and have one of the loudest soundboards on the market, meaning you will always be able to hear the authentic sounds of the duel.
If you enjoy tinkering, Ultrasabers also make their sabers very easy to take apart and change out parts to match your desire.
The Pach Store
If you're working with a tight budget then the Pach Store is for you. They can provide you with a good quality custom lightsaber at a fraction of the cost from other companies with plenty of options starting under $100 USD.
The Pach Store also carries a range of replicas and props that are worth checking out. Despite being stationed in Hong Kong, shipping is usually fast.
Electrum Sabercrafts
Electrum is a newer company but has already hit the ground running with its smart saber technology. This lightsaber is able to connect via Bluetooth to your phone with its purpose-built app.
Through the app, you have a tonne of customization options including the blade colour, lighting effects, motion effects, and sounds. Also, if you have several people who want to try out the lightsaber, the app is able to save multiple user profiles, so everyone gets to customize it just for them.
Aside from the smart settings, the Electrum Sabers offer a myriad of build options, from hilt colour scheme, input backlighting, and blade type. Plus there is an option for weathering, for those who love that battle-scarred look.
Genesis Custom Sabers
Genesis is the absolute king of high-quality, hand-crafted custom lightsabers. The company is run by one man, Rob Petkau, who is an avid fan of the Star Wars universe. So much so that he started crafting lightsabers in 1998.
Rob's lightsabers are, in a word, a work of art. Each one is masterfully handcrafted with the finest of detail. Aside from that, the lightsabers are made with some of the best sound designs.
However, this level of craftsmanship comes with a hefty price tag. The starting price of his lightsabers is $2000 USD, but with customizations, the price can far exceed that.
Sabertrio
Sabertrio is another option for a budget-friendly lightsaber. Based in Malaysia, this company offers a selection of eight hilt styles. Each hilt style comes in a variety of finishes, from aluminium to blacked-out.
What sets this company apart is that they do not carry any character-specific designs. While you can see the inspiration for some of their hilts, they opted to create designs all their own. All of their sabers have a very sleek and ergonomic design.
Aside from the lightsabers, they also sell a selection of stands and travel bags, so that your lightsaber is safe and protected at home or on the go.
Kyberlight
If you enjoy on-the-fly customization, then Kyberlight may be the option for you. Kyberlight started as a Kickstarter campaign and since they have built their company to be a great entry-level option for anyone wanting a lightsaber.
The interesting thing about Kyberlight is that they offer only one hilt style. This works to their advantage when you pair the hilt with dozens of accessories to make a one-of-a-kind creation.
Accessories include hilt sleeves, pommels, and a connector to join two sabers together. All of these accessories can be easily swapped out at a moment's notice.
Each saber comes with a variety of accessories in the box, but more accessories can be bought individually or in bundles. If you have kids, there is also a child-sized starter kit that features a shorter blade.
KR Sabers
The last entry on this list goes to the builders. KR Sabers carries a variety of empty hilts, along with everything you might need to build your dream lightsaber from the ground up, from lights and switches, to soundboards. Their flagship KRS V2 is available in Aluminium, Brass, or Plated Brass and is polished to a mirror-like finish (think of C-3PO).
KR Sabers also carries several prop kits including the KS X OR TD (Thermal Detonator, also featured in Adam Savages One-Day Builds) or the Bounty Hunter Brick.
Which was your favourite custom lightsaber? Let us know in the comments.