In 2019 Hasbro released a new line of Star Wars action figures called the Retro Collection. The figures are recreations of the original Kenner designs from the late 1970's and early 1980's. The figures are 3.75″ scale and have 5 points of articulation (5POA). The packaging of these figures also recreates the Kenner card backs with the classic race track design with the figure displayed within a bubble (Blister).
To make these recreations distinguishable from the originals, Hasbro designers decided to include a Retro Collection sticker on the front of the card and also create a weathered style around the edges.
Since 2019 Hasbro have continued to release figures under the Retro Collection moniker, but have also created characters never made by Kenner, including characters from new media such as The Mandalorian and Obi-Wan series.
Last updated: 07 March 2023
Star Wars Retro Collection Checklist
Wave 1 (A New Hope)
Luke Skywalker
Han Solo
Princess Leia Organa
Chewbacca
Darth Vader
Stormtrooper
Escape From Death Star Game
Wave 2 (Empire Strikes Back)
Boba Fett
Han Solo (Hoth)
Leia (Hoth)
Luke Skywalker (Bespin)
Lando Calrissian
Yoda
Hoth Ice Planet Adventure Game
Luke Skywalker (Snowspeeder)
Wave 3 (The Mandalorian)
The Mandalorian
Cara Dune
The Child
IG-11
Greef Karga
Kuiil
Moff Gideon
Wave 4 (The Mandalorian)
The Mandalorian (Beskar)
Bo-Katan Kryze
The Armour
Ahsoka Tano
Boba Fett (Morak)
Death Trooper
The Mandalorian Monopoly Game
Wave 5 (Obi-Wan Kenobi)
Darth Vader (The Dark Times)
Obi-Wan Kenobi (Wandering Jedi)
NED-B
Grand Inquisitor
Fifth Brother
Reva (Third Sister)
Wave 6 (Return of the Jedi)
Luke Skywalker (Jedi Knight)
Biker Scout
The Emperor
Han Solo (Endor)
Lando Calrissian (Skiff Guard)
Princess Leia Organa (Boushh)
Wave 7 (The Book of Boba Fett)
The Mandalorian
Grogu
Cad Bane
Boba Fett (Dune Sea)
Fennec Shand
Tusken Warrior
Bounty Hunter 2 Packs
Dengar & IG-88
Boba Fett & Bossk
4-LOM & Zuckuss
Mutlipacks (Based on Sears Exclusives)
A New Hope 6 Pack (First 6)
A New Hope 6 Pack (remaining 6)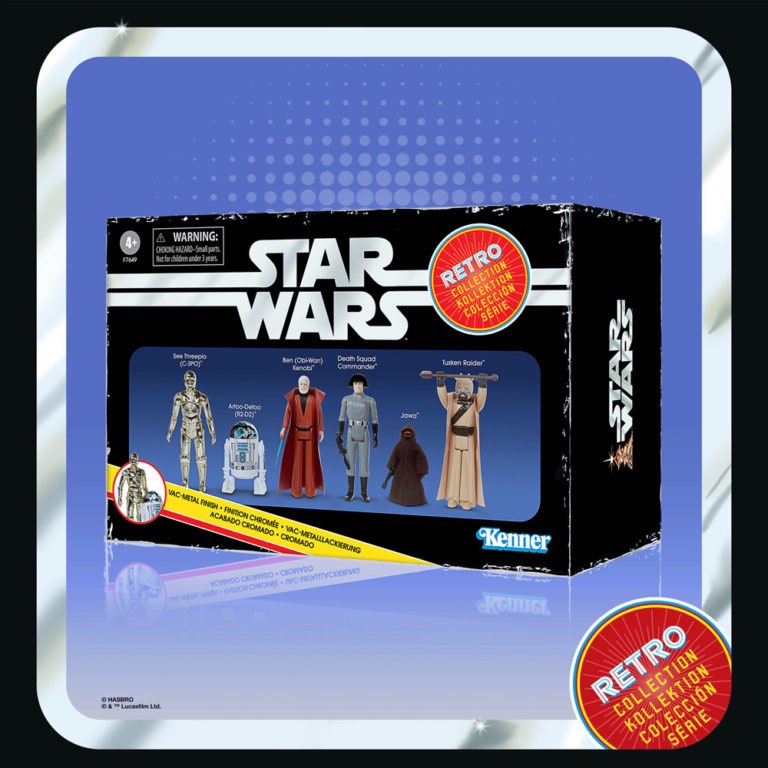 Retro Collection Prototypes
Darth Vader
Boba Fett
Stormtrooper
Chewbacca
Luke Skywalker (Snowspeeder)
The Mandalorian
Do you have them all? Maybe you prefer The Vintage Collection?