The Star Wars Mission Fleet series 2.5 inch action figures and vehicles are geared towards a younger audience. However, some adult collectors are also fond of these smaller Star Wars toys made by Hasbro. In this article, we'll take a look at the figures and vehicles, which are divided into three categories, Gear Class, Stellar Class and Expedition Class, as well as some sets that do not fit into a specific category.
Gear Class
These sets tend to be smaller and contain one vehicle or accessory and one figure.
Ahsoka Tano
This set contains Anakin Skywalker's Padawan, Ahsoka Tano. She comes with two of her older lightsabers, her first one and her Shoto lightsaber. Her vehicle in this set is the OMS Devilfish Sub.
Ahsoka Tano's figure is posable and you can choose to have her wield her lightsabers if you wish. The OMS Devilfish also works as a stand for the figure to be displayed on as well as storing her weapons. Kids love this set as it allows them to relive Ahsoka's experiences in the Battle of Mon Cala. The build quality is excellent and detailed, true to the original appearances.
Year: 2020
Ages: 4+
Parts: Ahsoka Tano Figure, 2 Lightsabers, OMS Devilfish Sub
Retail Price: $7.99
Boba Fett
Relive Boba Fett's exhilarating jetpack flying as he courses around Cloud City. Other than the figure itself, the set comes with a blaster and a jetpack modelled after the Slave I ship. The jetpack also has a storage slot for Boba's blaster.
The jetpack has incredibly detailed surfaces and colouring. It highly resembles the Slave I as advertised. The included blaster is a very good reproduction of Boba Fett's EE-3 Carbine. Boba's figure is also completely posable. Kids will love the faithful reproduction of their favourite bounty hunter.
Year: 2020
Ages: 4+
Parts: Boba Fett Figure, EE-3 Carbine, Jetpack
Retail Price: $7.99
Chewbacca
Fans of Chewie will love this Mission Fleet set, which also comes with a Raddaugh Gnasp fluttercraft as used by the Wookies against Separatist Battle Droids. Chewbacca is also rarely ever seen without his trusty Bowcaster. He also looks particularly fierce in this set as he's raring to fight.
The fluttercraft also doubles as Bowcaster storage, near the back of the craft. There are actually two of them, one for Chewie's personal use and the other usually stowed at the back of the craft. Chewbacca's expression is particularly good in this set.
Year: 2020
Ages: 4+
Parts: Chewbacca Figure, 2 Bowcasters, Raddaugh Gnasp fluttercraft
Retail Price: $7.99
Clone Trooper
The clone troopers are widely loved by Star Wars fans due to their different personalities and hardiness. This Clone Trooper Figure also comes with a jetpack that resembles a Starfighter. He is also armed with a DC-15A blaster carbine.
The colours on this set are all very clean, especially the trooper's armour. The jetpack is very intimidating and has the same colour scheme as well. Kids will surely love to play with this set.
Year: 2020
Ages: 4+
Parts: Clone Trooper Figure, DC-15A blaster carbine, Jetpack
Retail Price: $7.99
Shock Trooper
As this Mission Fleet set is not released as of publishing time, we can only conjecture as to how it is. However, we do know that it seems to be based on the Clone Trooper Arena set. The main difference is the colour scheme.
Shock Troopers have red painting on their armour, and this reflects the change in combat role. This trooper and his jetpack are coloured red. As far as we can tell, this set is a recolour of the previously discussed set. However, the new colours are very vibrant and stand out.
Year: 2021
Ages: 4+
Parts: Shock Trooper Figure, DC-15A blaster carbine, Jetpack
Retail Price: $7.99
Darth Maul
This set is also newly out and has sold out in many stores. It's no wonder this is the case, especially with the Sith Probe's detail. It's also mandatory that this Sith Lord comes with his signature weapon.
The Probe has 6 posable legs, and the figure also enjoys similar posable limbs. In particular, the double-bladed lightsaber can be split into two and combined again as you like it. Darth Maul's facial expression is also very fierce and makes for a good toy.
Year: 2021
Ages: 4+
Parts: Darth Maul Figure, Double-bladed Lightsaber, Sith Probe
Retail Price: $9.99
Expedition Class
The vehicles in this class tend to be larger, or have more accessories, but still come with a single 2.5inch figure.
AT-RT with Captain Rex
Captain Rex is widely regarded as one of the most popular clones, as he plays a major part in the storyline. In this set, he rides an AT-RT walker into battle, as well as being armed with his DC-17 blaster pistols. Watch him ride the walker into battle under fire!
The walker is a faithful copy of those seen in the Star Wars: The Clone Wars and Rebels series. The style is exactly the same. It also has a projectile launcher you can attach to different positions. Kids will love shooting it!
Year: 2020
Ages: 4+
Parts: Captain Rex Figure, 2 DC-17 Blasters, AT-RT
Retail Price: $14.99
Barc Speeder with Obi-Wan Kenobi
Obi-Wan Kenobi is also well-known for his battlefield skills, easily fighting with any vehicle, including a Barc Speeder just like in this set. The speeder comes with a shooter and a sidecar just like in the series.
The Jedi Master's figure comes with his lightsaber, and he is in his Clone Wars battlefield outfit, complete with armour. Other than the exact reproduction of Obi-Wan's colour scheme, his appearance is just about the same as in the animated series.
Year: 2020
Ages: 4+
Parts: Obi-Wan Kenobi Figure, Lightsaber, Barc Speeder
Retail Price: $14.99
The Mandalorian Speeder Bike
What better way to show that you love The Mandalorian than to get your kids this set? The Child, or Baby Yoda, as he is often called, are included in this set. A speeder is also included since the scene shows both fleeing from other bounty hunters.
As with other speeders in the Mission Fleet series, it can be equipped with a projectile shooter that can be placed in more than one position. The figures are accurate down to the small details, with The Child holding his favourite toy.
Year: 2020
Ages: 4+
Parts: The Mandalorian and The Child Figures, 2 Blasters, Speeder
Retail Price: $14.99
Blurrg with Kuill
Something much needed in the Star Wars Vintage Collection fans of the Mission can now get their hands on Kuiil and a Blurrg. Although the figure is only 2.5 inch scale it has great detail and has a great likeness to thee character. The set features a very well painted Blurrg creature for our favorite Ugnaught to ride. The Blurrg features an opening mouth and a repositionable projectile launcher.
Year: 2021
Ages: 4+
Parts: Kuiil, The Blurrg, repositionable launcher, 1 blaster
Retail Price: $14.99
Biker Scout Speeder Bike
Seen in both Season 1 and 2 of the hit TV series The Mandalorian this awesome Speeder Biket featuring a removable sidecar and repositionable projectile launcher. The Biker Scout figure features multiple points of articulation and quality design and detail.
Year: 2021
Ages: 4+
Parts: Biker Scout, Speeder Bike, repositionable launcher, 2 accessories
Retail Price: $14.99
Stellar Class
These sets include the medium size vehicles and ships from the Star Wars universe.
Anakin Skywalker Jedi Starfighter
The Chosen One of The Force, Anakin Skywalker was one of the galaxy's most talented pilots. His Starfighter is a common sight in various series and movies. In this set, the vehicle is lovingly painted and even the smallest detail included.
The shooter can even be mounted on a tripod on the ground. While R2-D2 is permanently stuck to the Starfighter, he's painted wonderfully as well. Even Anakin's figure is highly accurate.
Year: 2020
Ages: 4+
Parts: Anakin Skywalker Figure, Lightsaber, Jedi Starfighter, Tripod
Retail Price: $19.99
Luke Skywalker X-Wing Fighter
Similar to the Anakin Skywalker Stellar Class set, this one has Luke Skywalker instead, piloting an X-Wing fighter. This is no recolouring, however, as the models and figures are different. The similarities are in the deployable projectile shooter and tripods.
Luke has his lightsaber and a blaster as well, proper reproductions. R2-D2 is also part of the X-Wing, and both are very accurate to the original movie appearance. While the colours are a bit darker, the details are nothing to scoff at.
Year: 2020
Ages: 4+
Parts: Luke Skywalker Figure, Lightsaber, Blaster, Jedi Starfighter, Tripod
Retail Price: $19.99
Darth Vader TIE Advanced
After Anakin Skywalker became Darth Vader, he piloted an Advanced TIE Fighter. This set is similar to the earlier two sets, only with a different theme. Hasbro did pay a lot of attention to the originals and made this set to be as accurate as possible.
The projectile shooter is similarly mountable on the included tripod. Darth Vader also comes with his red lightsaber. Kids will love this set due to its ominous looks too!
Year: 2020
Ages: 4+
Parts: Darth Vader Figure, Lightsaber, Advanced TIE Fighter, Tripod
Retail Price: $19.99
Tie Whisper with Kylo Ren
Featured in Star Wars Episode IX: The Rise of Skywalker this ship was briefly flown by Kylo Ren. Very similar to the TIE Interceptor with its 4 pointed wings this ship looks awesome, especially with red detail. The 2.5 inch scale Kylo Ren is very nicely detailed and also comes with a tripod cannon. A very nice addition to the line.
Year: 2021
Ages: 4+
Parts: Kylo Ren Figure, Lightsaber, TIE Whisper, Tripod cannon
Retail Price: $19.99
Obi-Wan Jedi Starfighter
This is pretty much the same ship as the Anakin's Jedi Starfighter but painted red and silver for Obi-Wan Kenobi. The set come with a tripod cannon and the same 2.5 inch Obi-Wan Kenobi that was available in the Barc Speeder set.
Year: 2021
Ages: 4+
Parts: Obi-Wan Kenobi figure, Lightsaber, Jedi Starfighter, Tripod cannon
Retail Price: $19.99
Miscellaneous Sets
The following sets do not fit into any of the 3 classes and include the largest vehicles from the Star Wars universe and action figure multi pack
Millennium Falcon
This set includes the man himself along with his beloved ship. It's a rather large set due to the Millennium Falcon's size. It also comes with a shooter that can be mounted on various positions of the starship. Han Solo also looks just like his first appearance in the movies.
At first glance, you can see that Hasbro did a wonderful job recreating the famous starship. All lines and plates are included. Surely this amount of detail is impressive!
Year: 2020
Ages: 4+
Parts: Han Solo Figure, Blaster, Mini-Tank, Millennium Falcon
Retail Price: $39.99
The Mandalorian Mission Fleet Defend The Child
Instead of coming with a vehicle, this set comes with 5 figures from The Mandalorian, including The Mandalorian, The Child, Cara Dune, IG-11, and a Stormtrooper. All of them look just like the original and will make for great toys for kids.
The figures also come with their respective weapons and accessories for an authentic look. They're ready for new adventures right out of the box!
Year: 2020
Ages: 4+
Parts: The Mandalorian, The Child, Cara Dune, IG-11, and Stormtrooper Figures, 8 accessories
Retail Price: $19.99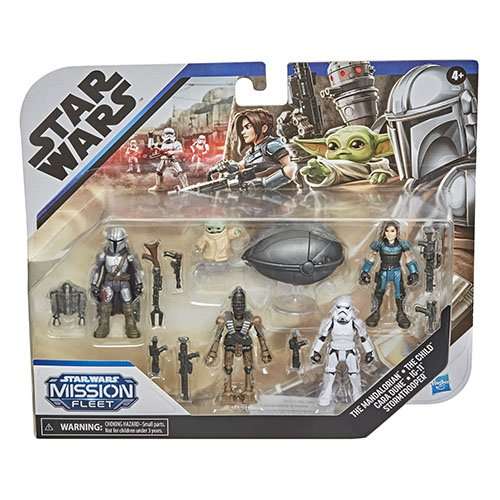 Conclusion
All of these sets are great for kids and authentic enough for collectors. Which set do you like the most? Let us know down below!