The Star Wars Hot Toys figures are targeted towards older fans of Star Wars. It's no surprise due to the intricate details and higher price than other toy lines. Even if they are action figures, it's better to keep them on display. The figures are in 1/6 scale and come in four series, namely Television Masterpiece Series (TMS), Movie Masterpiece Series (MMS), Video Game Masterpiece (VGM) and Deluxe (DX). These will appear in the figures' product names to help you identify which series they belong to.
Anakin Skywalker (Dark Side) MMS486
Many collectors love this figure as it shows Anakin consumed by the Dark Side of the Force. His eyes take the ominous yellow colour as seen in the movies. Whether or not he wears his Jedi robe or wields his lightsaber, you can expect the 1/6 scale action figure to intimidate. One of the many accessories is the Mustafar panning droid display base which is seen floating in the lava exactly like in the movies. This serves as a platform and has two lighting modes, a continuous setting and a pulse setting. In a dimmer room, it will be a sight to behold. There are also other accessories such as extra hands, a robotic arm and a movement effect saber blade. Anakin's transition to the Dark Side is perfectly captured.
Year: 2018
Ages: 15+
Original Retail Price: $267.00
K-2SO MMS406
This droid first appeared in Rogue One and is known for its unusually sleek design. This action figure comes with accurately-reproduced weapons. His eyes also have LED lights inside that light up, and the eyeballs roll too. As all droids in the Star Wars universe are made of metal, this figure is partially die-cast, which is an attractive feature to many collectors. The special figure stand that comes with the box also props the droid up perfectly, allowing you to arrange him in any pose you want. The appearance of K-2SO is very intimidating due to his black paint, and Hot Toys did an excellent job replicating the colours. There is even some weathering and scratching to make him look authentic.
Year: 2017
Ages: 15+
Original Retail Price: $229.99
Boba Fett Animation Version TMS006
What would many Star Wars fans refuse to talk about? The Holiday Special, of course! However, Boba Fett was introduced in that animated film. Hot Toys has recreated that particular design in this figure in all its 1/6 scale glory! While the proportions of this figure aren't exactly the same as in the Holiday Special, seeing it in a realistic form is quite exciting. The figure's colours are just like in the cartoon, and Boba comes with a variety of accessories. Blasters, synthetic leather holsters, clothing, and more. The electropole he comes with is particularly well-made, and it fits perfectly in Boba's hands. Many older fans who saw the Star Wars Holiday Special will love this figure, as it combines the old with the new, producing a beautiful figure worthy of collecting.
Year: 2018
Ages: 15+
Original Retail Price: $235
Grand Moff Tarkin MMS433
The Grand Moff's figure as produced by Hot Toys bears an incredible resemblance to Peter Cushing. At first glance, you would even think you're staring at the man himself. The Imperial uniform that comes with the figure is tailored to look exactly like the original, and you can barely tell the difference. Tarkin's facial expression is captured perfectly, even down to the smallest wrinkles possible. Even the texture of his skin is extremely realistic. The painters and makers spared no effort to make him this realistic. He also comes with a high-back chair, and you can easily adjust his limbs and joints to make him sit comfortably. The specially designed stand has his name and the Star Wars logo on it as well. Any collector would want this figure for its attention to detail. Tarkin's figure was also released with a Darth Vader figure as a separate 2-pack.
Year: 2018
Ages: 15+
Original Retail Price: $235
Snowtrooper 2 pack VGM25
Even if Snowtroopers did not appear much in the movies, they certainly made many more appearances in Star Wars video games. This 2 pack contains two Snowtrooper figures, each one armed with a different blaster rifle. Should you prefer having only one figure, you can also buy a single pack. The most notable feature of this pack is the sheer amount of accessories you get with it. Weapons and gear you get them all. This 2-pack also comes with an exclusive DTL-20A blaster rifle. The Snowtrooper armour is also beautifully sculpted and the coat and pants are made of vinyl just like on set. All of these have some degree of weathering and scratches to provide an authentic look. You can pair them up with other Stormtrooper figures as well.
Year: 2017
Ages: 15+
Original Retail Price: $369.99
Darth Vader (Empire Strikes Back) MMS452 & MMS572
The Sith Lord Darth Vader's intimidating appearance is no less impactful even when this figure is 1/6th of the original size. The Hot Toys figure is known for its attention to detail, and you can always arrange Vader in any pose you like. Standing, menacing, calm, you pick it. This greatly enhances its shelf presence, especially when the lightsaber's light-up blade is turned on. Even under the helmet, you can see the internal components rarely seen in cheaper figures. The chest panel and belt also light up just like the lightsaber. MMS572 refers to the rerelease in time for The Empire Strikes Back's 40th anniversary. This version comes with retro packaging as well. Collectors love this version of Darth Vader due to the Bespin-themed display base found nowhere else.
Year: 2018 & 2020
Ages: 15+
Original Retail Price: $267 & $285
Han Solo and Chewbacca 2 pack (A New Hope) MMS263
Even today, both Han Solo and Chewbacca only have this Original Trilogy variant, and this 2-pack is highly sought after because of this. Both of them also have single releases but we'll focus on this pack. Their colour schemes and appearances are exactly like their original movie likenesses. Han looks in between seriousness and smugness, which would be his neutral face. Chewbacca is particularly well done, as the execution of his fur and other features are very accurate. While some of the details aren't the best, Hot Toys still did a great job. Both of them come with weapons and accessories, particularly a headset for each of them. This is because Hot Toys was intending to produce a cockpit of the Millennium Falcon. These figures will fit inside as well. Any collector specialising in the Original Trilogy will love this set.
Year: 2015
Ages: 15+
Original Retail Price: $479.99
Darth Maul with Sith Speeder DX17
Darth Maul is a fan favourite, especially with his flashy fighting style and double-bladed lightsaber. This version of Darth Maul's Hot Toys figure is particularly sought after. The detail put into the appearance is impressive, the boots and robes look great on any shelf. What makes it popular is the many accessories it comes with, especially the Sith Speeder. You can change the heads to make him extra ferocious or calmer, with both head sculpts featuring rolling eyes that you can position how you like.
The sheer amount of accessories allows you to customise him as you see fit. You can also get it without the speeder, but why would you miss out on it? The speeder is very authentic-looking and complements Darth Maul perfectly.
Year: 2019
Ages: 15+
Original Retail Price: $405
ROTJ Emperor Palpatine with throne MMS468
'Good, good!' would be what fellow collectors say after noticing you own this figure. Emperor Palpatine looks quite menacing in this set, as Hot Toys always delivers when it comes to how realistic it makes these figures. The sculpting is excellent, particularly the Emperor's famous grin. The wrinkles are well done and reflect the original movie appearance properly. His robes are also flowing and perfect, even if it's only a black robe. This version is the deluxe version, so the exclusive throne and even Luke's lightsaber hilt is included with the figure. The throne lights up and looks accurate. There are also many other accessories, such as hands, a cane, and Palpatine's force lightening effects. Anyone looking to reconstruct the throne room scene should get this figure!
Year: 2018
Ages: 15+
Original Retail Price: $314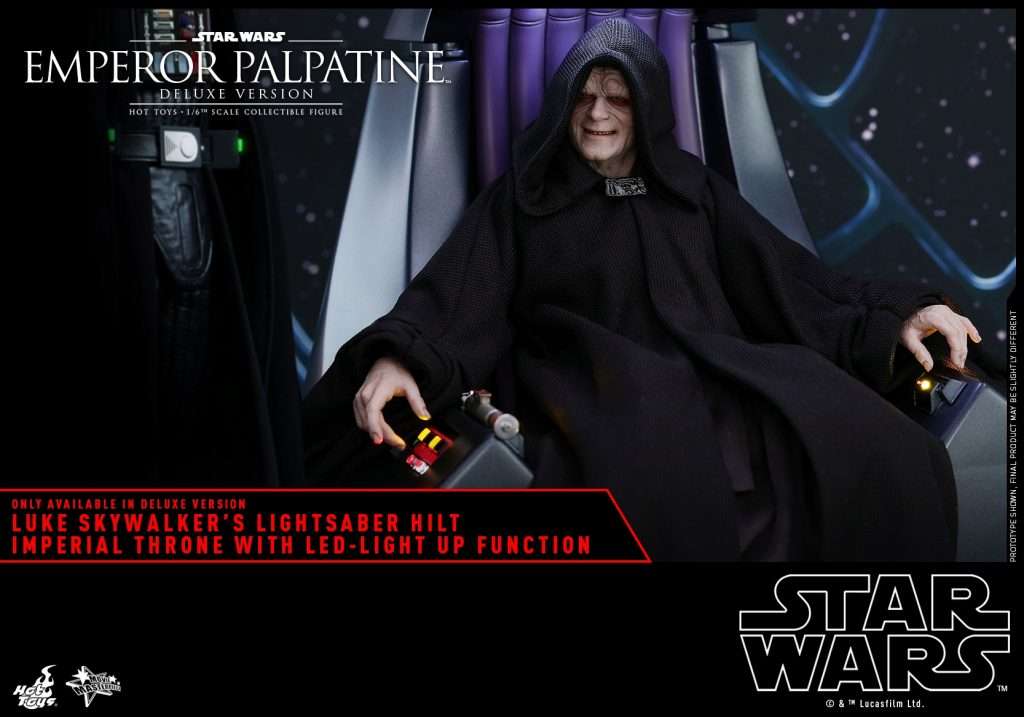 The Mandalorian TMS007
Our final selection of the Star Wars Hot Toys 1/6 scale figures is of the Mandalorian. This particular figure shows him in his first appearance before he receives his Beskar armour upgrade. Everything is captured in the armour and accessories, all down to the smallest ding and scratch. His outfit is also beautifully tailored and looks exactly as you see him in the series. As with other Hot Toys figures, he comes with a lot of accessories to allow for a great degree of customisation. What sets this figure apart is that the Mandalorian comes with 2 spears and a damaged Stormtrooper helmet. However, you can only mount the helmet on the front spear for a gruesome display of martial ability. After all, what else is the beautiful display base for? That will surely be a neat look on your shelf.
Year: 2020
Ages: 15+
Original Retail Price: $243
Conclusion
What do you think of our selection? Do these figures deserve these 10 spots? If you think we didn't include a worthy set in this collection, let us know down below.