With over 100 action figure variant covers available spread across the various Star Wars comic series, I thought it would be a good idea to create a checklist. I hope this will be a good point of reference for all existing and new collectors of these fantastic variant covers. Artist John Tyler Christopher has done such a great job on all of these, there isn't one that I don't like.
Action Figure Variant Covers List
Below is a definitive list of all the current variant covers including all retail exclusives. Do you have them all? which are you missing? Let me know in the comments!
Last updated: 18 September 2023
Star Wars
Ongoing series:
#1 Luke Skywalker
#1 Luke Skywalker (Black & White Sketch – Diamond's C2E2 2015 Exclusive)
#2 Han Solo
#3 Ben (Obi-Wan) Kenobi
#4 Chewbacca
#4 Boba Fett (John Tyler Christopher Exclusive)
#5 See-Threepio (C-3PO)
#6 Artoo-Detoo (R2-D2)
#7 Stormtrooper
#7 Bobafett (Black & White Sketch – John Tyler Christopher Exclusive)
#8 Tusken Raider
#9 Star Destroyer Commander
#10 Jawa
#11 Luke Skywalker: X-Wing Pilot
#12 Greedo
#13 R5-D4
#14 Hammerhead
#15 Snaggletooth
#16 Death Star Droid
#17 Walrus Man
#18 Power Droid
#19 Princess Leia (Bespin Gown)
#20 Yoda
#21 Stormtrooper: Hoth Battle Gear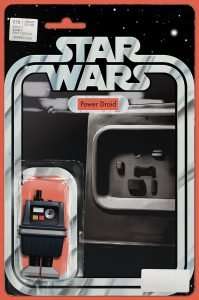 #22 Dengar
#23 Rebel Soldier: Hoth Battle Gear
#24 Lobot
#25 IG-88
#26 Two-Onebee (2-1B)
#26 Qui-Gon Jinn (John Tyler Christopher Exclusive)
#27 Artoo-Detoo (R2-D2): with Sensorscope
#28 See-Threepio (C-3PO): with Removable Limbs
#29 Luke Skywalker: Hoth Battle Gear
#30 AT-AT Commander
#31 Luke Skywalker: Bespin Fatigues
#32 FX-7 (Medical Droid)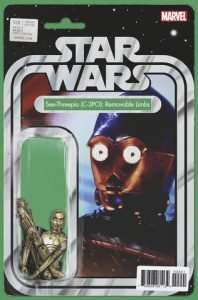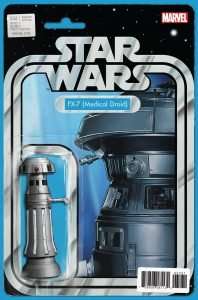 #33 Bespin Security Guard
#33 Bossk (John Tyler Christopher exclusive)
#34 Han Solo : Hoth Outfit
#35 Ugnaught
#36 Leia Organa: Hoth Outfit
#37 Rebel Commander
#37 Blue Snaggletooth (John Tyler Christopher exclusive)
#38 AT-AT Driver
#39 Imperial Commander
#40 Luke Skywalker: Yavin Fatigues – (John Tyler Christopher exclusive)
#41 Zuckuss
#42 4-LOM
#43 Imperial Tie Fighter Pilot
#44 (Twin Pod) Cloud Car Pilot
#45 Bib Fortuna
#46 Ree Yees
#46 Bounty Hunters mail away package (Wonderworld Comics exclusive)
#47 Weequay
#48 Bespin Security Guard
#49 Emperor's Royal Guard
#50 The Emperor
#51 Chief Chirpa
#51 Jabba the Hutt (John Tyler Christopher exclusive)
#52 Lando Calrissian: Skiff Guard Disguise
#53 Logray (Ewok Shaman)
#54 Squid Head
#55 Klaatu
#56 Gamorrean Guard
#57 General Madine
#58 Niem Nunb
#58 Leia Organa: Yavin Gown (John Tyler Christopher exclusive)
#59 Biker Scout
#60 Admiral Ackbar
#61 Artoo-Detoo (R2-D2): with Lightsaber
#62 Nikto
#63 Klaatu: Skiff Guard Outfit
#64 Princess Leia Organa: Boushh Disguise
#64 Mail Away Package (Wonder World Comics Exclusive)
#65 A-Wing Pilot
#66 Han Solo: Trench Coat
#66 Yoda: Jedi Master (John Tyler Christopher exclusive)
#67 Teebo
#68 AT-ST Driver
#69 EV-9D9
#70 8D8
#71 Imperial Gunner
#72 Prune Face
#73 Rancor Keeper
#73 Rancor Monster (John Tyler Christopher Exclusive)
#74 Paploo
#74 Han Solo Stormtrooper (John Tyler Christopher Exclusive)
#75 Anakin Skywalker (Force Ghost)
Star Wars Empire Ascendant
#1 – Luke Skywalker: Jedi Knight Outfit
Star Wars Special
TIE Fighter
Princess Leia
5 issue miniseries
Darth Vader 2015
25 issue series
#1 Darth Vader
#20 Inspector Thanoth
#21 Tulon
#22 Cylo
#23 BeeTee-One (BT-1)
#24 Triple-Zero (0-0-0)
#25 Doctor Aphra
#25 General Tagge (Most Good Hobby Exclusive)
#25 General Tagge (Black & White Sketch Most Good Hobby Exclusive)
Darth Vader 2017
Ongoing series
#1 Darth Vader: Anakin Skywalker
#1 Anakin Skywalker (John Tyler Christopher exclusive)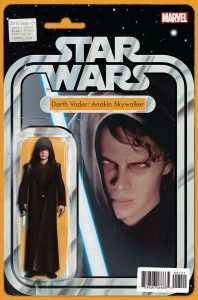 Vader Down
Single issue
#1 Vintage style Cardback (Forbidden Planet Exclusive)
#1 Vintage style Cardback (Buy me Toys Exclusive)
#1 Vintage style Cardback (Midtown Comics Exclusive)
#1 Vintage style Cardback (All Heroes Exclusive)
#1 Vintage style Cardback (Wonderworld Comics Exclusive)
#1 Vintage style Cardback (WantedComix Exclusive)
#1 Mail Away Package (Wonderworld Comics Exclusive)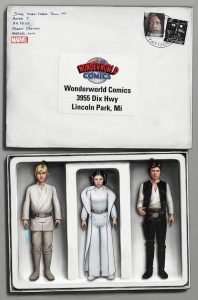 Lando
5 issue miniseries
C-3PO
1 off special
#1 See-Threepio (C-3PO) – Red Arm
#1 Mail away package (Wonderworld Comics exclusive)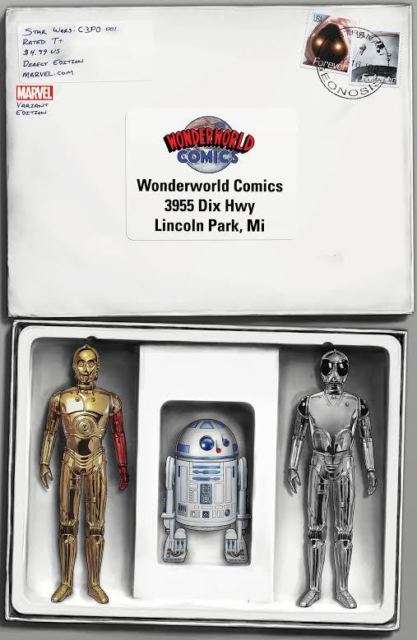 Obi-Wan & Anakin
5 issue miniseries
Han Solo
5 issue miniseries
#1 Han Solo: Carbonite Chamber
#1 Han Solo: Bespin Outfit (John Tyler Christopher Exclusive)
Doctor Aphra
Ongoing Series
Poe Dameron
Ongoing Series
#1 Poe Dameron: X-Wing Pilot
#1 Poe Dameron: X-Wing Pilot (Black & White John Tyler Christopher Exclusive)
Darth Maul
5 issue miniseries
#1 Darth Maul
#1 Darth Sidious (John Tyler Christopher Exclusive)
#1 Mail Away Package (Wonderworld Comics Exclusive Variant)
Star Wars Episode VII – The Force Awakens
6 issue Miniseries
#5 Kylo Ren (John Tyler Christopher exclusive)
Rogue One – A Star Wars Story
6 issue miniseries
#1 Jyn Erso
#1 Director Krennic (Tate's Exclusive)
#1 Mail away package (Wonderworld Comics exclusive)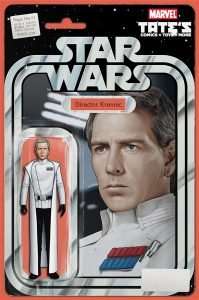 Mace Windu: Jedi of the Republic
#1 Mace Windu: Hissrich Battle Gear
#5 Mace Windu
Cassian & K-2SO
1 off special
Thrawn
6 part miniseries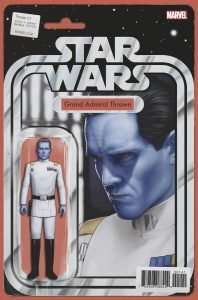 Lando: Double or Nothing
#1 Lando Calrissian: Vandor Oufit
Age of Republic
Count Dooku #1 – Obi-Wan Kenobi: Jedi Master (John Tyler Christopher exclusive)
The Rise of Kylo Ren
Star Wars Action Figure Variant Covers Book
#1 Standard edition
#1 John Tyler Christopher variant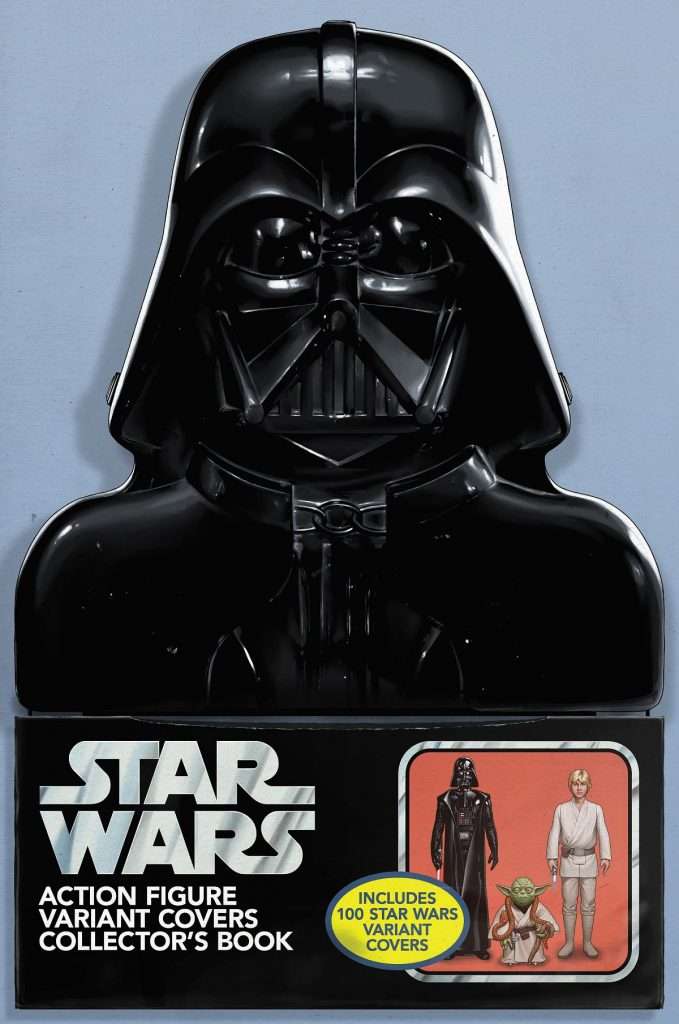 Star Wars 2020 (Main Series)
#6 – Luke Skywalker (Farmboy with yellow Lightsaber)
#7 – ???
#8 – Lando Calrissian (General Pilot)
#9 – Droopy McCool
#10 – Sy Snootles
#11 – Max Rebo
#12 – Princess Leia Organa (Endor)
#12 – Luke Skywalker Stormtrooper Disguise (John Tyler Christopher Exclusive)
#13 – Imperial Dignitary
#14 – B-Wing Pilot
#17 – Amanaman
#18 – Romba
#19 – Lumat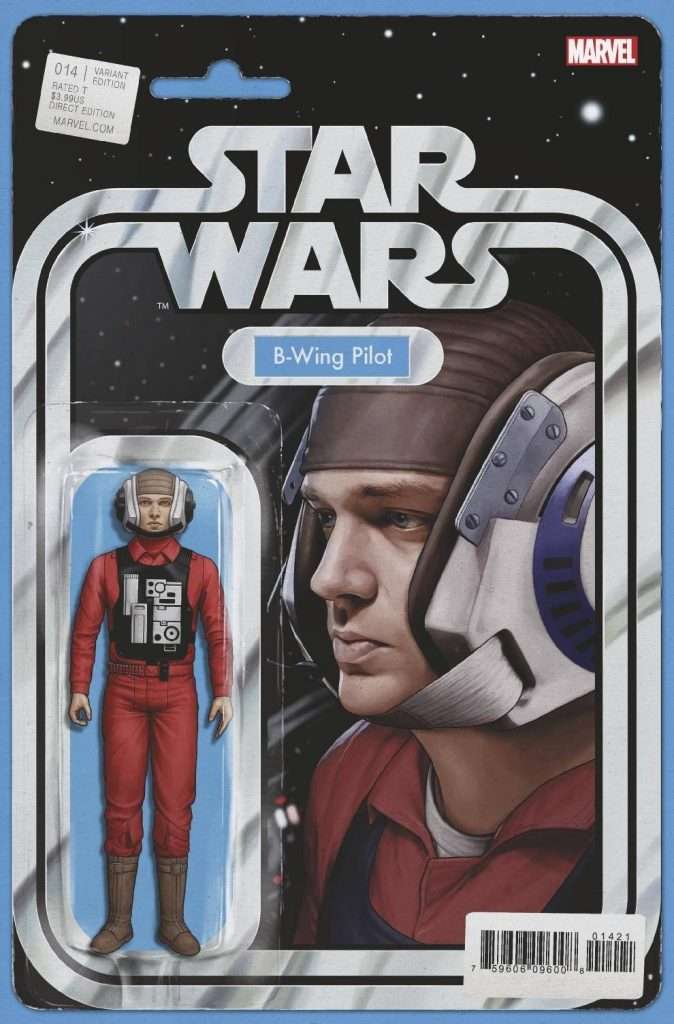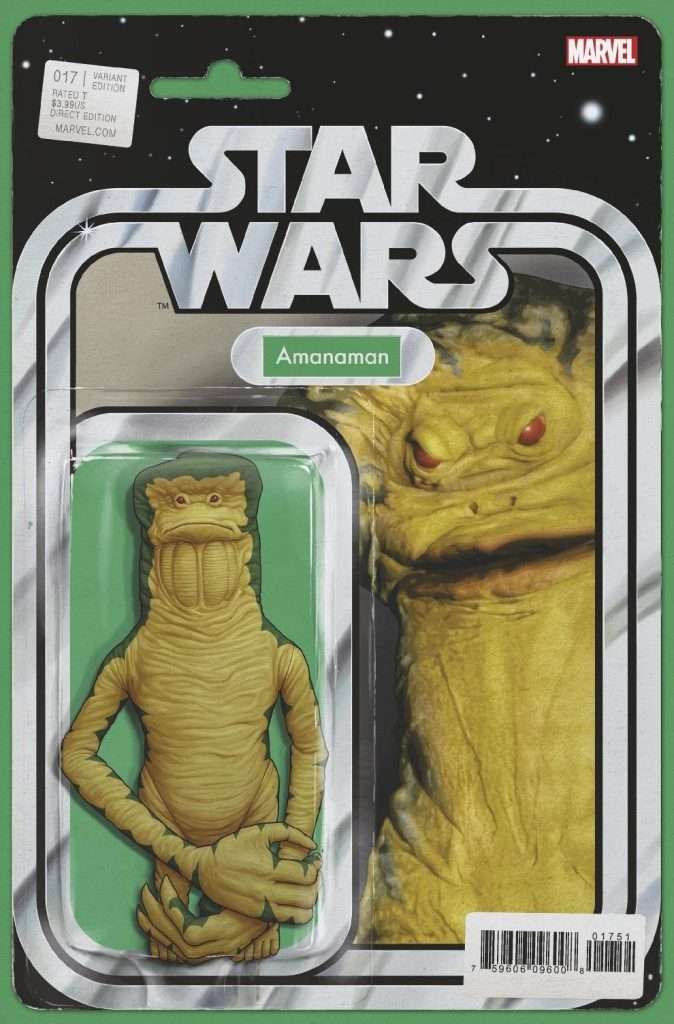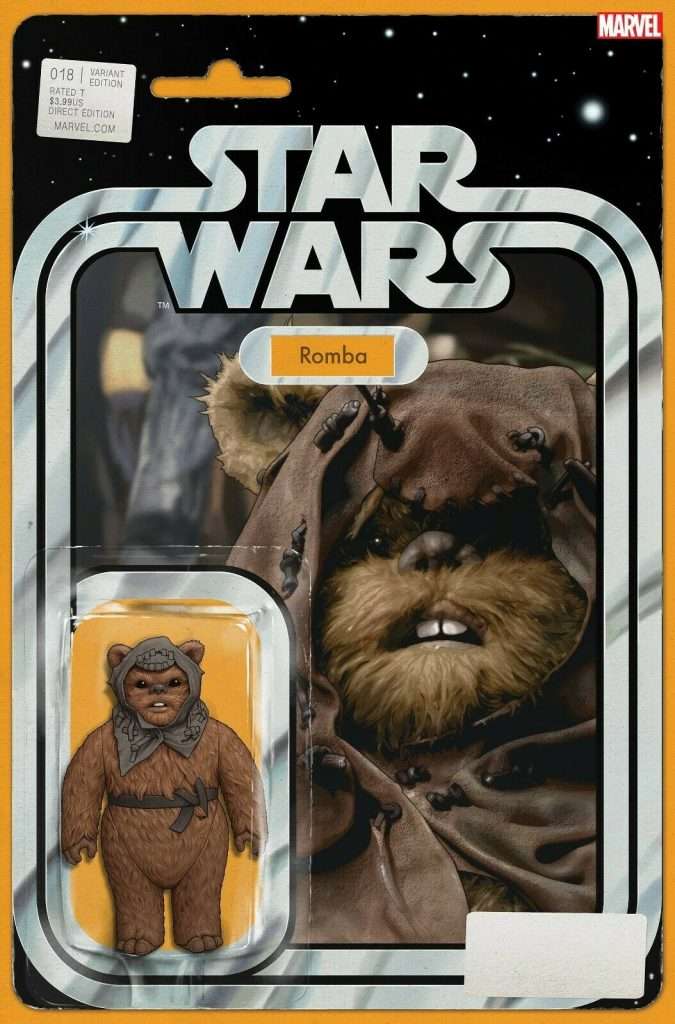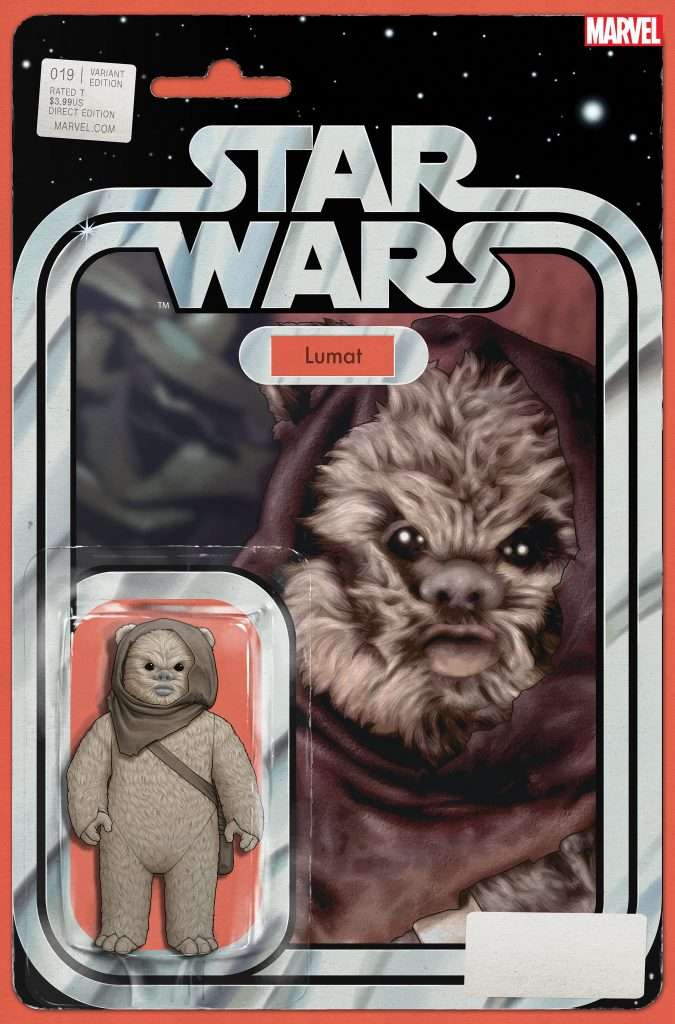 #20 – Warok
#21 – Barada
#22 – Rebel Commando
#23 – Yak Face
#24 – Luke Skywalker (in Battle Poncho)
#24 – Wicket (JTC Exclusive)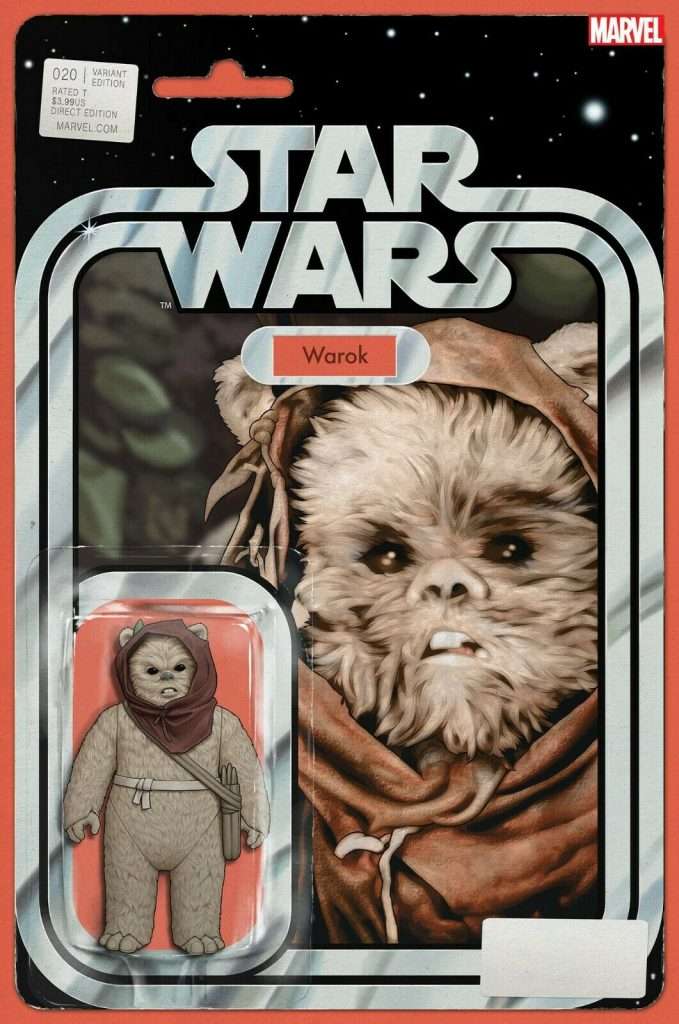 #25 – Anakin Skywalker
#26 – Obi-Wan Kenobi (Padawan)
#27 – Nute Gunray
#28 – Rune Haako
#28 – Luke Skywalker Jedi Knight (John Tyler Christopher Exclusive)
#29 – Queen Amidala: Naboo Gown
#30 – Captain Panaka
#31 – Governor Sio Bibble
#32 – Jar Jar Binks
#33 – Captain Tarpals
#34 – Darth Maul Hologram
#35 – Boss Nass
#36 – Padme Amidala: Handmaiden Disguise
#38 – Battle Droid
#39 – Pit Droid
#41 – Qui-Gon Jinn (Tatooine Poncho)
#42 – Sabé: Queen Disguise
Dark Droids Series
#1 – C-3PO (Droids Cartoon)
#1 – R2-D2 (Droids Cartoon)
#2 – Eyegee-Eightyeight (IG-88)
#2 – 4-LOM
#3 – BT-1
#3 – Valance
Bounty Hunter Series
War of the Bounty Hunters
Alpha – Boba Fett: Black A
#1 – Boba Fett (Empire Strikes Back)
#2 – Bossk (Empire Strikes Back)
#3 – Dengar (Empire Strikes Back)
#4 – Eyegee-Eightyeight (IG-88) (Empire Strikes Back)
#5 – Valance: Damaged (Empire Strikes Back)
The High Republic
Star Wars: The Mandalorian
Obi-Wan
#1 Wonderworld Comics exclusive