A few months back Marvel announced that a new Darth Vader comic series was being written for release in June 2017. At the same time, it was confirmed that John Tyler Christopher would be creating an action figure variant cover to go with the release of issue number one. Today, we get a look at this cover featuring Anakin Skywalker/ Darth Vader. Yet another fantastic work of art by JTC.
Update: As of today (12th May 2017) a further variant cover has been announced. It features Anakin Skywalker before he becomes Darth Vader. So, we now have both the light side and the dark side of Anakin! Scroll down to see the covers!
Q. Haven't We Already Had a Darth Vader Comic Series?
A. Yes. Confusingly the new series is indeed called 'Darth Vader', the very same name of the previous Darth Vader comic series released in early 2015. It's not a massive deal, but a little odd when you ask at your local comic book store for Darth Vader number 1.
The first series ran for 25 issues and was set between Star Wars Episode IV – A New Hope and Episode V – The Empire Strikes back. This latest series is set just after Episode III – Revenge of the Sith. So, we should see Darth Vader at his most angry! If the story is as good as the first series then we shouldn't be disappointed.
Darth Vader #1 Action Figure Variant Covers and Vintage Collection Figure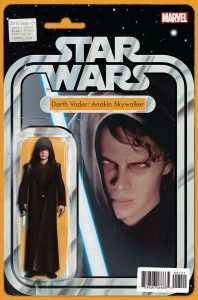 Darth Vader #1 (first series) Action Figure Variant Cover and Original Figure
Go check out my action figure variant checklist to make sure you have the whole collection!