Here we have our first look at the latest action figure variant cover by John Tyler Christopher. Carrying on with the Empire Strikes back theme; JTC has gone with FX-7 (Medical Droid) for his cover for the upcoming Star Wars #32.
Star Wars #32 continues the story lines set between Episode IV and Episode V. However, Star War #32 is part of a cross over line and is also part 4 of 'Screaming Citadel'. This isn't the first time Marvel has confused us all, they did the same with the Vader Down series. They seem to make issue #1 a stand alone comic and then cross over the rest of the story within the existing story lines/series.
Anyway, I am sure you will agree, JTC captures FX-7 perfectly.
Star Wars #32 action figure variant cover and original figure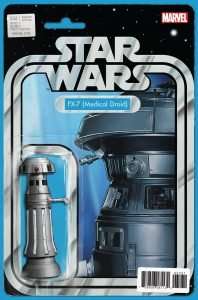 Are you collecting these variant covers? If so, check if you have them all in this handy checklist.