The latest character to get the action figure variant treatment is Weequay. He will be the featured character on the John Tyler Christopher variant for Star Wars issue #47. Continuing the Return of the Jedi characters, Weequay is another one of the bad guys from Jabbas entourage, and fits nicely with Bib Fortuna and Ree-Yees from the two previous issues.
The artwork of the carback is so on point that it could look like a photo still from the film. The detail of these covers never ceases to amaze. I am loving collecting these and I cant wait to get my hands on this latest variant.
Check out the cover below:
Action Figure Variant Cover Vs Original Vintage Kenner Figure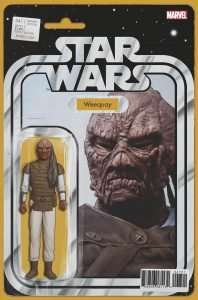 Are you collecting these action figure variant covers? Keep up to date with my handy checklist.