The post presents the 19 largest LEGO sets of all time and it is no wonder that almost all were released in the most recent decade. Perhaps you know most of the LEGO sets with the biggest piece counts but we guarantee there are several that you may have forgotten.
For decades, LEGO has been a staple brand in the world of toys, growing from a small start-up company to one of the largest manufacturers in the world.
Just as the company grows, the LEGO sets themselves have continuously grown in size with some going over several thousand pieces. With more and more sets being released every year it can be hard to keep up.
So, exactly which LEGO set it the biggest?. Well up until May 2021 it was of course the LEGO Colosseum with 9036 pieces. However that record has now been blown away with the brand new LEGO Art World Map which contains a record 11,695 pieces! That is one huge LEGO Set!
Last updated: 09 November 2021
1. 31203 LEGO Art World Map
On May 25th 2021, LEGO have announced a brand new set which smashes the previous piece count, making the LEGO World Map officially the largest LEGO Set of all time. With a staggering 11,695 pieces, it will surely be a long time before the record is broken again.
Due to the set being flat and also making use of many single studs, the set isn't actually that big in terms of scale. Measuring 25.5 in. (65cm) high and 40.5 in. (104 cm) wide. However, it looks fantastic and can be hung on the wall, just like a real map of the world.
From press release:
'The new LEGO Art World Map can be reimagined in a number of different ways to express the personality and travel memories or wishes of different builders.
Customisable brick-built pins can be placed to mark out destinations already visited or highlight those still on the builder's bucket list to give this masterpiece a personal twist before it's proudly displayed."
3. 10294 – Titanic
In October 2021 LEGO revealed the Titanic which becomes the second biggest LEGO set ever made. With 9,090 pieces the LEGO Titanic is a highly detailed recreation of the famous ship in 1:2000 scale.
The Titanic boasts many intricate details including the grand staircase, lifeboats, boiler room and engines that actually rotates the rear turbine. The ship can be split into 3 pieces which then reveal the inside with tiny cabin of both upper and lower class.
A truly spectacular LEGO set.
Year: 2021
Piece Count: 9,090
Ages: 18+
Minifigures: None
Original retail price: $629.99
3. 10276 Colosseum
The Colosseum in Rome is one of the most iconic historical sites in the world. It is also the biggest amphitheatre in the world, so it is fitting that LEGO made the set based on the Colosseum the largest LEGO set ever.
A realistic model is bound to be talking point when displayed at home or in the office. With 9,036 pieces, many of them 1 by 2 tiles this will take roughly 18 hours to build. Truly stunning from all angles this is a must have set for any fan of architecture.
Year: 2020
Piece Count: 9036
Ages: 18+
Minifigures: None
Original Retail Price: $549.99
4. 75192 Millennium Falcon
When LEGO announced the 75192 Millennium Falcon, it caused complete chaos online. No other set has ever been as anticipated and no other set has ever been sold out for such a long period as the Falcon.
This success is absolutely deserved, of course. The largest-ever set with 7541 pieces and a completely outstanding design that captured even the tiniest details of the most famous starship in the galaxy.
With a price tag of $799.99, it is absolutely surprising how many people wanted to order it and how long it took for LEGO to create enough sets to satisfy every customer with a pre-order.
This was further proof that the Star Wars franchise has the largest and most dedicated fan base in the world.
Year: 2017
Piece Count: 7541
Ages: 16+
Minifigures: BB-8, C-3PO, Finn, Chewbacca, Han Solo, Mynock, Porg, Princess Leia, Rey
Original Retail Price: $799.99
Theme: Star Wars
5. 75313 UCS AT-AT
On 9th November 2021 LEGO revealed their next instalment into the Star Wars Ultimate Collector Series in the form of a giant AT-AT (All Terrain Armored Transport). The set has a total of 6,785 pieces which firmly puts it very near the top of the biggest LEGO set list.
Most UCS sets tend to be stand alone models with very few play features. This set is different. Almost every panel is removable, revealing a highly detailed interior.
There is space for potentially 50 mini figures to either sit or stand in the main body alone, not to mention the cockpit which has enough space for two drivers and General Veers.
To be able to hold up so much weight, the legs have been designed in such a way that they require a LEGO tool which when uses articulates the legs in to different positions.
The chin guns move, the head articulates with the use of the lever in the back section, plus there is also two Speeder Bikes stored in the back too.
As for mini figures, there are 9 in total. Luke Skywalker is a new design and is exclusive to the set. Also included are 2 AT-AT Drivers, 1 Snowtrooper Commander, 4 Snowtroopers and General Veers
All in all a brilliant set that deserves its place as one of the biggest LEGO sets yet!
Year: 2021
Piece Count: 9785
Ages: 18+
Minifigures: General Veers, Luke Skywalker, 2 x AT-AT Drivers, 4 X Snowtrooper, Snowtrooper Commander
Original Retail Price: $799.99
Theme: Star Wars
6. 71043 Hogwarts Castle
At number 6, we have the Hogwarts Castle with just over 6000 pieces, 4 minifigures, and 27 of the then brand new microfigures.
Apparently, giving us 30 regular sized minifigures would have been overly expensive both for us and for LEGO, so they introduced the microfigures that are not such a bad idea but still, not the same thing.
The 4 minifigures that we get, however, were absolutely exclusive to this set and included the four founders of the school of magic.
The set itself captures several parts of the Hogwarts Castle that we know from the movies in detail and is an overall magnificent structure.
The announcement was a dream come true for dedicated fans like myself who have always wanted to own their own piece of Hogwarts at home.
Year: 2018
Piece Count: 6020
Ages: 16+
Minifigures: Godric Gryffindor, Helga Hufflepuff, Rowena Ravenclaw, Salazar Slytherin
Original Retail Price: $499.99
Theme: Harry Potter
7. 10256 Taj Mahal
Taj Mahal is an architectural wonder in India and the 7th wonder of our modern world. While a trip to India is not always possible, you can own an exact replica of Taj Mahal in LEGO.
Even better, it is one of the largest and most exceptional sets to ever be released with nearly 6000 pieces.
The structure is built with exclusive ivory-white marble LEGO pieces and captures all necessary features and details of the real mausoleum. It is an outstanding display piece that will draw attention wherever you place it.
Furthermore, the set was incredibly well-priced when it came out in 2017 which is another reason to own it today.
Year: 2017
Piece Count: 5923
Ages: 16+
Minifigures: no minifigures
Original Retail Price: $369.99
Theme: Creator
8. 10179 Millennium Falcon
At number 8, we have the first-ever minifigure scale Millennium Falcon from 2007. It is the original UCS Falcon that was upgraded a couple of years ago into the largest set in history (see number 1 above).
But just imagine the reaction of the community back in 2007 when LEGO announced a set with more than 5000 pieces. Unimaginable. Even today, almost 13 years later, it remains the 4th largest set in the world.
While it cannot compare with the newest edition, this Falcon was truly an impressive sight back in the day. Today, it is highly collectible and on high demand but at a sky-high price.
Year: 2007
Piece Count: 5195
Ages: 16+
Minifigures: Luke Skywalker, Han Solo, Chewbacca, Princess Leia, Obi-Wan Kenobi
Original Retail Price: $499.99
Theme: Star Wars
9. 70620 Ninjago City
Few other sets can match the 70620 Ninjago City in any category. Based on the original LEGO Ninjago movie, this set gives you the opportunity to own Ninjago city at home, together with 16 incredible characters as minifigures.
The massive building that takes nearly 5000 pieces to build has three levels that include several separate colorful sections each. It is unimaginable how much talent it takes to envision such a building but the creators have done an outstanding job with this set.
Although I have never been a fan of the animation, this set makes me want to like it and own the entire collection.
Year: 2017
Piece Count: 4867
Ages: 16+
Minifigures: Kai, Lloyd, Green Ninja Suit, Jay, Misako, Rufus McCallister, Sally, Officer Noonan, Guy, Shark Army Gunner, Tommy, Ivy Walker, Konrad, Severin Black, Juno, Jamanakai Villager, Sweep
Original Retail Price: $299.99
Theme: Ninjago
10. 75252 UCS Imperial Star Destroyer
Few words can be said about the UCS Imperial Star Destroyer as it is simply an outstanding behemoth of a set. It looks incredible on display and the detailing is right on point compared to the movies.
Unfortunately, unlike all previous smaller Star Destroyers, this one does not have an interior section but that does not change the fact that this model is outstanding. Despite the mixed opinions from the community, we consider this LEGO Star Destroyer to be on a completely different level.
The main downside with this set was the price. Being one of the most expensive sets to ever be released was a certain drawback when you compare it to the Millennium Falcon from a couple of years ago which was significantly larger, with thousands of extra pieces and just $100 more expensive.
Nevertheless, if you have the opportunity to add this set to your collection, do not miss your chance since the prices will be even higher a few years from now. It is an absolute beauty on display and it will easily become the focal point of your home.
Year: 2019
Piece Count: 4784
Ages: 16+
Minifigures: Imperial Officer, Imperial Crew
Original Retail Price: $699.99
Theme: Star Wars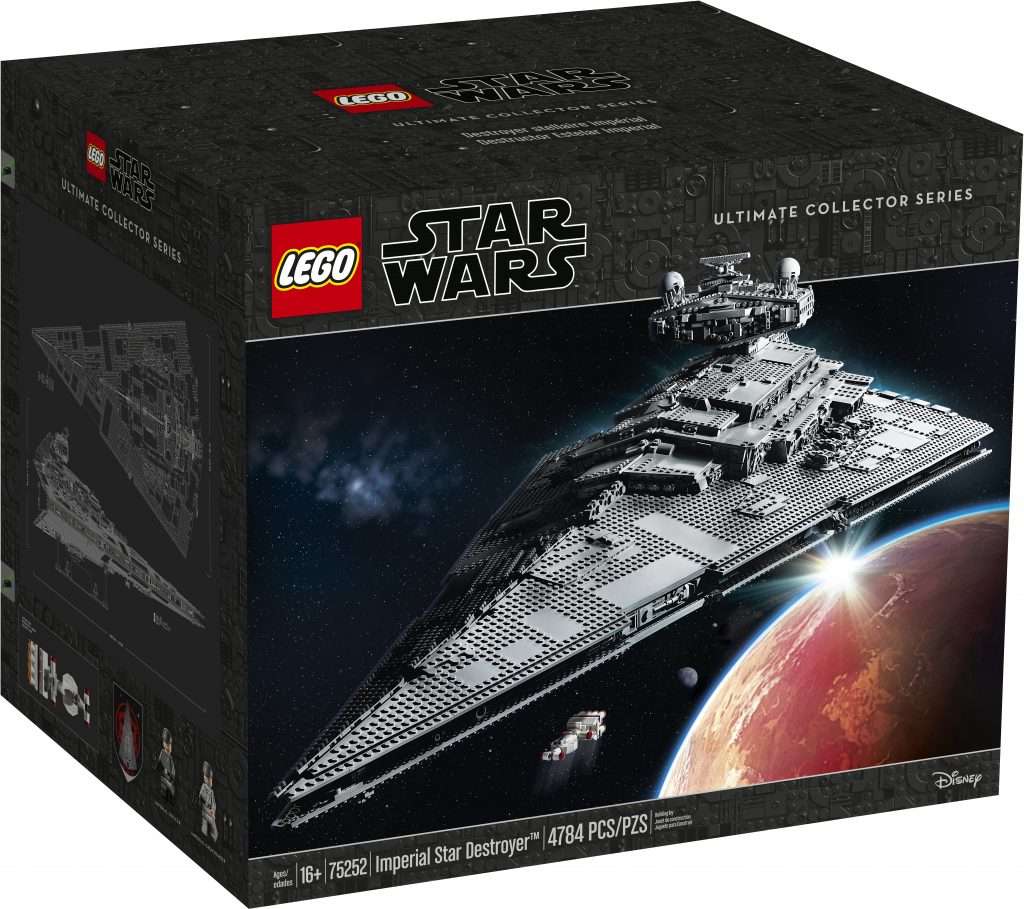 11. 75827 Firehouse Headquarters
The Ghostbusters franchise has an incredible following decades after the original movie. Apparently, it has just enough fans for LEGO to decide to make several special sets from the movies.
Set 75827 is an exact replica of the iconic firehouse headquarters from the movies and with 4634 pieces, it is the 7th largest LEGO set as of today.
While the outside of the building is absolutely accurate, the interior could be improved. Nevertheless, any fan of the franchise would love this set and should definitely own it.
Especially as it comes with an exceptional minifigure selection, it is well worth the price and could become the jewel of your Ghostbusters collection.
Year: 2016
Piece Count: 4634
Ages: 16+
Minifigures: Peter Venkman, Egon Spengler, Raymond "Ray" Stantz, Winston Zeddemore, Dana Barrett, Janine Melnitz, Louis Tully, Zombie Taxi Driver, Library Ghost, Slimer, Pink Ghost, Blue Ghost
Original Retail Price: $349.99
Theme: Ghostbusters
12. 10214 Tower Bridge
At number 12, we have another legendary structure from the beautiful city of London – Tower Bridge.
This set perfectly recreates the architectural details of the real bridge that attracts millions of tourists every year. The creators went further and even included a fully functioning drawbridge.
While you get no minifigures which is, once again, unfortunate, the set includes several sweet vehicles that you can position on the bridge. Assuming that you have spare minifigures, you can recreate the scene perfectly.
Year: 2010
Piece Count: 4295
Ages: 16+
Minifigures: no minifigures
Original Retail Price: $239.99
Theme: Creator Expert
13. 10253 Big Ben
While Big Ben is currently closed to the public for renovations, you can have your own exact recreation of the legendary building at home with the 10253 Big Ben set.
What can we say about this set? It is an outstanding structure that will look perfect on display at your home. There are no minifigures included but the remarkable design and detailing make up for this omission.
While you cannot expect any functionality or motorized features from a set like this one, we need to mention that the clock hands are movable.
Year: 2018
Piece Count: 4163
Ages: 16+
Minifigures: no minifigures
Original Retail Price: $249.99
Theme: Creator Expert
14. 10261 Roller Coaster
The 10261 Roller Coaster is definitely not your typical LEGO set but it is among the most entertaining sets you can buy. It is also one of the tallest sets to ever be released.
This roller coaster has a fully functional chain lift roller coaster and comes with 11 incredible minifigures. We need to mention the engineering behind this set that is truly outstanding. While the design may have its weak points, it must take a lot of effort to make such a structure and have it work properly, the functionality is impressive.
Year: 2018
Piece Count: 4123
Ages: 16+
Minifigures: 11 characters
Original Retail Price: $379.99
Theme: Creator
15. 42082 Rough Terrain Crane
Here we have the largest Technic set to date – the 42082 Rough Terrain Crane. LEGO has released numerous crane sets in the past but none can compare with the size and functionality of this set.
This is one of those sets that deserve an entire review on its own which is why we cannot list all the incredible features here. All we can say is that it is equipped with countless small details and accessories that complete the larger motorized functions.
The only issue is that due to the immense weight of this set, some of the motorized features like the outriggers are slower than usual.
It is surprising how well priced this set was when it was released in 2018 based on the incredible piece count – 4057. If you are into cranes, what are you waiting for?
Year: 2018
Piece Count: 4057
Ages: 11+
Minifigures: no minifigures
Original Retail Price: $299.99
Theme: Technic
16. 71040 Disney Castle
The largest LEGO Disney set to date is, of course, the legendary Cinderella Castle from the theme park near Paris. With this set, you can own an exact replica of the castle together with several of the most iconic characters as minifigures.
Perhaps the only issue I could find with this set was that there were too few minifigures for such an enormous set dedicated to Disney. There are hundreds of iconic Disney characters that could be included here and having only five in such a grand set was an interesting decision.
Year: 2016
Piece Count: 4043
Ages: 16+
Minifigures: Tinkerbell, Daisy Duck, Donald Duck, Minnie Mouse, Mickey Mouse
Original Retail Price: $349.99
Theme: Walt Disney
17. 75159 Death Star
With its impressive 4016 pieces, this behemoth of a Death Star set is not even close to the largest LEGO Star Wars sets but it does not yield in anything. With an incredible minifigure selection that counts 27 characters and the incredibly detailed design, it is a dream come true for any Star Wars fan.
Released in 2016, it was a remake of the original 2008 version that includes 3 additional minifigures, more pieces, and Darth Vader's TIE Fighter.
While the old Death Star can only be found for sale for a small fortune nowadays, you can still find this one for a fair price.
The only issue fans had with this model was that it had only minor improvements from the original set. I also believe that LEGO missed a great opportunity to create a significantly better set and possibly the greatest ever, so if you wonder which one you should get, know that the differences are minor.
Year: 2016
Piece Count: 4016
Ages: 14+
Minifigures: R2-D2, C-3PO, Chewbacca, Han Solo (blue legs), Luke Skywalker (Tatooine), Princess Leia Organa, Luke Skywalker (Final Duel), Obi-Wan Kenobi, Han Solo (Disguise), Luke Skywalker (Disguise), R3-M3, Death Star Droid, Stormtroopers (2), Imperial Gunners (2), Death Star Troopers (2), Imperial Officer, Imperial Navy Officer, Grand Moff Tarkin, Darth Vader, Emperor Palpatine, Royal Guards (2)
Original Retail Price: $499.99
Theme: Star Wars
18. 10255 Assembly Square
Right, next on the list, we have 10255 Assembly Square with just over 4000 pieces and it is one of the largest sets of buildings from the LEGO Creator Modular Buildings subtheme.
We can safely say that this set is perhaps the greatest Modular Buildings set to date as it includes all the fundamentals of LEGO – exceptional design, entertaining building process packed with smart techniques, and a variety of unique pieces.
This set perfectly resembles the diverse mix of locations that make up a street in a normal town. It includes a bakery and a café, a photo and a music studio, and a florist shop. Not to mention the 9 sweet minifigures that match each location.
Last but not least, this set had a great price when it came out back in 2017 and you can still find a great deal nowadays on Amazon.
Year: 2017
Piece Count: 4002
Ages: 16+
Minifigures: Baby, Florist, Baker, Barista, Photographer, Dentist, Ballerina, Music Store Assistant, Lego Fan
Original Retail Price: $279.99
Theme: Creator
19. 42055 Bucket Wheel Excavator
Last on our list, we have the second-largest Technic set to date – 42055 Bucket Wheel Excavator. With nearly 4000 pieces and incredible size, it is one of the coolest massive sets you could own.
The set comes with several motorized functions. Besides the driving options, you can move the conveyor belt and the bucket wheel while the entire superstructure can be rotated. Besides that, there are dozens of smaller details and functions included that make it one of the most diverse sets to have ever been released.
Year: 2016
Piece Count: 3929
Ages: 12 – 16
Minifigures: no minifigures
Original Retail Price: $279.99
Theme: Technic
Final Thoughts
These were the top 18 largest LEGO sets in the world as of May 2021. While there hasn't been any announcement of sets of this size, for now, it is guaranteed that we will see more behemoth LEGO sets in the future years.
As a die-hard Star Wars fan, I have several sets in mind that I would like to see in the future. What about you?