Between the dozens of small-scale LEGO Star Wars sets that come out every year, the Ultimate Collectors Series is the line which delivers large-scale sets with complicated builds and extreme details to the most dedicated fans of the franchise. Because of this the majority of the LEGO UCS sets are widely considered as LEGO sets for adults, or AFOL's (Adult fans of LEGO).
Every year, fans theorise about what the next possible set may be. There are countless iconic ships that have yet to be made into a UCS set and in the fall off 2019, we finally got the remake of the Imperial Star Destroyer from October 2002. Therefore, we decided to make a list of the 10 Best Ultimate Collectors Series sets.
With over 30 sets that have already been created, we have received both flawless and disappointing sets. Which, however, received a place in our Top 10 list?
10. 75181 UCS Y-Wing Starfighter
Introducing two new characters as minifigures – Dutch Vander and R2-BHD, the UCS Y-Wing Starfighter is an incredible remake of the old 2004 version. The colors and overall build have been sufficiently improved. Of course, we shouldn't compare sets that have almost 15 years between them but it is worth mentioning.
It is not a set with a lot of play-ability but it is so well built that you can pick it up and fly it around if it pleases you. It will definitely not break, unlike many sets we have received through the years. It does, however, look incredible when displayed. I have included it in this list simply because it is one of the best-looking sets that have ever been made.
Year: 2018
Piece Count: 1967
Ages: 14+
Minifigures: Dutch Vander, R2-BHD
Original Retail Price: $199.99

9. 10221 Super Star Destroyer
Next, we have the enormous Super Star Destroyer from 2011. This extremely well-built model stands out with exceptional details and an impressive minifigure selection. I have put it in the list for these very reasons. It is a great displayable set standing at 4 feet in length.
Undoubtedly, the most interesting and fun part of the set is the section on top. A lot of thought and effort has been put into the details. For example, my favorite part is the bridge. In addition, there is enough space inside the ship to fit each of the minifigures.
Due to being discontinued, this set is now one of the most expensive LEGO Star Wars sets on the secondary market.
Year: 2011
Piece Count: 3152
Ages: 16+
Minifigures: Darth Vader, Admiral Firmus Piett, Bossk, Dengar, IG-88
Original Retail Price: $399

8. 10236 Ewok Village
The UCS Ewok Village is most certainly the Star Wars set with the highest playability to ever be released. It is a set which re-creates so many of our favorite scenes from Return of the Jedi. The scales, in fact, match the size of the minifigures and you actually get so many of them.
You can either use it as a lovely display set or enjoy the variety of play features. You can throw Ewoks from the top of a tree or you can re-create your favorite scene from this part of the movie. There are net traps, slides, catapults, and so many more things to play with. Overall, this is one of the most entertaining sets and a great addition to any collection.
Year: 2013
Piece Count: 1990
Ages: 12+
Minifigures: Wicket, Teebo, Ewok Warrior, Chief Chirpa, Logray, Scout Trooper x2, Stormtrooper x2, Princess Leia, Han Solo, Luke Skywalker, Chewbacca, C-3PO, R2-D2, Rebel Commando x2
Original Retail Price: $249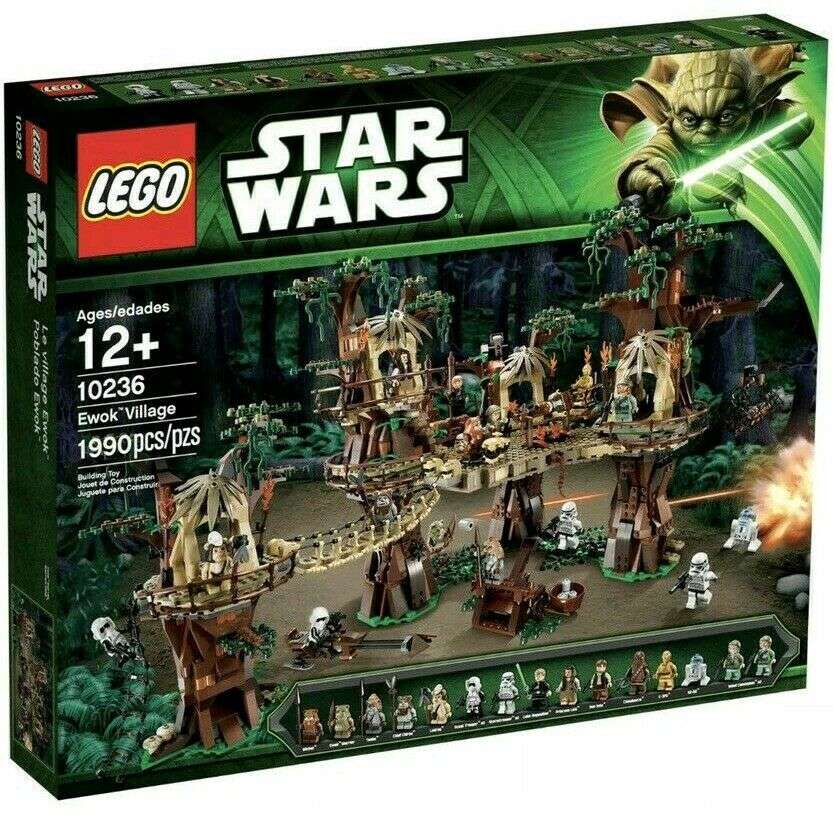 7. 10240 Red Five X-Wing Starfighter
The 2013 UCS X-Wing Starfighter was another remarkably improved re-make of an old UCS version of this ship. It is not hard to believe having that the original one came out in 2000. I have included it in the list simply because of its spectacular build and overall appearance.
The attention to details really makes this set a worthy choice to spend a couple of hundred dollars. The one single downside to me has always been the lack of a rebel pilot as a minifigure but overall it is a beautiful display set.
Year: 2013
Piece Count: 1559
Ages: 16+
Minifigures: R2-D2
Original Retail Price: $199.99

6. 75059 UCS Sandcrawler
The UCS Sandcrawler from 2014 is literally a behemoth set. It is a mix of an amazing build with a great selection of minifigures. If you are a fan of droids, this set will increase your collection by many new droid characters.
Besides being a beautiful display set, it has an incredible amount of play features both outside and inside. You can lift boxes, lower the front ramp, or remove the whole top of the set and enjoy the detailed interior.
Overall, the Sandcrawler makes for a really fun set which combines everything a LEGO Star Wars fan could desire. Last but not least, it is extremely worth the money in terms of price per piece as well.
Year: 2014
Piece Count: 3296
Ages: 14+
Minifigures: Jawa x4, Owen Lars, Luke Skywalker, C-3PO, Wed Treadwell Droid, R5-D4, Gonk Droid, R1-series Droid, R2-D2
Original Retail Price: $299

4. 10143 Death Star II
Although this set does not have any play features, to me it is unique. It is one of those sets that will start a conversation every time someone sees it. Despite being a really old set from the starting years of LEGO Star Wars, I believe it stands out with the number of details included in the build. It is incredible that a set this huge can simply hold on such a little stand.
It is one of those few UCS sets that I believe a lot of fans want to see re-made. When this first came out in 2005, it had an incredible price for the number of pieces included. Today, it may be far more troublesome to get but it is definitely a worthy collection piece no matter the price.
Year: 2005
Piece Count: 3441
Ages: 16+
Minifigures: None
Original Retail Price: $269.99

4. 10030 Imperial Star Destroyer
As I already mentioned in the beginning, we will be getting a remake of this set in fall 2019. However, the original version remains among the best UCS sets we have ever received. Released in 2002, it was the first set of this scale to ever exist.
Similar to the previous one, it is one of those incredible display sets that can act as a conversation starter for your LEGO collection or simply love of Star Wars. The amount of detail and the finished look of this ship in this particular light gray color make it one of our top choices and an incredible addition to any collection.
Year: 2002
Piece Count: 3104
Ages: 16+
Minifigures: None
Original Retail Price: $299

3. 75060 Slave I
The UCS Slave I from 2015 stands out as one of the most accurate builds to ever come to life. I believe most LEGO fans rarely enjoy stickers on sets. In this particular model, the stickers are what made the set look on point compared to the movies. They are placed in places where there would be a mismatch in colors.
It does hold a fair amount of play features like the adjustable front turrets and the cockpit which can be opened. Otherwise, I believe this is one of the most beautiful LEGO Star Wars sets and it looks incredible as a display piece.
Year: 2015
Piece Count: 1996
Ages: 14+
Minifigures: Stormtrooper, Boba Fett, Han Solo, Bespin Guard
Original Retail Price: $199.99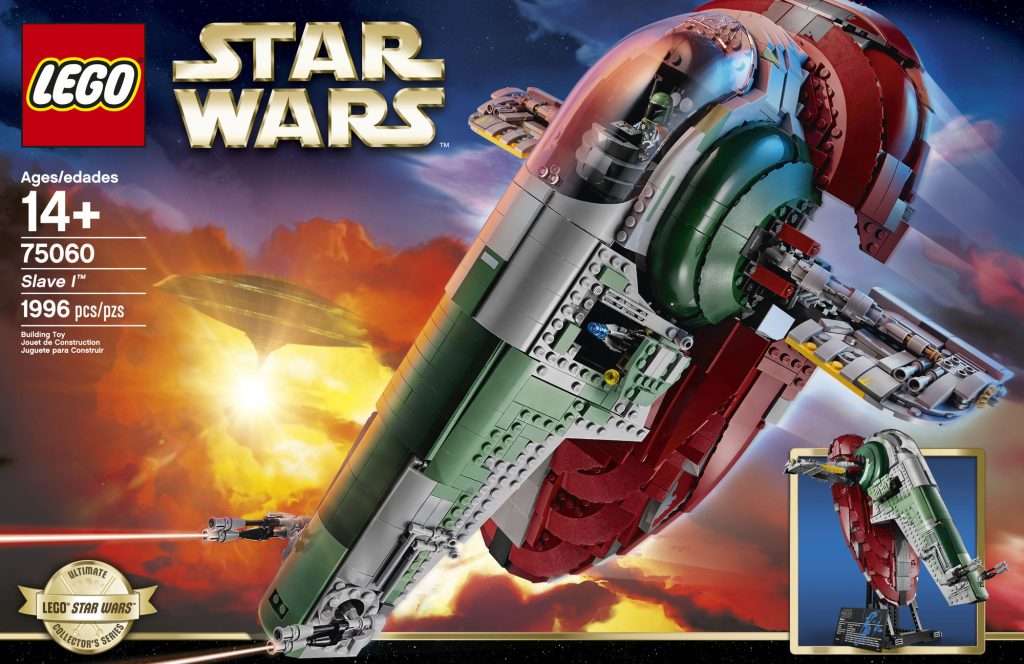 2. 10212 Imperial Shuttle
I am sure many will share my opinion, but I believe the 10212 Imperial Shuttle to be one of the most amazing UCS sets and sets overall. It is minifigure scaled and simply looks incredible. It can be displayed both on its landing gear or on a stand in flying mode.
In terms of play features, there is not a lot to talk about besides the large cockpit which can fit four of the minifigures at the same time. Overall, this is an incredible display set that simply looks beautiful in its white color.
Year: 2010
Piece Count: 2503
Ages: 16+
Minifigures: Imperial Pilot, Imperial Officer, Darth Vader, Luke Skywalker, Stormtrooper
Original Retail Price: $259.99

1. 75192 Millennium Falcon
No other LEGO set has created such hype as the 2017 Millennium Falcon. This set is simply huge. It is formerly the largest LEGO set with 7541 pieces. When it was announced, it was on backorder for months which is hard to imagine having the price of $799.99.
There is no other set that could possibly take the top spot on any list having the size and amount of details. Besides that, a great thing about this mammoth set is that minifigures are included from both the Original Trilogy (including the exclusive Mynock) and the Sequel Trilogy. There are also 2 interchangeable satellite dishes so that you can display the Falcon from your favorite era. Do you go with the circular dish from the OT or the rectangle from the ST? Ultimately the choice is yours.
This is a set for the most dedicated tier of fans and an absolute jewel for any LEGO collection overall.
Year: 2017
Piece Count: 7541
Ages: 16+
Minifigures: BB-8, C-3PO, Finn, Chewbacca, Han Solo, Mynock, Porg, Princess Leia, Rey
Original Retail Price: $799.99

What do you think of my list of the Best UCS LEGO Star Wars sets? Let me know in the comments.