If you spent your childhood playing with LEGO, then the chances are that you will continue to enjoy it when you grow up as well. It may be an unpopular opinion but LEGO isn't exclusively for kids. Yes, there is always an age group written on the box and it is rarely above 16 years, but lets face it there are many LEGO sets for adults both in design and from particular franchises.
When you take a look at social media, at Youtube or Instagram, there are hundreds of channels and accounts dedicated to LEGO and the majority of them are owned by adults. It is no wonder that there are also so many LEGO sets designed for adults which come out every year. Yes, it may not be written on the boxes but these sets require a developed brain to be fully appreciated and sometimes even built.
The following list combines the best LEGO sets for adults out of all themes that you can buy in 2020. These sets offer much more than plain playability. They come at higher price points but offer a true building experience which can hardly be appreciated by a youngster. In other words, these are not toys. In fact, you will see that most of them are magnificent display pieces and once you own one of them, you will not receive the usual criticism of building LEGO as an adult.
All of these LEGO sets would make a great Christmas present for the man (or woman) who has everything!
Note: The sets are not placed in any particular order.
75252 UCS Star Destroyer
Next to the 2017 75192 Millennium Falcon, this is the largest LEGO Star Wars set to ever be released. It captures all the important details of the real ship which can be seen in the Original Trilogy movies or in the opening scene of A New Hope if you want to be specific.
With close to 5000 pieces and incredible size, this LEGO Star Destroyer set will catch the attention of even the most uninterested person. It will keep you occupied for days as long as you don't binge-build it without rest.
The set comes with two minifigures one of which is brand new and unique. The new Imperial Officer figure has a new chest printing – it includes a brand new plaque which shows his rank in the Imperial army.
Without a doubt, this set is not a toy, but an outstanding display piece. Having the size, complicity of the build, and the high price, it is definitely not for kids.
Year: 2019
Theme: Star Wars
Piece Count: 4784
Ages: 16+
Minifigures: Imperial Officer, Imperial Crew Member
Original Retail Price: $699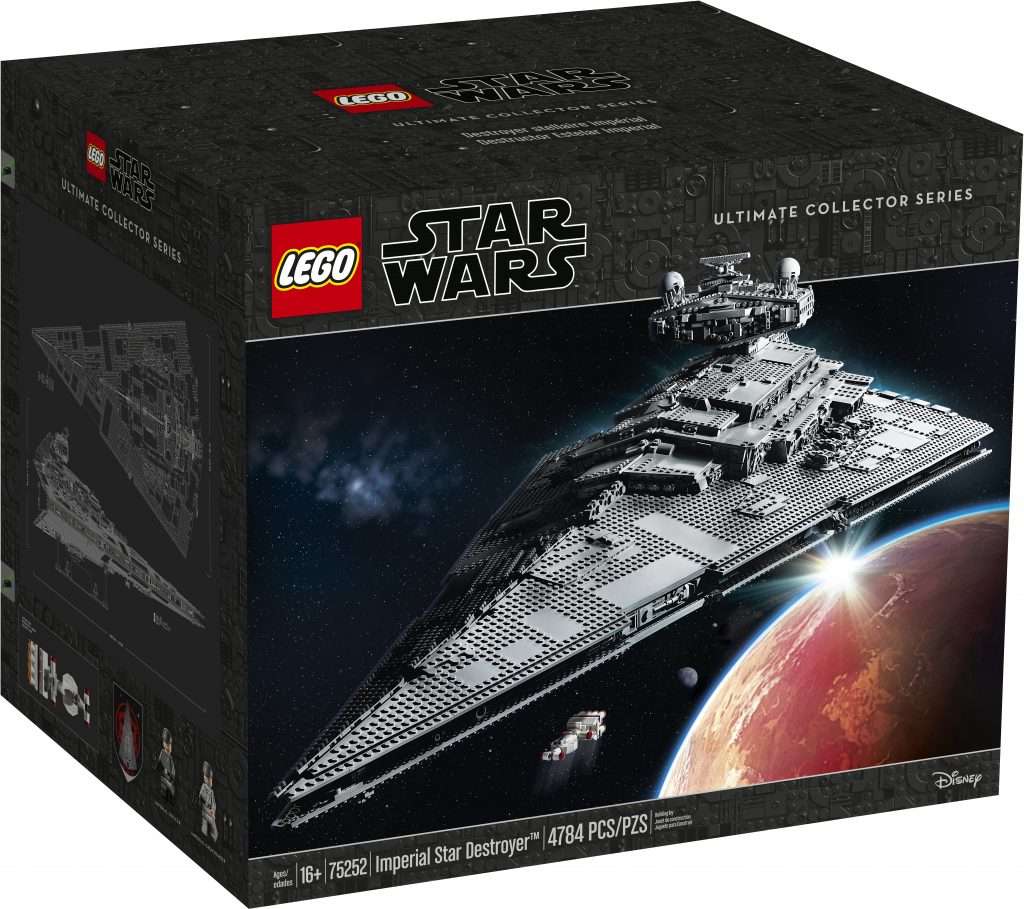 71374 LEGO Nintendo Entertainment System
Bring back the nostalgia of playing Super Mario Bros on a Nintendo on a retro-style TV with this LEGO set. The LEGO Nintendo Entertainment System is a full replica of those treasured childhood memories. There are so many authentic details in this set to make it the perfect gift for your favourite retro gamer. The buildable Nintendo console comes complete with a life-sized controller and even an insertable game cartridge (You won't need to blow on this one). The 1980's TV has a moving display of Mario's side-scrolling world. By turning the crank on the side of the TV, the display will scroll by.
To unlock the interactive features of this set, you can purchase separately the LEGO Super Mario Starter Course set (71360) and use the Mario figure from this set to jump through the scrolling course.
Year: 2021
Theme: Super Mario
Piece Count: 2646
Age: 18+
Minifigures: NA
Original Retail Price: $229.99
75308 LEGO Star Wars R2-D2
In honour of the 50th anniversary of Lucasfilm, this set has been redesigned from the ground up and was released just this year. R2-D2 has been packed with special features and surprises for fans of the Star Wars franchise. This R2-D2 model stands at 13" high and 8" wide, making them an impressive display piece for any fan or collector.
Among other authentic features, R2-D2 is able to deploy a third leg to switch between driving and standing mode, his head can swivel and has a rising periscope, and their front hatch opens to extend R2-D2's tools. But that's not the end of the surprises. There is a secret compartment that carries a replica of Luke Skywalker's lightsaber.
This edition of R2-D2 comes with a display plaque, a special Lucasfilm 50th anniversary brick, and a small R2-D2 figure.
Year: 2021
Theme: Star Wars
Piece Count: 2314
Age: 18+
Minifigures: R2-D2
Original Retail Price: $199.99
75290 LEGO Star Wars Mos Eisley Cantina
Han shot first. Reenact every moment from the Tatooine underworld bar known as Mos Eisley Cantina in stunning detail. This display quality set unfolds to create a sprawling setting. Get a drink at a bar, have a chat with Greedo, or ride in on a Dewback, anything is possible.
This LEGO Mos Eisley Cantina set comes with a staggering 21 minifigures, 7 of which can't be found anywhere else including Ponda Baba, Dr. Evazan, Garindan, and Kardue'Sai'Malloc. There is also an all-new Dewback figure and a V-35 landspeeder. For easy access to the inside of the cantina, the roof is removable. Lastly, the cantina includes removable buildings to create a sprawling city scene.
Year: 2021
Theme: Star Wars
Piece Count: 3187
Age: 18+
Minifigures: Chewbacca, 3 Bith Musicians, C-3P0, Han Solo, Luke Skywalker, Where, Jawa, Greedo, Obi-Wan Kenobi, R2-D2, Ponda Baba, Dr. Cornelius Evazan, Labria, Garindan, Momaw Nadon, Kabe, Hrchek Kal Fas, Sandtrooper, Sandtrooper Squad
Original Retail Price: $349.99
10272 LEGO Old Trafford Manchester United
If you're a sports fan, this is the set for you. LEGO has recreated Old Trafford stadium in all its glory, home of Manchester United, for you to own and display in your very own home. This build includes fan favourite details such as the Munich Clock, and the statues of Sir Alex, Matt, and the United Trinity. Gaze over the scale accurate pitch from the viewing stand dedicated to Sir Bobby Charlton. It was Sir Bobby who first called Old Trafford, the Theatre of Dreams.
Year: 2020
Theme: Creator Expert
Piece Count: 3898
Age: 16+
Minifigures: NA
Original Retail Price: $299.99

10256 Taj Mahal
When this set was announced in 2017, it met a surprisingly positive reaction considering that it is a re-release of the original Taj Mahal from 2008. With 5923 pieces, it is not only one of the largest sets to ever be released but also one of the sets with most details.
Overall, it is nothing but satisfying to own this beautiful display piece. It may be difficult to find a place to put this set but it is definitely worth it. It will be an instant conversation starter with anyone who sees it.
The build here is long and nothing but satisfying. Although people usually would name the deficit of color variations boring, here, the white color in combination with tan brown and blue does complement the final look of this exceptional display set.
Year: 2017
Theme: Creator Expert
Piece Count: 5923
Ages: 16+
Minifigures: None
Original Retail Price: $369.99
75060 UCS Slave 1
Rarely do we see such accurate builds in the LEGO Star Wars theme. The UCS Slave I from 2015 is without a doubt one of the best sets in this category and is what truly makes it worthy for any hardcore LEGO fan in general.
Stickers, which usually receive a lot of criticism in most sets, have been used perfectly to emphasize the details which would otherwise be missing. It is one of the greatest display sets to ever come out in the LEGO Star Wars theme and will not disappoint you in terms of build or even playability.
Year: 2015
Theme: Star Wars
Piece Count: 1996
Ages: 14+
Minifigures: Stormtrooper, Boba Fett, Han Solo, Bespin Guard
Original Retail Price: $199.99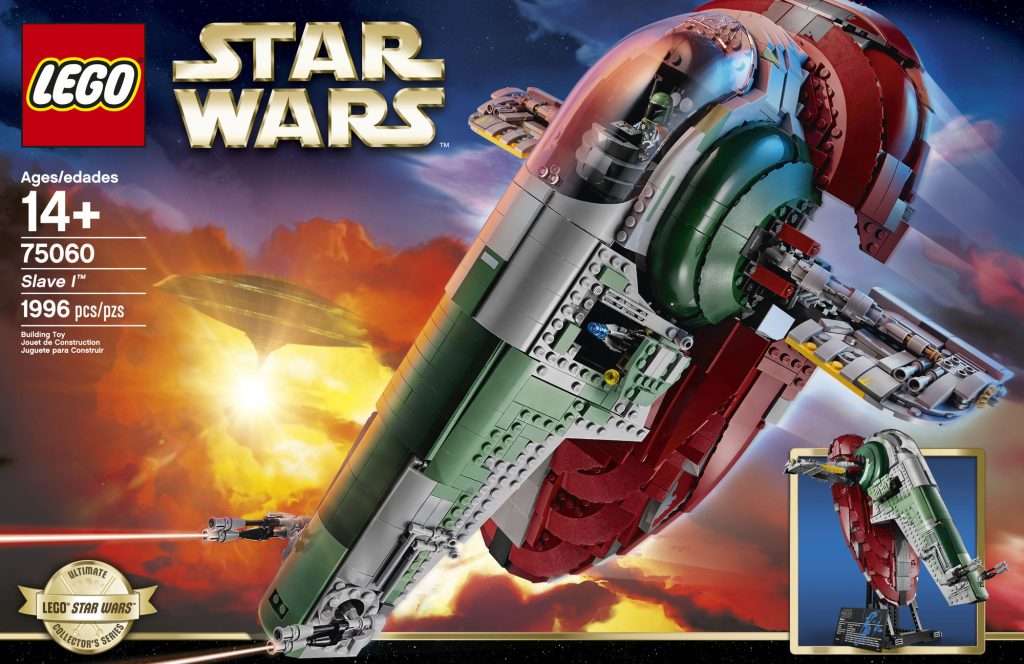 10266 NASA Apollo 11 Lunar Lander
After the exceptional Apollo Saturn V, we recently received another anniversary set dedicated to the first landing on the moon in 1969. Although this particular set doesn't stand close in terms of size, it is an incredibly beautiful display set with an amazing design.
The Apollo 11 Lunar Lander set is truly a worthy successor of the Saturn V. The realistic details definitely set the bar high. The build is rather satisfying and the finished set has an incredible design with a great combination of grey, black, and gold.
While it may not have the same impact on the LEGO community as the Saturn V, this set is one of the few that go beyond and will be appreciated by people who are not into LEGO as well. It is definitely a beautiful display piece which perfectly resembles the iconic vessel.
Year: 2019
Theme: Ideas
Piece Count: 1087
Ages: 16+
Minifigures: Astronauts x2
Original Retail Price: $99.99
71042 Hogwarts Castle
The Harry Potter movies have shown us some incredible cinematic locations and taken us on a unique journey. When the Hogwarts Castle was announced, it definitely put LEGO Harry Potter fans on the edge of their seats. With the franchise long over, it was a surprise that such a large set would get released but at the same time, a delight.
As one of the largest LEGO sets to ever be released, the Hogwarts Castle combines many interesting building techniques which complete the incredibly challenging build. The only negative side of the build is that it becomes slightly repetitive during the assembly of the windows.
Besides the satisfying castle, the set includes four exclusive minifigures. There is no other set that has even one of the founders of Hogwarts. Here, you have all four of them. This, combined with the incredible selection of 27 microfigures, completes this incredible set.
Year: 2018
Theme: Harry Potter
Piece Count: 6020
Ages: 16+
Minifigures: Godric Gryffindor, Helga Hufflepuff, Rowena Ravenclaw, Salazar Slytherin, Microfigures x27
Original Retail Price: $499.99
10262 Aston Martin DB5
It was a huge surprise to most when this set was announced. After all, there are some aspects of the James Bond franchise that are exactly the opposite of what LEGO stands for. In other words, it is not particularly for kids. This truly makes the Aston Martin DB5 an adult set. Nevertheless, fans of the most famous spy were more than happy about this set.
It is easy to say that this set is very different from the other Creator Expert cars that were released. It offers a lot more in terms of playability with the Technic mechanism that have been incorporated into the build. This, of course, also makes the build far more interesting and uncommon.
Although this set is great as a display piece, we have to mention the most important play feature – the ejector seat. Yes, you can launch the seat out of the car through the roof by pulling the rear bumper. It is fair to say that even adults will have fun with this feature.
Overall, this set has a great design and offers a surprisingly challenging build. The Creator Expert car sets are continuously getting better and give us an opportunity to have some of the most iconic cars in the world in the form of LEGO sets.
Year: 2018
Theme: Creator Expert
Piece Count: 1290
Ages: 16+
Minifigures: None
Original Retail Price: $149.99
75309 LEGO Republic Gunship
It's time to recreate the initial battles of the Clone Wars with this LEGO Republic Gunship. This ship comes in stunning movie-accurate detail, with functional swinging doors and side gun turrets that can swivel out to take down the enemy. The republic gunship was designed to carry troops, so there is plenty of room from the cockpit to the cabin to bring your entire clone army to the battle.
This display quality set comes with an information plaque with space to park your two included minifigures of Mace Windu and a Clone Trooper Commander.
Year: 2021
Theme: Star Wars
Piece Count: 3292
Age: 18+
Minifigures: Mace Windu, Clone Trooper Commander
Original Retail Price: $349.99
10276 LEGO Colosseum
The biggest LEGO set to date. If you're a fan of history or just looking for a challenge, this is the perfect set for you. The Colosseum is recreated in all its stunning and accurate glory with plenty of small details to capture your attention for hours. Not only do you get to build the 360-degree rows of seats, but also the hypogeum, the maze of passages that can be found beneath. Brick by brick you'll experience the historic architectural details, from the archways right down to the paving stones. Despite its size, it can be easily lifted and moved so you can enjoy it from any angle.
Year: 2020
Theme: Creator Expert
Piece Count: 9036
Age: 18+
Minifigures: NA
Original Retail Price: $549.99
76139 LEGO 1989 Batmobile
Cruise through the streets of Gotham City in the Batmobile from Tim Burton's Batman Returns. This build has plenty of fun details for Batman and car enthusiasts alike. There is a slide-open cockpit, pop-up machine guns, and decorative grappling hooks. When it comes time to display the Batmobile, the car sits on a rotating display stand that will let you easily view the car from all angles. There is also a minifigure display stand for Batman, Vicki Vale and The Joker, complete with a Batarang.
Year: 2020
Theme: DC
Piece Count: 3306
Age: 16+
Minifigures: Batman, Vicki Vale, The Joker
Original Retail Price: $249.99
75192 UCS Millenium Falcon
The 2017 LEGO Millennium Falcon has to be the LEGO set which created the largest wave of hype among the fan community. When you look at this behemoth set, it is not surprising that even people who have no interest in LEGO commented on it. It spent months on backorder when it was released two years ago.
A set of this size cannot possibly be made for kids, to be honest. The build is simply too complicated and challenging. Besides that, few sets offer such details. People may think that $800 for a LEGO set is way too much and this may also actually be true but nobody dares to repeat this accusation once they see the completed version in all its magnificence.
This is truly a wonderful set that is much more than simply a display piece. Never before has there been a Star Wars set that looks so complete.
Year: 2017
Theme: Star Wars
Piece Count: 7541
Ages: 16+
Minifigures: BB-8, C-3PO, Finn, Chewbacca, Han Solo, Mynock, Porg, Princess Leia, Rey
Original Retail Price: $799.99
42110 LEGO Land Rover Defender
For car and offroad enthusiasts, the LEGO Defender is loaded with realistic details and has been designed with authentic technic functions. Not only does it make an impressive display piece, but it also has opening doors, a removable roof, and a detailed cabin. It also has a working steering wheel, 4-speed sequential gearbox, All Wheel Drive with 3 differentials, independent suspension in both axles, a 6-cylinder engine, and a working winch.
Year: 2019
Theme: Technic
Piece Count: 2573
Age: 11+
Minifigures: NA
Original Retail Price: $199.99
So there we have our list of the Best LEGO sets for adults in 2021, I am sure you will agree we have been pretty spoilt with sets that have been released this year. Not forgetting the ones in the list that are still available to buy. My advice is to get them before they are retired as most sets of this size always go up in value.
Let me know in the comments which is your favourite.