It has been two decades since the very first LEGO Star Wars set hit the stores. One of the best sets that were released are the LEGO Star Wars Slave-1 Sets. There are a total of 8 Slave-I sets that have been manufactured by LEGO since 2000. In this article, we are going to enumerate all the LEGO Star Wars Slave-I sets and make a comparison between them. At the end of the article we are going to determine the best LEGO Slave-1 set that would be perfect for you or your child.
Every LEGO Star Wars Slave I set:
7144 Slave 1
This was the first and the smallest model of a Slave-I released by LEGO in 2000. Suitable for ages 7 and above, it is a 165-piece classic Star Wars set that includes Boba Fett and Han Solo frozen in a block of Carbonite. The Slave I consists primarily of green and light stone grey parts. The ship's bottom has two guns mounted on each side. A Dark Grey flat piece takes up the center of the vessel, with the light stone grey and green sloped parts underneath it. On the ship's left and right, two brick yellow parts act as wings that can also rotate. TECHNIC parts attach the wings to the ship's hull. The ship's cockpit is a transparent upward pointing windshield piece and can be opened. Below the ship are the engines, together with more sloping parts where a compartment can be opened to store Han Solo in carbonite.
7153 Jango Fett's Slave 1
7153 Jango Fett's Slave I is a Star Wars Episode II: Attack on the Clones set that was released in 2002. This 358-piece set is suitable for ages 8-12 and includes the minifigures Jango Fett and (Young) Boba Fett, both of which are exclusive to this set. The Slave 1 model in this set is in Blue, Sand Green, and White, which were the colors of Jango Fett's Slave-I. The wings are built mostly in sand-colored bricks. A variety of weapons are included in the set, including two sets of twin laser cannons at the bottom of the ship, which have the ability to rotate. Directly below the point where the wings are mounted, hidden quad laser cannons can be folded out and deployed. This version of the Slave 1 also has a pair of proton torpedoes which are hidden inside the ship. The back of the craft has a storage container, which is attached to the vehicle magnetically. It has enough room to accommodate both Jango Fett with his helmet on and sitting down and young Boba Fett. At the ship's bottom, just above the twin lasers are storage compartments, one of which is used to store Jango Fett's pistols. On the back of the ship, seven engines are present- three together at the top, and four positioned around the middle area where the storage container can be attached. Also on the back is a sensor dish at the top, and a piece in the same shape as the engines so that the ship is stable when it is in its landing position.
6209 Slave 1
This set was released as part of the Classic Star Wars line in 2006. It comes with a big Slave 1 cargo ship comprising many features such as moving wings, opening cockpit, opening missile hatch, and right and left hatch missiles. The set comes with five Minifigures: Boba Fett, Bespin Guard, IG-88, Dengar, and Han Solo in his first carbonite variation. The whole set consists of 537 pieces. A hatch opens, exposing a compartment for the Han Solo Carbonite brick, and two more can be used for storage on the sides. Propellers can be found at the ship's bottom. Another tiny room contains two white bombs that can be dropped. This set is appropriate for ages 8-12.
8097 Slave 1
This Classic Star Wars set was released early in the UK and the US on July 14 in most Toys' R' Us Stores, and in most other shops in August. The collection comprises of 573 parts and contains a Bossk and new designs of Boba Fett, Han Solo and Han Solo in Carbonite minifigures. It is one of the several sets released in 2010 to commemorate the 30th Anniversary of Star Wars Episode V: The Empire Strikes Back. This set is also the fifth version of this vehicle created by LEGO. Although this is another complete redesign of the Slave 1, the model carries over many of the features from the most recent previous release of the set, the 2006 6209 Slave I. One of the most notable features of the Slave I is the fact that the wings rotate with gravity. Out of the four minifigures included in this set, three are exclusive to this version. This set is suitable for ages 9-14.
75060 UCS Slave 1
75060 Slave-1 is a 1,996-piece set released in January 2015. It is a Star Wars Ultimate Collector Series (UCS) that includes redesigned Boba Fett and Han Solo minifigures, a new Bespin Guard minifigure, and a Stormtrooper. It is appropriate for ages 14 and above. Similar to many previous iterations of the Slave I, the model includes a redesigned compartment for the Han Solo in Carbonite piece, positionable laser cannons, a redesigned control area, concealed missile launchers, and laser cannons, and redesigned wings. An exceptional model, one which will be talked about for years to come.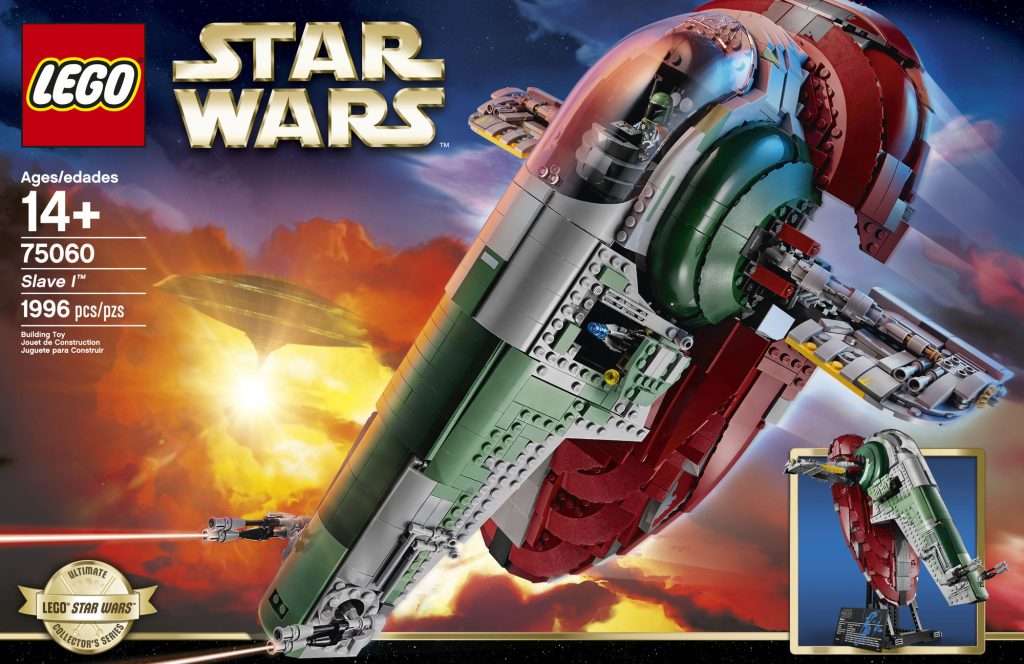 75222 – Betrayal at Cloud City
Released on October 1st, 2018, this 2,812-piece LEGO Star Wars set includes a Slave I that measures over 4 inches high, 7 inches long and 7 inches wide. There are 18 minifigures contained in this set, including Han Solo, Princess Leia and Luke Skywalker in Bespin outfits, C-3PO, Chewbacca, Lando Calrissian, Lobot, 2 Cloud City Guards, 2 Cloud Car Pilots, 2 Stormtroopers, Leia and Han in Hoth outfits, Darth Vader, Boba Fett, and an Ugnaught, plus R2-D2 and an IG-88 droid. This set is suitable for ages 14 and above. This set was the first ever to be classed as a Master Builder Series set rather than a UCS set which in my opinion is correct. UCS should be saved for large sets that are meant for display rather than play-set style sets such as the Ewok Village.
75243 Slave 1 20th Anniversary Edition
75243 Slave I–20th Anniversary Edition is a 1007-piece Star Wars set released in 2019. It is the most comprehensive version to date with characteristics such as a self-leveling cockpit seat and side wings, a carry handle for simple transportation and trigger-fired spring-loaded shooters. This incredible LEGO Star Wars collectible building toy also includes a closing rear door to store the Han Solo in Carbonite component. It contains 4 minifigures, including Boba Fett, Han Solo, Zuckuss and 4-LOM, plus a 20th anniversary Princess Leia minifigure with display stand. The Slave I construction toy measures over 5 inches high, 11 inches long and 12 inches wide. It is suitable for ages 10 and above. Princess Leia and Zuckuss are exclsive to this set with Zuckuss not having featured in a LEGO set before.
75312 Slave I (The Mandalorian)
info to follow
Comparison
We have evaluated the different Lego Star Wars Slave I sets based on detailed structure, design, size, minifigure patterns and playability.
As a summary, we can say that in terms of playability, the 751243 Slave-I 20th Anniversary Edition is the best. This latest version of the Slave-I set also has the finest minifigures. Although the 75060 UCS Slave-1 is the best when we base it on the design, it falls short on playability due to the lack of movable parts and accessories unlike the other models. We can therefore say that for children the best Slave-1 set to date is the 751243 Slave-1 20th Anniversary Edition and for the AFOL collector the UCS version will be hard to beat.