It's been Twenty years since the first LEGO TIE Fighter set made it to toy shelves across the world. Due to impressive new moulds and bricks the popularity of LEGO has only increased. Since 1999 we have had more than twenty TIE-Fighter sets (not including mini-builds, Micro Fighters and polybags) with each one improving on the last.
That's the beauty of LEGO – a set from 1999 may not look as aesthetically pleasing as its 2018 counterpart, however it's all still the same LEGO bricks so will connect seamlessly with each other. This enables kids and AFOL's (Adult Fan of Lego) to create their own MOCs (My Own Creation) and perhaps an even bigger and better Tie-fighter that was included in the box.
This is a walk down the path of over a decade of development of the LEGO Star Wars Tie Fighter Sets, showing you the similarities and differences between the various sets and how to choose the best from amongst the series. We've briefly reviewed each set, so that you can make your own comparison and decide which set is for you. Your decision may come down to the build, the aesthetic, or perhaps the set that has the best mini figures!
7150: TIE Fighter & Y-wing – 1999
The 7150 TIE Fighter & Y-wing is part of the first wave of the LEGO TIE Fighter sets and was first released in 1999. The build was based on the trench run scene from Star Wars Episode IV: A New Hope. The set included Darth Vader's Tie Advanced and a Y-Wing. The build for both ships was actually pretty good considering the limited pieces they had to work with back then. The set came with 454 pieces, 3 mini-figures, Darth Vader, a Rebel Y-Wing Pilot (Dutch Vander) and Astromech droid R5-D4 . The set was aimed at children aged 8 to 13.

7181: UCS TIE Interceptor

– 2000
The UCS (Ultimate Collectors Series) TIE Interceptor was designed with adults in mind. The clue is in the name, this set is for the collector, it's not really a toy, more a display piece and talking point.
The UCS TIE Interceptor comes with a total of 703 pieces which is actually a very low piece count for a typical UCS set. It has no minifigures, emphasising the fact that this set it not for children . As with most UCS sets the TIE Interceptor comes with a buildable stand and sticker plate which displays valuable information about the set.

7146: TIE Fighter – 2001
The LEGO Star Wars TIE Fighter 7146 was released by in 2002 and aside the incorrect colour (it's Blue!) the set is often rated as one of the best representation of a LEGO Tie Fighter. It looks great on the buildable stand, but be careful, it's not the most sturdy design. Overall it's a nice build and looks the part. The set has 171 pieces and 2 minifigs, the Tie Fighter Pilot and a regular Imperial Stormtrooper. Obviously due to its age the minifigures don't have the best prints but have still ages well.

7152: TIE Fighter & Y-wing – 2002 (repeat of 1999 set)
This set was a straight re-release of the 1999 set of the same name albeit with a different set number. This is something LEGO doesn't often do. It must of been a popular set at the time!
4479: TIE Bomber – 2003
The TIE Bomber 4479 was released in 2003 as part of the classic Star Wars line. It is the first and to date, the only TIE Bomber released by LEGO. It comes with a total of 229 pieces and 1 mini figure: a TIE Fighter pilot with a brown head underneath the helmet.
This set is based on the Imperial Tie Bomber which was sent out to bomb the asteroids where the Millennium Falcon was hiding. it literally got a few seconds of screen time in Stat Wars The Empire Strikes Back. Despite this, the ship is a fans favourite and doesn't disappoint. We could do with a more modern version though!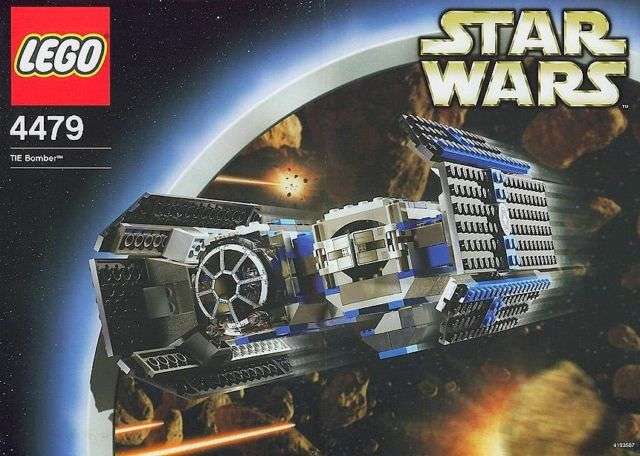 10131: TIE Fighter Collection – 2004
The LEGO TIE Fighters collection features the empire's most feared ships and includes the TIE Advanced, 2 TIE Fighters and the TIE/d fighter.
For the ultimate Tie fighter fan this set was the best thing since sliced bread. 4 Tie Fighter in one set. The only negative is that they could have included a Tie Interceptor or Tie Bomber in place of one of the standard Tie Fighters. The builds themselves are reminiscent of previous sets if not exactly the same with the Tie/d being a completely new build.
The 10131 TIE Fighter Collection consists of 682 pieces and four mini figures: Darth Vader, 2x Tie Pilots and the Droid Brain, suitable for kids 8 years and above.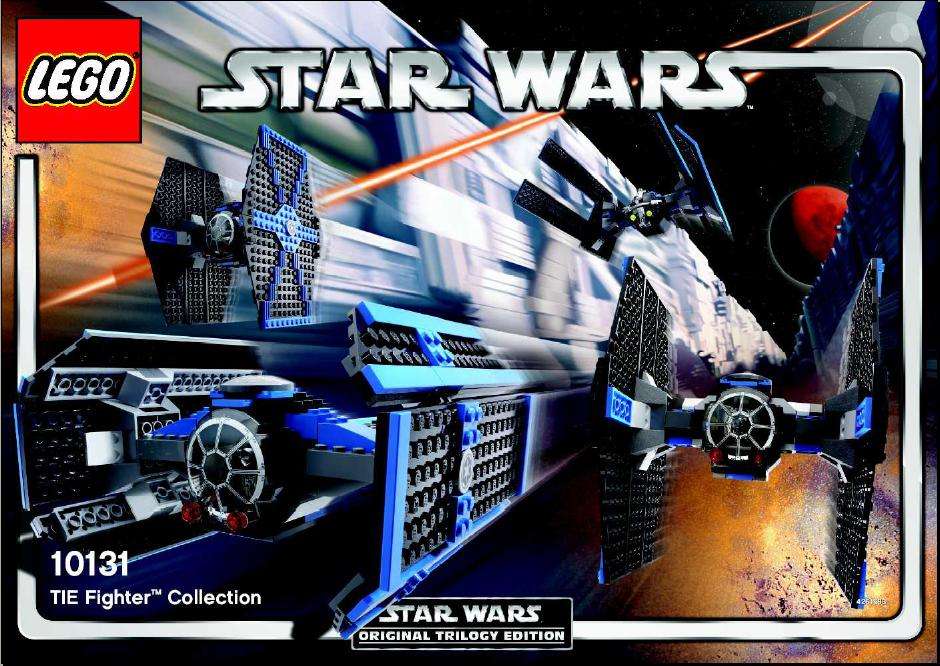 7262: TIE Fighter and Y-Wing – 2004
Although this set has appears to be a re-release of 7150 and 7152 there are some subtle differences. It uses the new shades of grey for both ships, and despite the image showing otherwise the TIE advanced is the improved version that first appeared in set 10131.
The set consists of 412 pieces, three mini figures: Darth Vader, Y-Wing Pilot and an Astromech Droid and is intended for kids within the age range of 8-12 years old.

7263: TIE Fighter – 2005
7263 TIE Fighter was released in 2005 and is the first TIE Fighter in the classic LEGO Star Wars series to feature a mini figure with a light up lightsaber. The set comes with two mini figures: A normal TIE pilot and the first ever LUL Darth Vader figure.
The build of the fighter ship is quite straightforward and keeps its part together with nice curves. Very similar to previous models including the blue wings!. The set comes with 159 pieces.

6206: TIE Interceptor – 2006
Coming from the Star Wars series: Return Of The Jedi, TIE Interceptor is one of the fastest fighter in the imperial list.
With piece count up to 212, this TIE Interceptor does have more pieces than all other Interceptors in the series and comes with just Darth Vader and an imperial pilot mini figure. The cockpit and pylons are much the same as those found in the Advanced series but are a bit stronger and the hinges are way better than those found in the previous sets. All in all this is a great looking Tie Interceptor despite the blue pieces.
This TIE Interceptor does not come with any landing gear but that's probably because it won't be needing one. The TIE Interceptor balances perfectly on its wings.

10175: UCS Vader's TIE Advanced – 2006
With over a thousand pieces for you to get your teeth into, you'd be more than busy with the ship to care about the missing mini figures in the 10175 Ultimate Collectors Series. Another display piece designed purely for the adult collector in mind.
The 10175 UCS features realistic design from the popular Star War Episode IV: A New Hope. The 10175 Ultimate Collectors Series is an advanced prototype fighter similar to the TIE Fighter. However it comes with a unique pod reinforced with durasteel alloy and an elongated deck to keep the ship in position.
10175 UCS Vader's TIE Advanced was released in 2006 and contains 1212 pieces. a truly magnificent set that would grace any collection.
7664: TIE Crawler – 2007
The 7664 TIE Crawler was released in 2007 and is one of the first LEGO Star Wars sets to be based on a vehicle that was never featured in the actual films. The Tie Crawler is a frustrating build and isn't the sturdiest of models. However, it has become quite collectable and is one of the rarer sets. This may be down to the mini figures though as this set includes 2 of the highly sought-after Shadow Stormtroopers.
The 7664 TIE Crawler consist of 548 pieces and is suitable for kids age 12 and above.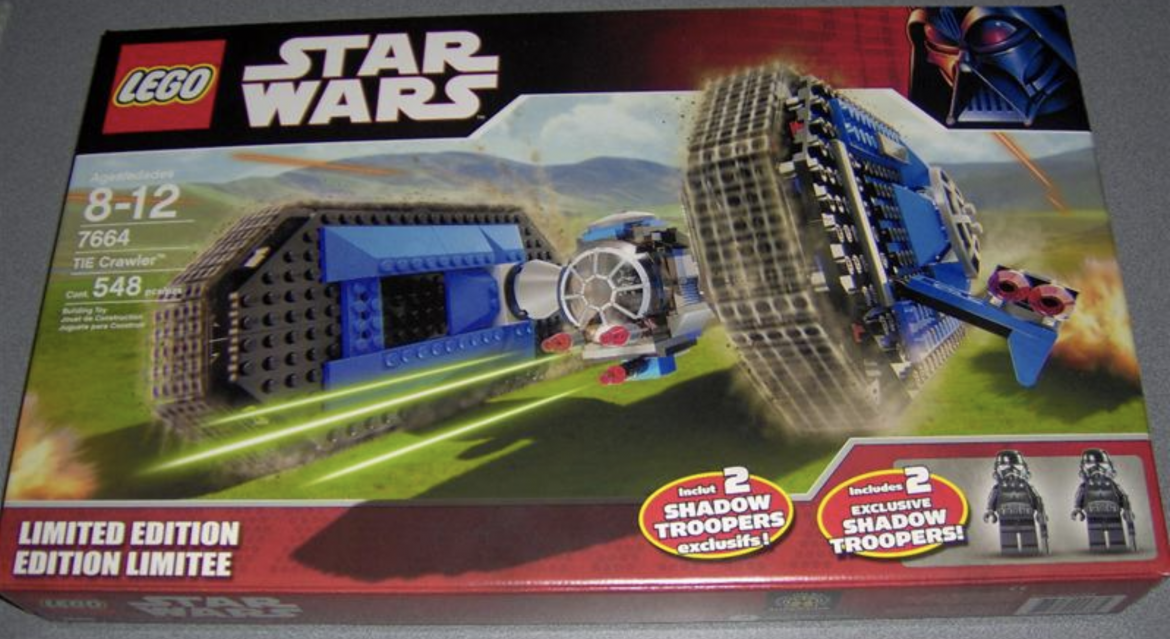 8017: Darth Vader's TIE Fighter – 2009
As part of the 10 year anniversary of LEGO Star Wars, the 8017 Darth Vader's TIE Fighter comes with an incredible movie accurate details on board, sleek firing missiles and measures about 6" long and 7" wide.
The 8017 TIE Fighter is Darth Vader's personified TIE Fighter and is made even faster and nimble than other ordinary TIE Fighters. It comes with a customised curved wings, a hyper drive and a deflector shield to protect it from enemy missiles.
A great little build with an updated Darth Vader makes this a highly desirable set.
This set has 251 pieces 1 minifigure is best suited for kids within the age range of 8 – 12 years old.

8087: TIE Defender – 2010
The 8087 TIE Defender is the first Tie Defender in the LEGO sets and is the perfect expression of the Imperial technology featuring a 3 winged TIE Fighter blasts, 6 flick launching missiles and a cockpit that rotates when the model is swooshed!
Another set based on a ship that did not feature in the feature films this Tie Fighter actually featured in a PC game called Tie Fighter!
The 8087 TIE Defender consist of 304 pieces and two mini figures: a Stormtrooper and a TIE Fighter pilot. This set is intended for kids aged 8-14 years old.

9492: TIE Fighter – 2012
This Tie-Fighter was a gmae changer for LEGO Star Wars Tie-Fighters, it was the first time it really was mobvie accurate. The colour scheme was spot on, the wing span perfect and with 4 mini-figures you really got bang for your buck! Coming with four mini figures: TIE Fighter Pilot, Imperial Officer, new Death Star Trooper and R5-J2 Droid, the 9492 TIE Fighter is the perfect machine hunting down rebels. It is equipped with a dual flick firing missiles, an opening cockpit and measure over 9" high and 6" wide. A truly great set and fun build!
This set comes with 413 pieces and is intended for kids age 14 and above.

75095: UCS TIE Fighter – 2015
Three years after the movie accurate 9492 Tie Fighter, LEGO release the Ultimate Collectors Series edition. And what an exceptional model it is. Aimed at the adult collector this is a truly amazing display piece. As screen accurate as you are going to get.
The set includes a buildable stand and plate to house the sticker that displays the technical data of the Tie Fighter. We also get a TIE Fighter pilot minifigure with a blast pistol which complements the set nicely. The set measures about 19" high, 12" wide making it the largest TIE Fighter sets in the LEGO series.
It features 1685 pieces and is intended for kids ages 14 years old and above. However, UCS sets are most certainly aimed at the adult LEGO collector.

75082: TIE Advanced Prototype – 2015
75082 TIE Advanced Prototype is based on the new Disney animated series Star Wars Rebels. The set comes with three mini figures: the Inquisitor, Imperial Officer and TIE Fighter pilot. The design of the minifigures are based on characters from the show, in particular the Imperial Officer who sports his light brown (tan) uniform. Each minifig has improved printing which has been a trend since 2015.
This Advanced Prototype features foldable wings, sleek curves and better cockpit design topped with a top hatch. The build also includes spring loaded missiles for great playability. A great set for the kids this one!
The set has 355 pieces with an age range of 8 to 14.

75101: First Order Special Forces TIE Fighter – 2015
If you are looking forward to recreating a scene from the Star Wars Episode VII: The Force Awakens then this iconic fighter ship is your best option, measuring over 8" high and 7" wide, The First Order Special Forces TIE is an iconic ship consisting of 537 pieces, opening cockpit, 2 seats, a rotating cannon, two spring loaded shooters and four mini figures: First Order Officer, First Order Crew Member and 2 First Order Tie Fighter Pilots.
Now, considering this is a Special Forces Tie Fighter you would have thought you we get a Special Forces Tie Pilot with the red flashes on his helmet. But no, for some reason this figure was not included.
It's still a great build, very sturdy with great playability for the kids!
This set is especially suitable for boys and girls within the age range of 8 to 14 years.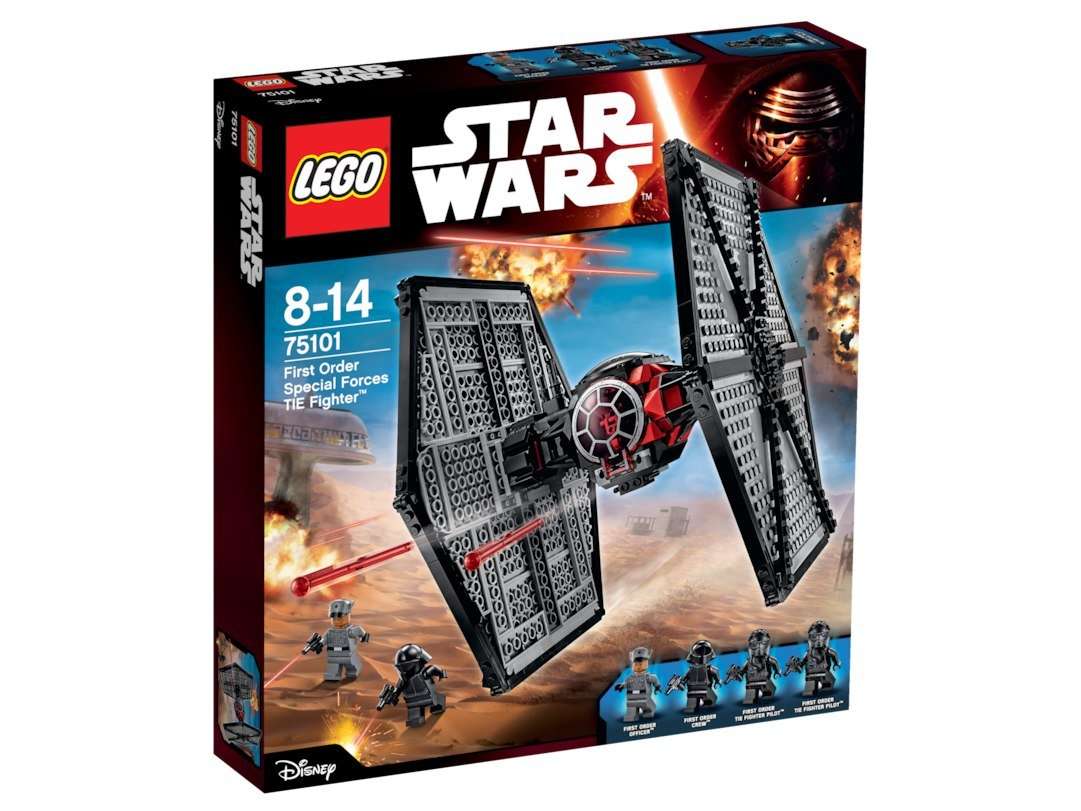 75150: Vader's TIE Advanced vs. A-wing Starfighter – 2016
Another set based on the animated series Star Wars Rebels this includes two iconic ships from the galaxy far far away. Darth Vader's Tie Advanced and an A-Wing Starfighter.
Darth Vader's ship consist of a top and front opening cockpit and a dual spring loaded missile shooter while the rebel's A-wing Starfighter comes with storage box behind the pilots chair, an opening cockpit, folding wings, and spring loaded missiles which can be fired by pushing a button located in front of the cockpit.
Darth Vader's ship measures over 4" in height, 5" in length and 6" width while the A-wing Starfighter measures 2" in height, 7" length and 5" in width. The whole setup consists of 702 pieces, 4 mini figures: Darth Vader, Grand Moff Tarkin, an A-Wing Pilot, and Sabine Wren.

75154: TIE Striker – 2016
This new design of Tie featured in the movie Rogue One: A Star Wars Story and was a welcome edition to the line. The design looks great with the pointed wings with the model itself having the screen accuracy that we have come to expect from modern LEGO sets. Together with the U-Wing the TIE Striker lets you take to the sky and recreate the battle of Scariff.
The set measures 18" wide and comes with adjustable wings, cockpit with top and bottom opening, front dual spring loaded shooters and a storage compartment.
It packs 543 pieces, four mini figures: TIE Pilot, Imperial Shoretrooper, Imperial ground crew, and a Rebel Trooper and is specially designed for kids between 8 and 14 years old.

75179: Kylo Ren's TIE Fighter – 2017
An inspiration from the Star Wars Episode VIII: The Last Jedi movie, the 75179 Kylo Ren's TIE Fighter features large pointed wings, 2 trigger spring loaded shooters, an opening cockpit and a red exhaust detailing.
This set is screen accurate featuring a black aesthetic with red translucent red cockpit. A beautiful model which is super sturdy and a fun build There are four mini figures in the kylo Ren's TIE Fighter set: Kylo Ren, a First Order Stormtrooper, a First Order Special Forces TIE Pilot plus a BB-9E figure. In my opinion the SF Tie Pilot would of been more suited to the 75101 First Order Special Forces Tie Fighter set.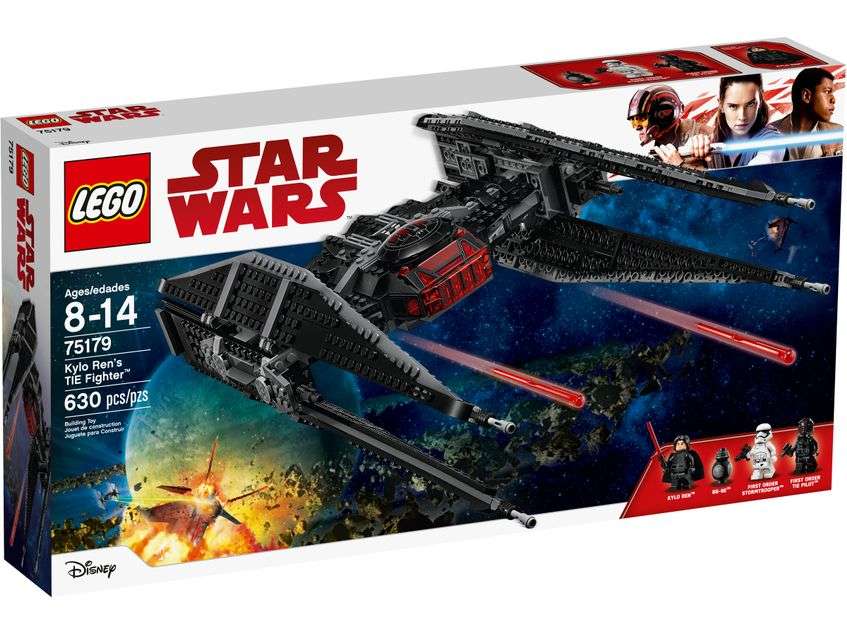 75211: Imperial TIE Fighter – 2018
With the Imperial TIE Fighter set, you're all set to explore the universe and engage your enemies as much as you'd want. The LEGO 75211 Imperial TIE Fighter is well crafted and highly detailed brick version of the Galactic empire's craft. It feature intricately designed sturdy wings, access hatch, 2 spring loaded launcher and an opening cockpit for mini figures.
This particular Tie Fighter is based on the the ships featured in the movie Solo: A Star Wars Story but are very similar to the Tie Fighters used in the Original Trilogy.
The 75211 TIE Imperial Fighter measures 9" high and 7" wide. It includes 4 mini figures: Han Solo, Tobias Beckett (in Mimban Stormtrooper disguise) an Imperial Pilot, and a Mimban Stormtrooper. This set is intended for kids between the age of 9-14 years and contains 519 pieces. A fantastic set!

75237: TIE Fighter Attack (Juniors Set) – 2019
The 75237 TIE Fighter Attack is built with first time LEGO users in mind. It comes with lesser number of pieces – 77 total and features an opening cockpit with enough space for the TIE Fighter Pilot. The set also includes a mini-build which is supposed to represent the base on Yavin. The build is extremely simple, perfect for the little ones! it has taken until 2019 for LEGO to produce a Juniors LEGO Star Wars set!
The set also includes a Rebel Fleet Trooper with new and improved print.

75300 TIE Fighter
Following along the theme of many of the 2021 LEGO Star Wars sets, this TIE Fighter is smaller than normal. Not quite a Juniors set but smaller than your average standard TIE Fighter. However, for some reason it works! The ship looks great although perhaps a little stumpy. In the main the difference is in the wings, although they follow the same design of previous TIE Fighters, they are noticeably smaller. Still a great looking set with a fun build. Features include an opening LEGO minifigure cockpit and 2 spring-loaded shooters. The 3 minifigures included are a TIE Fighter pilot, a Stormtrooper and and awesome looking droid called NI-L8.
So there you have it, 20 years of Tie Fighters and they just get better and better. The LEGO TIE Fighter has come a long way and even though the newer sets may be more screen accurate and better builds with newer pieces, it's still difficult to decide which one is the best. I will leave that for you to decide. Let me know what you think in the comments.