Every now and then, LEGO decides to release a polybag with a Minifigure to promote a certain wave of sets or to commemorate a Star Wars event. These polybags would either be exclusive with purchases from the official LEGO website and LEGO stores or would be randomly placed in set boxes from a certain wave.
Occasionally, LEGO releases polybags with extreme exclusiveness at low quantities that eventually end up for sale at sky-high prices. In this article, we will get a closer look at the Top 8 Most Expensive LEGO Star Wars Minifigure Polybags.
8. TC-14
If you are unfamiliar with the character of TC-14, it is the female droid that was sent to distract Qui-Gon Jinn and young Obi-Wan Kenobi at the very beginning of Episode I: The Phantom Menace. Other than that, the droid can be played in the old LEGO Star Wars: The Video Game from 2005.
As for the polybag, it was released as a promotion in 2012, and based on the price today isn't too rare. You can currently purchase it for around $30 or more but the prices will surely increase as the years go by.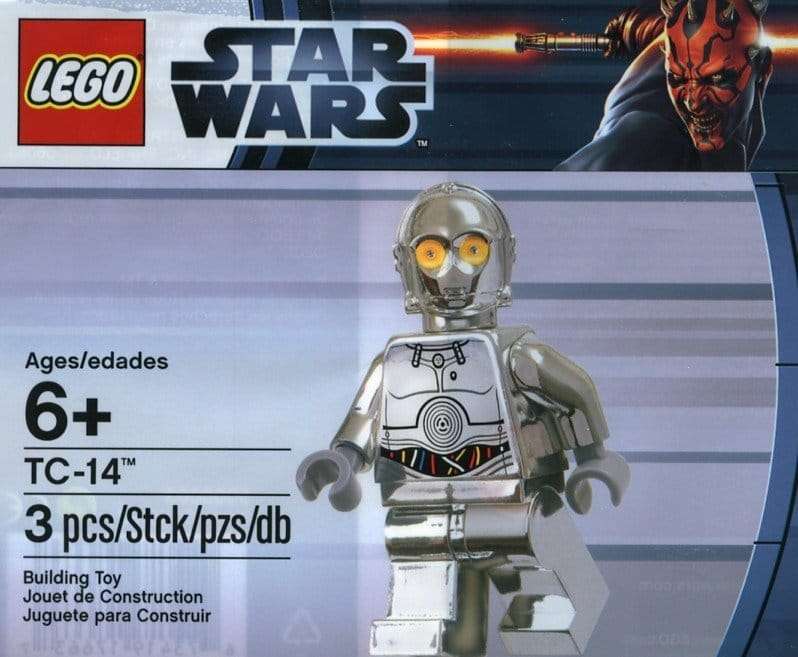 7. Darth Revan
Darth Revan, one of the ultimate fan-favorite Expanded Universe characters (now officially canonized but without any written history) was presented in a polybag in 2014 and later again in 2016.
Although the promotions included large quantities of this polybag, its price today starts at around $45. It is curious how LEGO and Lucasfilm, in particular, decided to use a character from the Legends continuity right after they announced the brand new canon of Star Wars.
As a whole, the release of this polybag felt like an attempt to make it up to the fans. After all, the majority of the community continues to love the old Expanded Universe to this day. Nevertheless, nobody protested against the release of this polybag and it is a favorite to many, including me.
6. Shadow ARF Trooper
This polybag came out as a LEGO Star Wars promotion for May the Fourth in 2011. It was exclusive to the official LEGO website and was given away with every order on May 3rd and 4th. The exact quantity is unknown but there was an official announcement from LEGO in the early afternoon of May 4 that the Shadow ARF Trooper was already out of stock.
Apparently, there weren't too many of these as the prices today do not fall below $70 per piece. In most cases, you will find them for $100 or more.
5. The Chrome Stormtrooper (2010)
The Chrome Stormtrooper was a polybag released in 2010. It was aimed as a promotion for a new wave of sets and was randomly given to people who purchased LEGO sets from the official LEGO Store.
According to the creators, this polybag was limited to 10,000 pieces which is a relatively small quantity. Not every customer was eligible to receive this polybag. You had to purchase items for over £35 or around $45.
It is possible that LEGO increased the quantities, but there has never been any confirmation. Today, you can only find this polybag on eBay or Bricklink, but the prices usually start at more than $100.

4. White Boba Fett (2010)
The White Boba Fett polybag was available in 2010 and 2011 under certain conditions. We do not have any information about quantities but judging by the extended availability, it would be logical to assume that there were more than 10,000. At the same time, this is priced higher than the Chrome Stormtrooper which indicates that the total number was lower.
The conditions to get this polybag varied within the different countries, however, it would always depend on the amount of money spent. Today, you can find it for as low as $150 or more on eBay or Bricklink.

3. Chrome Darth Vader (2009)
The Chrome Darth Vader was released in 2009 to commemorate the 10th anniversary of LEGO Star Wars. Once again, LEGO allegedly made a total of 10,000 polybags but, of course, the number could easily be higher.
The Chrome Darth Vader polybags were randomly placed in set boxes without any indications. Could you imagine opening your brand new LEGO set and the first thing you see is an exclusive Chrome Darth Vader polybag?!
Today, the Chrome Darth Vader would cost you around $200 or more if you even manage to see one for sale.
2. Darth Vader (2005)
At number two, we have a polybag Minifigure that undoubtedly looks quite simple and basic compared to most on this list. At the same time, it is the second most expensive polybag today.
This Darth Vader polybag was released in 2005 as an exclusive for the Nuremberg International Toy Fair. Apparently, it was available at the fair only and this is perhaps why it is so expensive.
The only exclusive feature of the Minifigure is the lightsaber which actually lights up. Apparently, LEGO simply wanted to release an exclusive for the event without overspending and thus, they did not change anything about the actual figure but the lightsaber.
Today, you will be hard-pressed to find the Darth Vader Polybag for less than $300 or more.
1. Gold Chrome Plated C-3PO
If you ever wonder what a truly exclusive and luxurious LEGO Minifigure looks like, take a look at the Gold Chrome Plated C-3PO which was released in 2007 for the 30th anniversary of Star Wars. It is a truly magnificent Minifigure and it is truly made out of 14K gold.
Apparently, there were a total of 10,000 of these made and then randomly placed in LEGO Star Wars sets in 2007. As much as we know, these could be found in all types of LEGO Star Wars sets, not just the larger more expensive ones.
Today, the regular price of a single Gold Chrome Plated C-3PO is above $1000 and often even around $1500. Unfortunately, due to the rarity of these and their absolute exclusiveness, you can hardly even find any for sale.
Most of the 10,000 have already found their way to Star Wars collectors and will rarely be sold. Nevertheless, there is always a chance if you follow the markets and you may even get lucky and find it at a "good" price.

Final Thoughts:
It is always an extreme pleasure when you find a polybag in your brand new LEGO set or when you receive it as a gift at the LEGO Store. I have personally received a few myself.
Unfortunately, you need to be extremely lucky to stumble upon one of the rare ones that get released. Of course, you could always add one to your collection from the secondary market.