Every fan of LEGO knows the joy of buying the newest set of their favorite LEGO theme. From Star Wars to LEGO City, LEGO offers a large variety of sets for everyone. In addition to larger sets, LEGO occasionally creates minifigure polybags as well.
These small bags often contain characters exclusively found in the minifigure polybag. Often, they are released on special dates such as anniversaries or in promotion of a new LEGO line.
For LEGO collectors and LEGO builders, it's always exciting to know if you have one of the rarest or most expensive LEGO polybags. In this article, we will be looking at the top eight most expensive LEGO Star Wars minifigure polybags.
8. TC-14
The shiny silver protocol droid, TC-14 only appeared in The Phantom Menace welcoming Qui-Gon Jinn and his apprentice Obi-Wan onto the Saak'ak. Even though she only appeared in this scene, she is also a character option in the LEGO Star Wars Video Game.
Her polybag was released as a promotion on May the Fourth in 2012. It was the first exclusive May the Fourth release, besides the Shadow ARF Trooper polybag. TC-14 was given to customers purchasing LEGO Star Wars sets for $75 or more online.
Her current price ranges from $115 to $150 if unopened. Although not as expensive as other Star Wars minifigure polybags, her value has increased over recent years.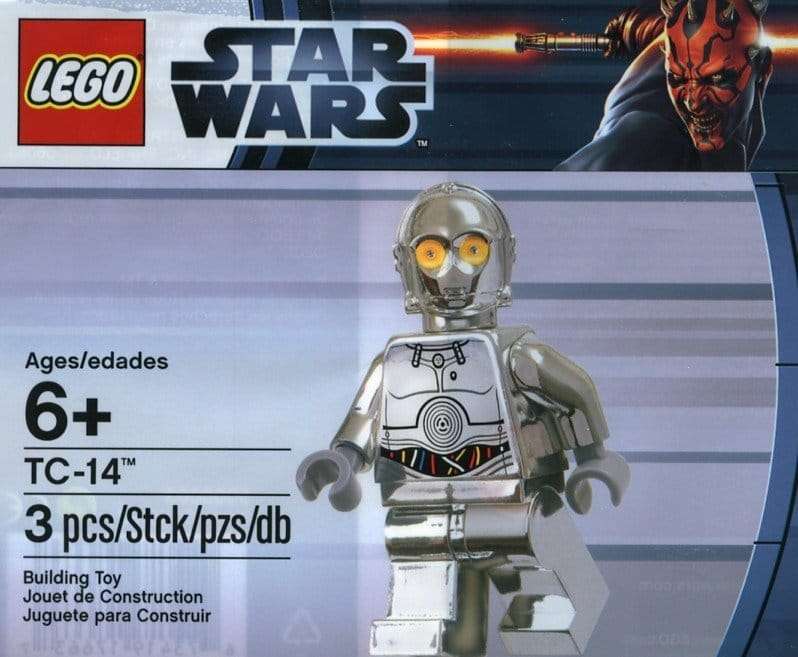 7. The Chrome Stormtrooper (2010)
The Chrome Stormtrooper polybag was released with the introduction of the LEGO Classic Star Wars line. The Chrome Stormtrooper was randomly given to those who purchased LEGO sets from the LEGO store for $45 or more.
There were only 10,000 of this specific stormtrooper created. Due to its rarity, it can now be purchased for around $180. The Chrome Stormtrooper is one of the more expensive LEGO Star Wars polybags that can be found easily purchased online from different sellers.

6. Darth Revan
The infamous and fan-favorite Sith Lord, Darth Revan, found mainly in Legends is the sixth most expensive Star Wars polybag minifigure. Known for once being a Jedi Knight, turning to the dark side, then back again, fans were overjoyed with his release.
Darth Revan came out in 2014. The minifigure depicts his character during his leadership of the Sith Empire during the Jedi Civil War in Legends. These polybags first appeared in the Czech Republic. They then became available throughout the world on May the Fourth.
The price for an unopened Darth Revan is around $200. It comes with six distinct parts: black pants with his grey and red belt, a red body with black arms and red hands, the head featuring his unique mask, a hood, a cape, and a red lightsaber.
5. Shadow ARF Trooper
Another special LEGO Star Wars May Fourth promotion polybag is the Shadow ARF Trooper. It came out in 2011 and was given to those who ordered sets over $75.
The Shadow ARF troopers completely sold out on the first day! Now, a Shadow ARF Trooper polybag can cost up to $300 when purchased online.
Unlike typical clone troopers, the Shadow ARF Trooper wears black armor. The helmet contains blue details and a visor. On the armor are white distinctive markings. This trooper also comes with the typical clone trooper face and blaster.
4. White Boba Fett (2010)
LEGO has produced many Boba Fett minifigures found in sets released through the years. In most of them, Boba Fett wears his typical green armor. However, in 2010, LEGO released a white armored Boba Fett.
His white armor followed the original concept art of Boba Fett drawn by Ralph McQuarrie. He was going to be a super-trooper in the Empire but instead was created to be a bounty hunter.
The white Boba Fett polybag was released on the 30th Anniversary of Star Wars. Just like the Chrome Stormtrooper, only 10,000 were made.
Depending on the country, the white Boba Fett was given with the purchase of Slave I, at a toy fair, with purchases at Smyths Toy Stores, or to those who built the giant LEGO Star Wars mural at Star Wars Celebration V. These polybags can now be bought online for up to $300.

3. Chrome Darth Vader (2009)
Most LEGO Darth Vaders follow the typical design of black armor. However, in 2009, an exclusive chrome black Darth Vader polybag was released. It was part of the LEGO 10th Anniversary Star Wars line.
This polybag was unique in the variety of ways that you could receive it. Unlike the typical purchase of a certain amount, these polybags were randomly in sets in the United States and Europe. They were given to customers at random LEGO stores.
If you purchased a specific amount of LEGO Star Wars sets or completed a LEGO Club Magazine survey in Australia, you could get this minifigure. Finally, there was also a special competition that went on to win it.
Now, the Chrome Darth Vader can be purchased for $400 online. The Chrome Darth Vader is much more difficult to find and buy online than the previously mentioned minifigures.
2. Darth Vader (2005)
Another Darth Vader polybag makes the list of the rarest and most expensive LEGO Star Wars minifigures. Unlike the shiny chrome black coloring on the Chrome Darth Vader, this one follows the typical black pattern of LEGO Darth Vaders. It also comes with a unique light-up red lightsaber.
Most of the polybags on this list were made available to any LEGO lover. However, the 2005 Darth Vader was given only to VIP Attendees at the Nurnberg Toy Fair in Germany. Due to its extreme rarity, it costs $2,500, much more expensive than all the other minifigures listed before.
1. Gold Chrome Plated C-3PO
In 2007, on the 30th Anniversary of Star Wars, a Gold Chrome-Plated C-3PO was released. He contained 14k gold and was even shinier than the Chrome Darth Vader! Other than the material of the LEGO, it had the same design as typical LEGO C-3POs.
Like many of the other polybags LEGO released, there were only 10,000 Gold Chrome Plated C-3POs made. Those who originally got them found them in random LEGO Star Wars sets. It didn't matter if they were large or small–this C3-PO was found in all sizes of sets.
Due to their rarity, there are rarely any found for sale. Most have found a place in a Star Wars collector's home. Their current value is $2,800. If you can find one for sale, you are a lucky one!

Conclusion:
Each of these LEGO Star Wars polybags has increased in value over the years. For those who have received any of these exclusive polybags when they were released, you lucked out!
Even though these Star Wars minifigures were only released on specific dates and under certain parameters, some are still available and circulating through online sales.
If you are a LEGO Star Wars collector or even a LEGO lover, check through your minifigures to see if you have one of these polybags listed! If not, you can always try your luck with buying one online. Their value will continue to increase throughout the years, so find them while you can!