Starting in 2011, LEGO has been commemorating the widely-accepted Star Wars Celebration day – May 4th (May the Fourth be with you), with a special promotion that usually includes an exclusive polybag or small set. These promotions are usually limited to small quantities and can be acquired through purchases on the official LEGO website or randomly included in a set box.
In this article, we will be reviewing all of the LEGO Star Wars May the Fourth giveaway promotions that have been released, including the brand new release for 2023.
Unfortunately, in recent years LEGO made the decision to change from the much-loved Minifigure polybags to mini-sets and this has resulted in a sufficiently decreased interest among fans. We would love to hear your opinion on this matter – do you like the new mini-sets or do you prefer the old unique LEGO Star Wars Minifigure polybags?
Shadow ARF Trooper (2011)
The Shadow ARF Trooper was the first-ever May the Fourth promotion by LEGO released in 2011. It was only available on May 3rd and 4th on the official LEGO website. We do not know the exact quantity of the release but we can confirm that they went out of stock extremely fast.
Even after so many years of May the Fourth promotions, I feel like the Shadow ARF Trooper is the perfect example of what this celebration is all about. It is not a Minifigure that stands out with design changes, it is not even a genuine character in Star Wars, but it is unique and it is exclusive.
You can still find this Minifigure polybag for sale on platforms like eBay or Bricklink but the prices will disappoint you. These commonly sell for around $100 per piece.
TC-14 (2012)
In 2012, LEGO released its second promotional figure for the celebration. It was a character that most regular fans would hardly recognize – TC-14, the female droid from the beginning of Episode I: The Phantom Menace.
It is that silver-chrome droid that was sent by Nute Gunray to meet Obi-Wan Kenobi and Qui-Gon Jinn on their diplomatic mission to Naboo. It appears LEGO released larger quantities of this Minifigure polybag as they are still relatively cheap o to pick up compared to other May the Fourth promos.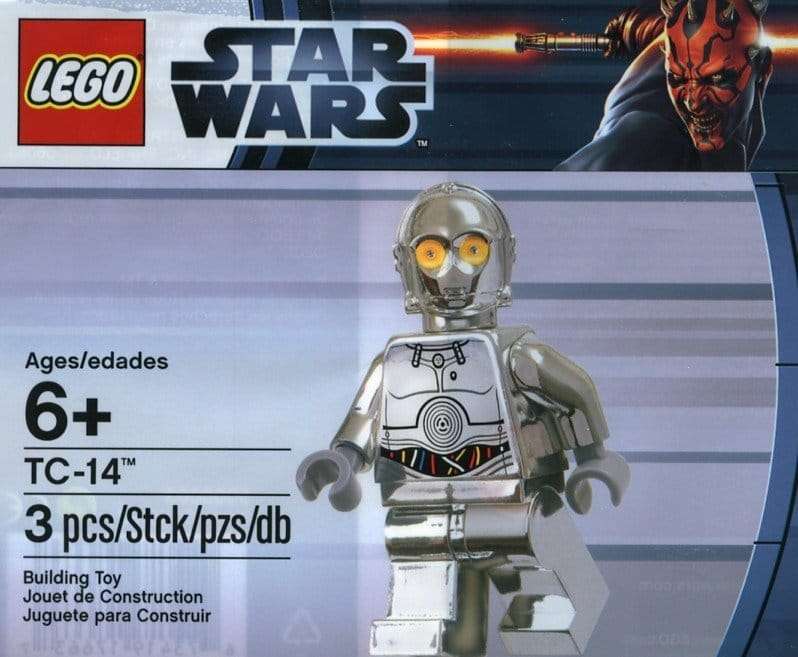 Han Solo Hoth (2013)
When this one came out in 2013, most fans loved it because it had some unique printing and it was one of the most important characters in the franchise. Unfortunately, I wouldn't rank it high today.
Since 2013, we have seen this exact Minifigure that was once exclusive, released in two Hoth sets. Apparently, LEGO decided to save some work for its creators and simply use the promotional Minifigure instead of designing a brand new one.
Overall, I would easily rank this among my favorite May the Fourth Minifigures if it hadn't been included in regular sets in the following years.
Darth Revan (2014)
The 2014 promotion definitely set the bar high with this special character and thus, the following year's promotions can be considered disappointing. The Minifigure was of Darth Revan, one of the most powerful Sith Lords from the Legends continuity and a fan-favorite to countless dedicated fans.
As you can clearly tell, everybody wanted to own this Minifigure and it continues to be popular up to this day. You can purchase it for around $45 and it appears that there were larger quantities of this one.
Admiral Yularen (2015)
The 2015 May the Fourth promotional Minifigure did not stand out with anything apart from the exclusiveness of the character itself. You literally cannot compare it to the Darth Revan polybag from the previous year.
Nevertheless, it remains the only Admiral Yularen Minifigure that has ever been released. The character is not particularly popular among fans but I accept that it has some collector value. Still, it is one of the simplest promotional Minifigures that LEGO has ever released.
30602 – First Order Stormtrooper (2016)
If I have to name one of the Minifigure polybags that was an absolute waste and a disappointment, it would be the 2016 First Order Stormtrooper. Everybody was expecting a unique-looking trooper but instead, we got an absolute copy of the regular First Order Stormtrooper that was released in a battle pack in the same year.
The only difference from the regular trooper was the additional two ammo pouches on the chest. Overall, LEGO made a serious mistake with this release. The May the Fourth promotion was purposely created to give fans something unique and exclusive once a year and this was nothing like it.
30611 – Buildable R2-D2 (2017)
Apparently, the disappointment with the 2016 First Order Stormtrooper Minifigure polybag forced LEGO to look for an alternative type of promotion. Unfortunately, we have not seen another Minifigure since 2016 and some of the most recent exclusives have been nothing but disappointing.
Nevertheless, LEGO released this Buildable R2-D2 in 2017 and it was absolutely incredible. The actual decision to change the Minifigure polybags was met with skepticism but LEGO definitely put out something well-designed.
This was the first time we saw an entire buildable droid figure and the design was amazing. It also included some great head printing.
40288 – Buildable BB-8 (2018)
LEGO continued the following May the Fourth with another buildable figure – this time of BB-8. In all honesty, this one is a 50/50 when it comes to the design.
Before anything else, there is a lot of printing on this BB-8 which is definitely one of the two major positive features. The second good thing is the headpiece. It could actually move on each side which is a fun feature and an overall cool touch.
The bad thing about this buildable BB-8 was the balance. You would have to work really hard to get it to stand up straight. This is because of the unnecessary stud on the bottom of the figure. You would either have to leave it leaning to the side or you would have to build your own custom stand for it.
40333 – Battle of Hoth (2019)
Once again in 2019, LEGO changed the concept and came out with a brand new idea for their May the Fourth promotion – a mini-set. It was available on the official LEGO website or the LEGO stores with purchases of over $70.
Overall, this was not a bad promotion. The mini-set included two miniature LEGO Snowspeeders and a relatively-nice LEGO AT-AT Walker. There was also a small shield generator that is as accurate as it gets with such a small size. Unfortunately, it is not accurate when it comes to the scale of the entire set. I believe that a Snowspeeder would normally be smaller than the shield generator but nevertheless, a good detail.
The main problem and missed opportunity with this promotion to me is the absence of a Minifigure. Especially since 2019 was a special year for LEGO Star Wars, I believe we could have received a sixth exclusive Minifigure.
40407 – Death Star Battle (2020)
Although this has not yet been officially released, we at least got the announcement and we can safely discuss it. Even without seeing it in person, I can honestly say that I am not too happy with the 2020 promotion. In fact, I would put it next to the worst ones.
I will repeat myself once again by saying that the LEGO Star Wars May the Fourth promo was supposed to be a special occasion for LEGO and not some poorly-designed release. Especially when this year is the 40th anniversary of Episode V: The Empire Strikes Back, I feel like we should have seen something from this particular movie.
Nevertheless, my thoughts on this model are that it has a poor design. I do love the way they re-created the surface of the death star and the overall concept of the scene. However, I feel like the designs of the Tie Interceptor and the A-Wing are simply terrible.
Last but not least, once again I think that LEGO should have added a Minifigure to this promotion. It could just have been a TIE pilot or a Rebel Pilot and nothing more exclusive but unfortunately, they missed yet another opportunity.
40451 – Tatooine Homestead (2021)
For 2021, LEGO have decided to continue with the mini-build dioramas rather than revert back to an exclusive minifigure. For this May 4th promotion we have a pretty sweet looking Tatooine Homestead which includes a tan brick landscape, the Skywalker homestead and Landspeeder, as well as a mini Sandcrawler with single studs representing the droid sale. As with other May 4th promotions this set will be available with qualifying purchases or slightly more on the secindary market. All in all a nice looking set.
40531 – Lars Family Homestead Kitchen (2022)
2022's May 4th LEGO Star Wars promo is the Lars family homestead kitchen and will include an exclusive Aunt Beru minifigure. This is the first time since 2016 that a Minifigure has been part of the May 4th promo. The Aunt Beru minifigure will be included with a micro build of the Kitchen from the Lars homestead. The set will include 195 pieces and will available when you spend $160 dollars on the LEGO website.
40591 – Death Star II (2023)
Once again LEGO have opted for a mini-build over an exclusive minifigure. However, as with previous mini-builds the Death Star II is a really nice looking model. Perfect for your office desk at work or home this set looks the business. The set consists of 289 pieces, including a buildable stand and the Return of the Jedi 40th Anniversary printed brick. The Death Star II also includes the translucent green pieces for the firing laser. To qualify for this set you have to purchase over $150 (£130) worth of LEGO.