The latest character to feature on an action figure variant cover is Logray (Ewok Shaman). Although when I was a kid I always used to call this guy The Medicine Man. In fact as you can see below this was his name on the original Kenner figure.
Logray will be featuring on the John Tyler Christopher variant for Star Wars #53, and as you can see the artwork is at the usual high standard. When I first saw this cover I thought the card back image was actually a photograph. It is only when you zoom in can you see the brushstrokes or digital colouring (I have no idea how these are created). A truly stunning peice of Star Wars art to add to the collection. Logray is actually the second Ewok we have had so far with Chief Chirpa featuring on the cover of Star Wars issue 51.
Check out the cover below.
Action Figure Variant Cover Vs Original Kenner Figure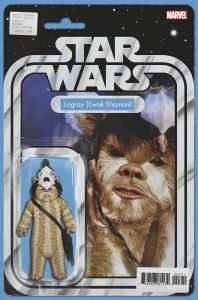 Are you collection these amazing covers? If so, see if you have them all on my handy checklist