Hey guys,
It seems like ages since I last wrote a post about one of these awesome covers. Pretty much a whole month has gone by since Klaatu was revealed. Well, at least the wait was worth it. We have one of my favourite characters from Return of the Jedi, the Gamorrean Guard! This guy is the chosen character to feature on the John Tyler Christopher variant for Star Wars issue 56.
JTC has got the figure image spot on, a quick glance and it could be mistaken for the the real thing. The card art is top notch too, matching the style of previous covers we zoom in more on the face than the original cardback did. However, this just adds to the detail in my opinion. I absolutely love this cover, it is one I have particularly been looking forward to, and is now one of my firm favourites. A great addition to the collection.
Action Figure Variant Cover vs Original Kenner Figure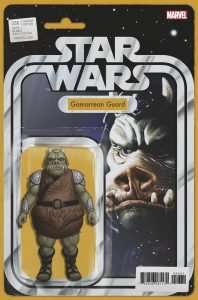 I have created a handy checklist of all of the action figure variant covers so you can make sure your collection is complete!