Hey LEGO Star War fans!
Introducing the 2019 LEGO Star Wars 75252 Ultimate Collector Series Imperial Star Destroyer!
So, we have kind of known this huge set was coming but now I can officially reveal the set images and box art, and my word does it look amazing!
The new UCS Imperial Star Destroyer is the longest ever LEGO Star Wars set measuring a massive 110cm (thats over a metre long!). It has 4,784 pieces which on the face of it doesnt seem that many compared to the UCS Millennium Falcon but as I am sure you will see this set has many more larger pieces. The set is for ages 16+ and will retail at £649.99 or $700 in the US.
Check out the stunning images and the press release below: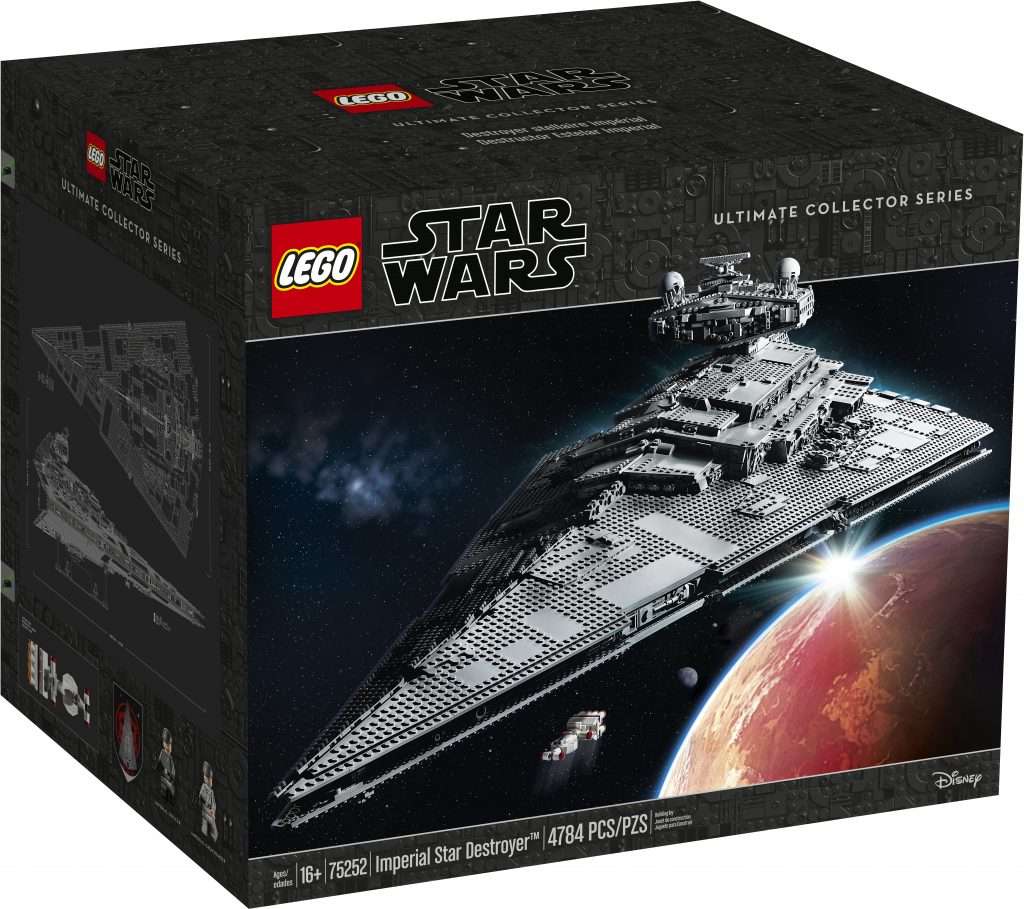 BUILD THE MIGHT OF THE GALACTIC EMPIRE™ WITH THE NEW LEGO® STAR WARS™ IMPERIAL STAR DESTROYER™ SET
LEGO Group announces a new stunning LEGO Star Wars set – the Ultimate Collector Series Imperial Star Destroyer measuring 110cm in length.
One of the most feared ships in the Star Wars™ galaxy is flying into LEGO Stores on September 18 as the LEGO Star Wars™ Imperial Star Destroyer™ set arrives from the galaxy far, far away to provide an all-new build experience for LEGO brick and Star Wars™ fans alike.
The Imperial Star Destroyer set measures 110cm long and is comprised of 4,784 bricks. The new addition to the LEGO Star Wars Ultimate Collector Series (UCS) brings to life the fan favourite vessel of the Galactic Empire in LEGO brick form like never before.
The new UCS Imperial Star Destroyer™ construction set is complete with a buildable Tantive IV ship, allowing fans to recreate the iconic opening scene from Star Wars: A New Hope in their own home.
The UCS Imperial Star Destroyer™ – nicknamed the Devastator – includes swivelling guns, a tilting radar dish, huge engine exhausts and intricate surface detailing along its 110cm-long surface.
This galactic civil war UCS set also includes a display stand with informational fact plaque and two brand new unique LEGO minifigures with blasters – the Imperial Officer and Imperial Crew Member minfigures – making it the perfect LEGO Star Wars collectible for discerning fans.
When paired with its display stand, the model measures over 17" (44cm) high, 43" (110cm) long and 26" (66cm) wide, and over 14" (37cm) high without stand.
The 75252 LEGO Star Wars Star Destroyer is available directly from LEGO stores and www.shop.lego.com/StarDestroyer from September 18, 2019 for LEGO VIP members, and October 1 for all other builders.