In this article we take a look at the best companies that make custom Star Wars helmets, whether for cosplay or just for display purposes.
In a universe where most side characters don't have a face, nothing sets apart characters in the Star Wars universe like their distinct helmets. These helmets can range from the sleek white imperial stormtroopers to the terrifying Darth Vader.
With as wide a range of helmets, you can bet there are just as many people who would love to have one for their very own. What is more, the ability to have a helmet completely tailored to them.
Best Custom Star Wars Helmets
Below is a list of the the very best custom helmet makers. However, if a licensed product is more your thing, you can always check out our list of Star Wars Black Series helmets.
Dave's Armory
Dave's Armory is an Etsy shop based out of Italy. This shop specializes in fiberglass casts of Star Wars helmets. The helmets are very strong and professionally done to withstand whatever you might want to throw at them.
There is a collection of stock designed helmets already in the Etsy shop, ranging between $300 and $500 depending on the details involved. If you would rather make your own helmet, you can also pick up one of the black helmet shells for around $200.
All it would need is some paint and inside padding. The completed helmets are painted with intricate detail, making it look like they have seen real battle. You can also contact Dave through social media if you want something made totally custom to you.
Lastly, if you're looking to display your helmet, you can pick up a display plate with the helmet information from his shop.
Artem Somoilov
This is a Russian-based shop that can be found on both Etsy and Facebook. This shop is a little different in that the helmets are not available all the time. Instead, they are put up for sale in waves.
For this reason, if you want a helmet from this shop, you need to note the next wave on your calendar and be ready when the time comes. The average cost of helmets is between $230 and $300, however, this does not include the fees for custom work.
With over 1700 5-star reviews on Etsy, fans have been raving about the immaculate paint job and realistic details.
Sanotized Creations
This German-based shop carries a variety of options to either pick up your custom helmet or to make one of your own. On their Etsy page, you can find fully completed helmets, parts, and even the patterns to 3D print one of your own.
Sanotized Creation sits at a higher price point for their completed helmets than other shops, ranging between $500 and $900. Their work is worth it as they create helmets that can be either battle scared or pristine straight from the Imperial armory.
RS Propmasters
Stepping away from Etsy for a moment, this UK-based company is a small but professional team that creates their helmets and other props using the same techniques that were used for the movies.
They carry a wide variety of helmets that look as though they stepped right out of the Star Wars movies, including the variations from film to film. Some of their helmets are even made using the original molds. Each helmet is custom built and comes with a certificate of authenticity.
Branfuhr Studios
If you want something made in the US, this is the shop for you. Branfuhr specializes in resin casted helmets that are lightweight and extremely durable. Built for comfort in mind, these helmets are made with vents that are designed to allow airflow.
At the moment, the shop only sells raw castings for you to finish and customize yourself as they are currently in the process of moving to a new shop. As soon as they are moved they will be offering completed helmets once again. They offer helmets from a variety of franchises, including Star Wars and Halo.
New Image Prop Replicas
This UK-based company is run by husband and wife Chris and Joanne. Chris specializes in molding and fiberglass, while Joanne is a trained seamstress. Together they create authentic and detailed props, including helmets.
They also sell neck seals, to have a seamless transition from helmet to costume, and other helmet accessories. Their helmets cost around the $230 to $320 range.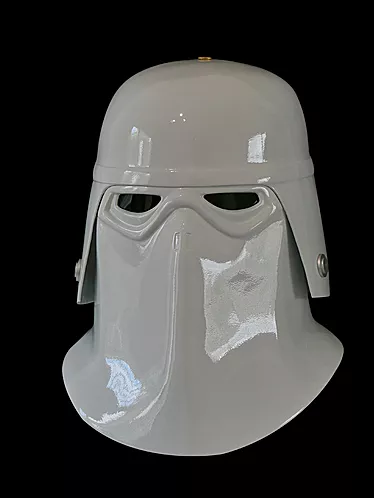 Galaxy Toys
Galaxy Toys are an Etsy shop based in the Netherlands. If you're looking for ready-to-wear helmets, this is a great option for you. Their helmets come already painted and padded straight out of the box and are cast from durable fiberglass and polyester.
It should be noted though that some of their helmets have been known to run a little small, so be sure to double-check the measurements before you order. Additionally, they have some helmets that are not screen accurate, such as a Joker-themed stormtrooper helmet. Their helmets range from $150 to $250.
Galactic Armory
Galactic Armory is a US-based shop that specializes in 3D printing the most accurate and detailed props that it can. They carry a range of helmets, armor, busts, figurines, and blasters.
The physical products you can get either as a DIY kit, for you to customize and finish on your own or as a finished product. Also, if you happen to have a 3D printer, you can buy the print files to make your own props from scratch.
The helmets from Galactic Armory are very affordable and can start at $100 for a DIY kit, to $200 for a finished helmet.
Sideshow Collectibles
Sideshow Collectibles is a professional company that sells a wide range of products for several different franchises. They have figures, decor, housewares, along with other collectibles.
They cover Marvel, DC, Star Wars, and other franchises. Their helmets cost around $280 and are authentic prop replicas. They are a perfect 1:1 copy of the original helmets. They also come with a certificate of authenticity.
eFX Collectibles
eFX is where you need to look if you're interested in high-quality and screen-accurate prop replicas. All of their prop replicas are limited edition, and their team works tirelessly to maintain the highest quality.
That quality can come at a price, however. The Stormtrooper helmet may cost around $270, while a model of an ANH Star Destroyer may be over $8000. One of the more interesting replicas we found was Darth Vader's pyre Helmet.
As EFX was awarded by Lucas Films to create and distribute prop replicas, you know that they are the most screen-accurate ones available. Not only for Star Wars, but they also have contracts with Marvel.
Denuo Novo
After the fall of Anovos, a well-known costume-making company, Denuo Novo rose up to take its place. They are a new company, founded just in 2021 and were awarded licenses to create high-end costumes and collectibles under the Star Wars name.
Right now they have the full Han Solo costume for preorder, as well as a wide range of helmets. Unlike some other companies, Denuo Novo gives us some of the newer and lesser-used helmets, such as the Elite Praetorian Guard helmet. Their high quality does come at a cost as their helmets range between $600 and $700.