Every year, LEGO Star Wars fans receive at least two separate lines of sets. Usually, we normally get a summer line and a winter line but this year (20th Anniversary of LEGO Star Wars), there was also the exclusive anniversary line in April in which each set also included a single exclusive collectible minifigure in each set.
Now, we are slowly getting closer to the next Star Wars line which is primarily focused on the upcoming final segment of the Sequel Trilogy, as well as the upcoming live-action series – The Mandalorian. Although the information is still limited, LEGO has revealed the upcoming sets which will be released on Triple Force Friday. Here is everything we know about the LEGO Star Wars October 2019 Sets.
75246 Death Star Cannon
The first and possibly smallest set from the October line is based on a couple of scenes from Episode IV: A New Hope. It consists of two small sections which have been attached together.
The piece count for this set is 159 and will feature Obi-Wan Kenobi and a Death Star Gunner. Honestly, this set appears to be something like a filler-set. When you take that the majority of the sets from this line are large, it is only natural that LEGO includes one or two smaller sets as well. Other than that, the set does not impress with value but may look good when combined with some of the previous inner Death Star sets.
The only somewhat exclusive feature of this set is the hooded Obi-Wan Kenobi which is, in fact, a rare minifigure. The last hooded version was released in 2011 and can be quite expensive to acquire.

75248 Resistance A-Wing Starfighter
The A-Wing Starfighter is not a new addition the LEGO Star Wars family but we have not received a Resistance version before. In fact, this version may actually even be better than the old Rebel A-Wing. It comes in a different color palette in dark green and white and looks extremely well-designed based on the pictures that were released.
The set will include 269 parts and two exclusive figures! Both of which will be familiar to the hardcore fans of the Sequel Trilogy – Snap Wexley, and Lieutenant Connix who is played by Carrie Fishers daughter Billie Lourd.

75249 Resistance Y-Wing Starfighter
The second new Resistance Starfighter we will receive in October is the new Y-Wing. Of course, the design is almost entirely based on the old version which was used by the Rebellion. However, this one has a different color scheme which once again, looks incredible.
Without a doubt, this set will become a fan favorite, especially with the incredible minifigure selection. Before we get to the minifigures, the Y-Wing will have 578 parts. The first minifigure is that of Poe Dameron which will also have an entirely new body. There is also a First Order Stormtrooper and a couple of new droids which we will most certainly see in the new movie – the droid D-O and a new turquoise astromech.
The most interesting figure of all is definitely Zorri Bliss. Her character is explained as a female scoundrel and will be portrayed by Kerri Russell. A common curious fan theory is that she could possibly be Rey's mother. We can only wait and see if that is true or not.

75250 Pasaana Speeder Chase
This is one of the curious sets that may give us some more information about the upcoming movie. We know that Pasaana is a new planet that will be the center of a lot of action – at least we got that from the Teaser Trailer.
The set itself will include 373 parts and the following figures: Rey, BB-8, and the seemingly new First Order Jet Trooper, and the First Order Treadspeed Driver.
As we saw in the Teaser Trailer, a lot more of the main characters will be present in the scenes where this vehicle is being used. However, LEGO decided to include just these four minifigures which is, in fact, a fair amount for a set of this size. Other than that, the design looks promising.

75254 AT-ST Raider
The only new set in this line dedicated to The Mandalorian is a brand new AT-ST. We can only wait and see what the history behind this crazy AT-ST design is, but our thoughts are that it is owned by one of the main characters. Possibly stolen from the Empire and then upgraded to a much more fierce machine.
Other than that, the set will have 540 pieces and will include four brand new amazing looking figures. They are the following: The Mandalorian, Cara Dune, and two characters which closely resemble the Weequay species.
Overall, this AT-ST definitely looks more promising than the last one we received. Hopefully, LEGO Star Wars fans will give it a chance. Honestly, it is a really smart tactic by LEGO to choose an AT-ST as the only Mandalorian set for this line. With such an incredible minifigure selection, it will hardly get neglected.

75255 UCS Yoda
It was about time we received a new version of the old UCS Yoda from 2002. This one will 1771 pieces and will most certainly be sold as a regular unit and not as an exclusive set.
Compared to the 2002 version, this UCS Yoda will be quite higher. In terms of width, however, it is practically the same. Unlike the old one, this new model can have its head turned left and right, and the eyes can be opened and closed.
The overall design also looks a lot more developed. The old version had a more squared shape while this one definitely looks way more smooth and detailed. It will make a fine addition to any collection, especially if you already own the UCS Porg and UCS BB-8.

75256 Kylo Ren's Shuttle
We received Kylo Ren's Shuttle during the first LEGO line for The Force Awakens and it is only natural that they remade it for the final movie. Especially as the original model was the wrong color and the wings didn't fold out. This new version will have 1005 pieces and has an incredible minifigure selection.
The first obvious minifigure is that of Kylo Ren. Then we have the new and exclusive General Pryce minifigure. Apparently, he will be an important character in the final segment. There is also a Sith Trooper and a First Order Stormtrooper and also 2 Knights of Ren which look absolutely awesome!

75257 Millennium Falcon
It seems like we are getting Millennium Falcon sets way too often now but since our favorite ship appears to have received some new adjustments and improvements, it will be a valuable set, as always.
According to the pictures we have, there are now no gaps on the roof of the Falcon. Finally, LEGO found a way to create a fully-covered Falcon. This is a really great upgrade, and makes this latest version one of the best LEGO Millennium Falcon sets to date (not considering the UCS version).
The set itself will have 1350 pieces and has a minifigure selection of seven characters. These include Finn, C-3PO, R2-D2, the new droid D-O, Chewbacca, and most importantly – the new Lando Calrissian minifigure and a brand new unknown character.

75252 UCS Imperial Star Destroyer
We all know that a new UCS version of the Imperial Star Destroyer will be released by the end of this year. The question is when exactly? According to rumours, it might actually be released with the rest of the October 2019 Sets on Triple Force Friday.
This set will have 4784 pieces which makes it one of the largest sets to ever be released even outside of the Star Wars theme. The everlasting debate is whether the rumored price of $700 is really worth the piece count. Yes, the UCS Millennium Falcon was even more expensive but it did give us around 2000 additional pieces for just $100 more.
Without a doubt, the diehard fans of Star Wars and LEGO will add this set to their collection. It does indeed look like an incredible set but at the same time appears to be a slight rip-off. Without a doubt, LEGO will come out with a statement regarding these questions but maybe they have kept some nice features a secret.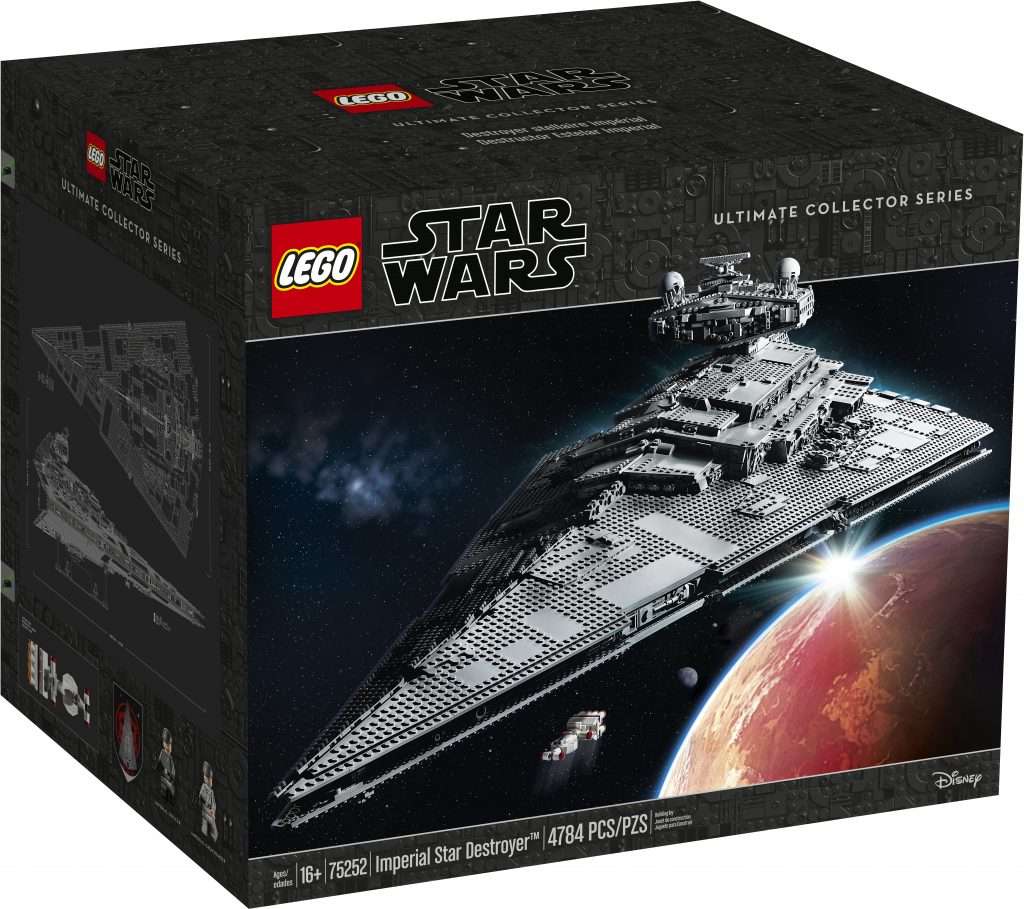 Final Thoughts
Without a doubt, the LEGO Star Wars October 2019 Sets have some of the best minifigure selections we have seen in years. Maybe, this opinion will change after we see The Rise of Skywalker and The Mandalorian, and we are familiar with the new characters. However, we rarely see such an abundance of characters and this makes the October line even more promising.