There has been a little confusion around the John Tyler Christopher action figure variant cover for Star Wars #37.  An unknown source leaked a cover featuring Blue Snaggletooth. John later confirmed that he had hoped this cover would remain a surprise until after the K-2SO book had been released (K-2SO has been delayed due to the first batch being damaged in transit).  Blue Snaggletooth will now most likely be available in November with the Rebel Commander (retail variant) being available at the beginning of October 2017.
Now that's cleared up, on to the covers. We are being well and truly spoiled for Star Wars #37. The rebel commander fits in nicely with the Empire Strikes Back theme plus we have the bonus that is Blue Snaggletooth. I like seeing Blue Snaggletooth on a vintage card, something that never actually happened. The figure was only available from the Sears Wishbook within the Cantina Adventure Set.  At the time the figure was produced Kenner only had a black and white drawing to use as a reference. This is why he is tall and blue, then later corrected to being short and red. If you want the full history check out the video at the bottom of this post.
Star Wars #37 Action Figure Variant Covers and Vintage Figures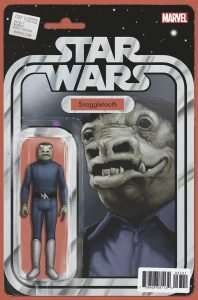 The History of Blue Snaggletooth
What do you think of the two covers for Star Wars #37? let me know in the comments!