Made famous from Luke's incredible proton torpedo shot, the X-Wing Fighter has been famous since A New Hope. Red 5 and other X-Wing fighters have been created into various LEGO sets since 1999.
Not only did the X-Wing make history for the Rebel Alliance, but it also did for LEGO. The 1999 X-Wing LEGO set was the first Star Wars set ever released.
Since then, multiple sets of various Rebel and Resistance X-Wings have been released. In this article, we will discuss each set to help you determine what is the best LEGO X-Wing set.
X-Wing Fighter 7140 (1999)
The original set that marked the beginning of an incredible series of LEGO Star Wars sets was based on Luke's X-wing from A New Hope. This set included 263 pieces and four minifigures.
The four minifigures included Luke Skywalker, Biggs, R2-D2, and a Rebel Mechanic. Luke comes with his iconic lightsaber as well. This set started the legacy of LEGO Star Wars.
Even though it is now retired, it can still be found in circulation online. Its price has skyrocketed as it is now a prized collector's item.
X-Wing Fighter 7191 (2000)
The next set was released as a part of the Ultimate Collector's Series. With 1304 bricks, it takes about three to four hours to build. In addition to the X-Wing, it came with a scale model R2-D2 and a stand to place the X-Wing on.
This X-Wing includes wings that can move into attack X formation or the normal position. Additionally, its wingspan measures 20 inches long. Many love this X-Wing to use as a collector's display piece.
It was also based on Luke's Red 5 he flies in A New Hope. It features classic red, grey, and white colors.
X-Wing Fighter 7142 (2002)
In 2002, LEGO decided to rerelease the original 1999 version of Luke's X-Wing. It followed the same design and color scheme. The characters that came with the set were also the same: Luke, R2-D2, Biggs, and a Rebel Mechanic.
Just like the 1999 version, this set is now retired. It also is one purchased online when found to add to collector's sets.
X-Wing Fighter 4502 (2004)
Everyone remembers the iconic scene where Luke tries to lift his X-Wing out of the swamp. When he says he can't do it, Yoda proceeds to lift it. Size matters not when it comes to the Force.
This X-Wing is the only LEGO set built after that scene from The Empire Strikes Back. It has 563 bricks, three minifigures, and Yoda's hut. Of course, the minifigures included are Luke, Yoda, and R2-D2.
Luke wearing his training clothes is the only version LEGO has created, so he is very valuable. Additionally, this X-Wing is the only one that comes with swamp algae. Of course, this is due to the scene it depicts.
Just as in the previous versions, these X-Wings wings can move up and down. It is another set that is a valuable collector's addition.
X-Wing Fighter 6212 (2006)
This X-Wing set is surprisingly infamous. It is one of the few LEGO sets with a few inaccuracies found throughout it. The X-Wing is supposed to be Wedge Antilles fighter, but it is labeled as Red 3 instead of Red 2. Additionally, Princess Leia's hairstyle and outfit are conflicting–one follows A New Hope while the other follows The Empire Strikes Back.
Despite these inaccuracies, this is still a popular set. It comes with 437 pieces and six minifigures. The six minifigures included are Pilot Luke Skywalker, Wedge Antilles, Han Solo, R2-D2, Princess Leia, and Chewbacca.
This set is also unique because it allows you to switch between two different X-Wing fighters with just the change of a few pieces. You can choose to build Luke's X-Wing or Wedge's X-Wing fighters from A New Hope.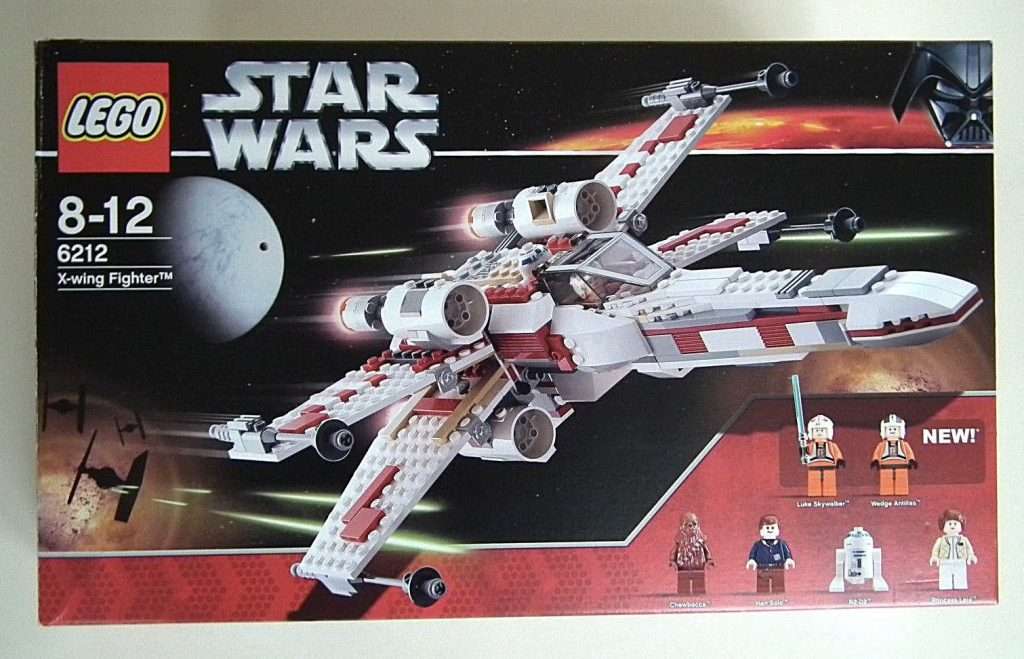 X-Wing StarFighter 9493 (2012)
This 12-inch set is the only LEGO set to include Jek Porkins. In addition to Jek, it came with three other minifigures: Luke, R2-D2, and R5-D8.
The set also had special features, some of which were not included in previous versions. It still included adjustable wings and proton torpedoes. This one also included retractable landing gear, a functional cockpit, and easier wings to operate.
This X-Wing set took 560 bricks to construct. It is another X-Wing set that is retired, so it no longer can be purchased from stores. There are times when someone sells their set online though.
Red Five X-Wing Starfighter 10240 (2013)
Another large X-Wing set is the Red Five one modeled after Luke's X-Wing. It has 1559 pieces. On top of that, it comes with a display stand and an info card.
As part of the Ultimate Collector's Series, it is very detailed. This one has more details than the previous UCS set. With a cockpit that opens and adjustable wings controlled by a gear in the back, it is very similar to the one seen in the movie. This set has attachable stickers to be placed on as well.
Poe's X-Wing Fighter 75102 (2013)
LEGO decided to add newer movies to their X-Wing LEGO collection too. The first they released was Poe's X-Wing. It is orange and black instead of white and red. It was the first set to be released as a part of LEGO The Force Awakens line.
Poe's fighter is built with 717 bricks. Just as the previously created X-Wings, this one also has proton torpedoes and a cockpit the pilot fits into. The wings shift into attack mode from the top of the fighter instead of the back though.
Four minifigures come with this set. They are Poe Dameron and his loyal droid BB-8, a Resistance X-Wing Pilot, and a Resistance Ground Crewman. A utility train is included as well for any needed maintenance on the ship.
Resistance X-Wing Fighter 75149 (2016)
The next set, released in 2016, matches the exact style of Poe's X-Wing. This one is blue instead of orange and black. The Resistance X-Wing Fighter comes with 740 pieces.
Another change to the set besides the color is the removable hyperdrive added at the rear of the ship. If your LEGO ship gets into a crash, the set also comes with a moisture evaporator with flames that pop up.
The four minifigures included with the Resistance Fighter are Poe Dameron, Lor San Tekka, BB-8, and a First Order Flametrooper. Poe and Lor both have reversible faces to show different emotions. The Flametrooper includes a rifle with LEGO flames that appear out of it.
X-Wing StarFighter 75218 (2018)
Even though LEGO decided to release some X-Wings following the design of the Resistance Fighters, the 2018 release went back to the original trilogy designs.
This red and grey X-Wing also comes with four minifigures: Luke, Biggs, R2-D2, and R2-Q2. The X-Wing has stickers that come with to apply. Like the first few sets created, this version can be built to match Red 3 or Red 5.
This set includes a variety of added features. A new lever system allows you to move the wings into the classic X for fighter mode. A fire extinguisher for emergencies is placed at the back of the ship. Additionally, stud shooters fire from the side of the craft.
The cockpit opens to make room for whichever character you want to pilot the ship. When it's time to land, the X-Wing has landing gear that can also retract.
75235 X-Wing Starfighter Trench Run (2019)
A surprising release in 2019, the Trench Run X-Wing has a simpler design than the previous releases. It was built with a younger audience in mind, so it is fitting for ages four and up.
In addition to the X-Wing fighter, this set includes a buildable turret. Both the X-Wing and turret are based on Luke's trench run to destroy the Death Star in A New Hope.
This set only has 132 pieces. It still comes with three minifigures: Luke, R2-D2, and a Stormtrooper.
75273 Poe Dameron's X-Wing Fighter (2020)
In 2020 LEGO decided to release a new version of Poe's fighter. The fighter instead followed the design seen in The Rise of Skywalker. It has a larger engine design that allows them to split when the wings form an X.
Of course, Poe comes along with this set, along with Jenna, a Knight of Ren, and R2-D2. Either of the two droids can easily fit into the droid slot on the white and orange ship.
The weapons on the ship include spring-loaded missiles as well as stud shooters. Altogether, the set is made up of 761 bricks.
Year: 2020
Piece Count: 761
Ages: 9+
Minifigures: Poe Dameron, Jenna, Night of Ren, R2-D2
Original Retail Price: $90

75297 Resistance X-wing Starfighter (2021)
The Resistance X-Wing Fighter is another smaller set, like the one released in 2019. This one is based on The Rise of Skywalker instead. It only comes with 60 bricks, so it is a quick build. Along with the fighter, Poe Dameron and BB-8 are included.
75301 Luke Skywalker's X-Wing Fighter (2021)
The most recent X-Wing set created is another model of Luke's Red 5 X-Wing. This one is smaller than the previous versions. With 474 pieces, it still manages to include all of the intricate details of the larger sets.
These details include an opening cockpit, retractable landing gear, moveable wings, and spring-loaded shooters. The minifigures included in this set are Luke, Princess Leia, R2-D2, and General Dodonna.
Year: 2021
Piece Count: 474
Ages: 9+
Minifigures: Luke Skywalker, Princess Leia, General Dodonna, R2-D2
Original Retail Price: $49.99
Conclusion
Whether you are an avid collector, a LEGO lover, or a Star Wars fan, each of these LEGO X-Wing sets will fit perfectly into your collection. If you are looking for a set based on a specific movie or even just looking for a certain LEGO minifigure, each set does not disappoint.
If you are a fan of the newer trilogy or a die-hard lover of the old, there is an X-Wing for you. From large to small sets, you have a variety you can choose from. Depending on your preferences, one of these sets will be perfect for you!