Since 1999 there have been over ten X-Wing models created (not including micro sets or Microfighters). We are going to provide a synopsis and comparison to decide which is the best LEGO X-Wing and which has the most value.
For many, the X-wing Fighter is the boldface of the rebellion. It is a benchmark of the Star Wars franchise, and that is why in 1999 LEGO chose it to be the very first Star Wars set to be released.
Using modern techniques and updated bricks, LEGO has continued to release variable and improved X-Wing sets since 1999 with the most recent release of the 75301 model in March 2021.
X-Wing Fighter 7140 (1999)
This was the very first Star Wars LEGO set to ever be released and was the front-page star of the 1999 LEGO catalogue. It came with 263 pieces, 4 minifigures, and a fun comic book with alternate builds!
The pieces were all printed and required no additional stickers be added to the model. This original LEGO X-Wing featured a Utility Train with one car to shuttle pilots, and one car containing 6 tools.
The main fighter build has 2 storage compartments located at the front of the ship and behind R2-D2's spot. The 4 mini-figures included in the set are a Rebel Mechanic, R2-D2 the Astro-mech droid, Luke Skywalker (lightsaber included), and Luke's childhood friend from Tatooine Biggs Darklighter.
The comic at the back of the instruction book detailed Luke's crash on Dagobah and included alternate builds which were: a boat with a jet ski that detached from the boat, a full-sized communicator device, a mech, and a full-sized lightsaber handle.
X-Wing Fighter 7191 (2000)
This X-wing was released in the year 2000 as one of the first two Star Wars sets in the Ultimate Collector Series. The UCS set came with 1,304 pieces, a scale model of R2-D2, a stand for the X-Wing, and a description card.
The wings of the fighter can shift between attack or rest position and boasts a 20-inch wingspan. The set would be a worth display piece in any household due to its intricate details.
X-Wing Fighter 7142 (2002)
This was a 2002 re-release of the 7140 model. There are no variations from the original model it was just so good they released it twice.
X-Wing Fighter 4502 (2004)
This model was the only one to depict Luke's crash on Dagobah, and to include a Yoda mini-figure from The Empire Strikes Back.
It consisted of 563 individual pieces, 3 mini-figures, and Yoda's hut. The 3 mini-figures are Luke Skywalker, R2-D2, and Yoda. The Luke mini-figure is considered very special because he is in his Dagobah training clothes, a minifigure only available in this set up until the recent release of the 2018 Yoda' Hut set.
The actual fighter features a gear that allowed the wings to move up and down plus it is the only model to include swamp algae for improved accuracy. Yoda's hut comes with his bed, a glass, and a special secret compartment. This X-wing model is remarkably unique and as such, it is very valuable, a must-have for any serious enthusiasts or collectors.
X-Wing Fighter 6212 (2006)
This LEGO X-wing Fighter includes 437 pieces, 6 very well-known mini-figures, and interchangeable pieces allowing you to switch between two different X-wings.
The mini-figures are Luke Skywalker (pilot), Wedge Antilles, Han Solo, Princess Leia, Chewbacca, and of course R2-D2. The interchangeable pieces are specific panelling that allows you to switch between Luke's Red 5 X-wing, and Wedge's Red 2 X-wing.
Unfortunately, there are 2 major inaccuracies in this set that need to be addressed. The issues are: Wedge's fighter is depicted as Red 3 instead of Red 2, and Leia's hairstyle is from her wardrobe in Episode IV while her body is from the rebel base on Hoth in Episode V. The number of memorable characters included in this model is very exciting, but the inaccuracies in the design reduce the value.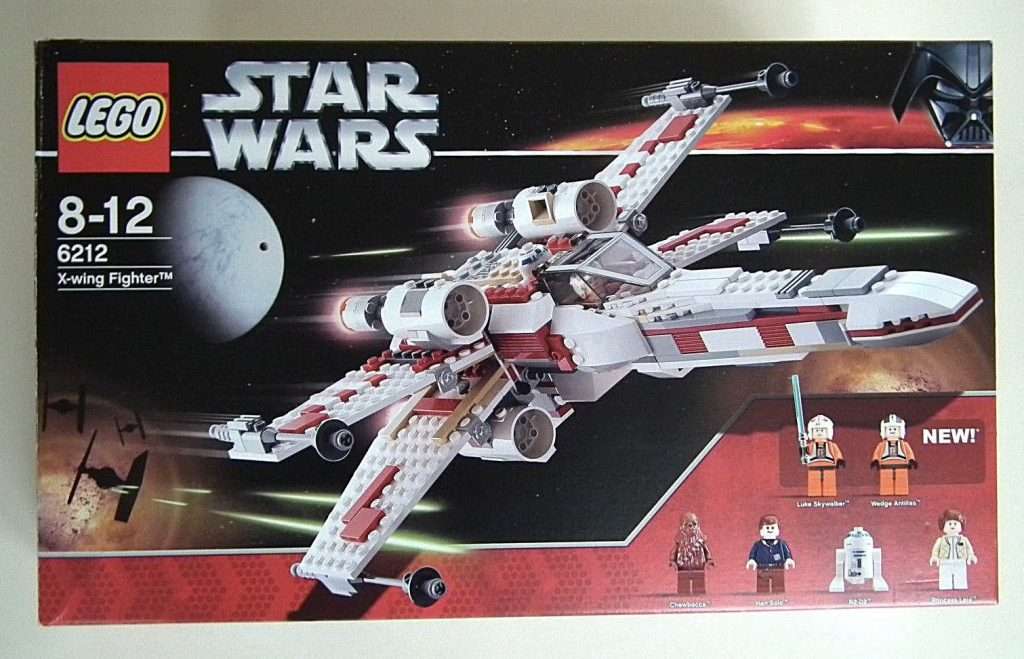 X-Wing StarFighter 9493 (2012)
This LEGO X-wing Starfighter comes packed with all kinds of additional features, and special characters. The model has 560 pieces, 4 mini-figures, adjustable wings, landing gear that retracts, functional cockpit, and proton torpedoes.
The gear for adjusting the wings is much easier to operate than in previous models. The proton torpedoes are regrettably not flick-fire, but still, make a wonderful addition to the set.
The total length of the X-wing measures just over 12 inches. The 4 mini-figures included in the set are Luke Skywalker, R2-D2, Jek Porkins, and R5-D8. This is the only time the mini-figure Jek Porkins appears in a set.
This is an awesome build of the X-wing and includes so many additional features and unique characters. Anyone would be lucky to have this to add to their fleet of Star Wars ships.
Red Five X-Wing Starfighter 10240 (2013)
Another addition to the Ultimate Collector Series, this Starfighter boasts immaculate detail with 1,559 pieces, a display stand plus info card, and the ever-present R2-D2 mini-figure.
The newly developed joints and pieces that have been created since the previous UCS set (7191) make this the most detailed X-wing yet. The model does have a cockpit that will open, and the adjustable wings are controlled by a gear in the back.
The LEGO pieces are not all printed so a steady hand for applying stickers are required. LEGO has improved the overwhelming colour scheme from the previous model, but some collectors still felt the need to paint it completely grey. This is another incredibly detailed model that will make any collector very happy to add to their collection.
Poe's X-Wing Fighter 75102 (2013)
The main feature that makes this X-wing stand out from the rest is its unique colouring of a Halloween shade of orange and black. This is also the first X-wing model released as a part of The Force Awakens line signifying the end of an era in pre-Disney Star Wars LEGO.
The model contains 717 pieces and includes spring-fired proton torpedoes and a cockpit piece that is printed and unique to this set. The gear system that shifts the wings into attack mode has also been moved to the top of the fighter.
The 4 mini-figures that accompany this X-wing are Poe Dameron, BB-8, a Resistance X-wing pilot, and a Resistance ground crewman. There is also a Utility Train like in the original set for performing maintenance on your X-wing. This is a wildly iconic X-wing set because of all the drastic changes to the status quo making it a very exciting build.
Resistance X-Wing Fighter 75149 (2016)
Another drastic colour change from the original X-wing design leaves this spacecraft looking blue, literally! Now, this is the exact same core design as Poe's X-wing fighter with 740 pieces and some exciting changes to the build.
The major adjustment to the base model of this X-wing is the removable hyperdrive located near the rear of the craft. Instead of another Utility Vehicle, a collapsible moisture evaporator where flames pop up when it goes down is included.
There are 4 mini-figures included in this set which are: Poe Dameron, Lor San Tekka, a First Order Flametrooper, and BB-8. Poe and Lor San Tekka have double-sided heads to display different emotions, and the Flametrooper comes with a rifle that has Lego flames that come out of it.
This is another creative build from the new era of Star Wars Lego sets, and it will have you burning with excitement to assemble it.
X-Wing StarFighter 75218 (2018)
This instalment in the X-wing series released in August of 2018 includes the most features and goodies along with it. LEGO pays homage to the original X-wing model design by returning to the traditional grey and red colour scheme.
They also included 3 familiar mini-figures from the original model as well with 1 new mini-figure to add to the set. The added features to this X-wing are huge and include a new lever system to adjust the wings into attack mode, a fire extinguisher behind the cockpit seat, and stud shooters on the side of the craft.
A cockpit that opens and retractable landing gear is now standard with all recent X-wings and this trend will continue for all new sets. The 3 familiar mini-figures in this set are Luke Skywalker, R2-D2, and Biggs Darklighter with the new addition to the crew being another droid named R2-Q2.
This set does require stickers to be applied for decoration and it allows you to switch between Luke's Red 5 X-wing and Bigg's Red 3 X-wing.
75235 X-Wing Starfighter Trench Run (2019)
A set designed for ages 4 and up you can understand why this X-Wing is pretty basic looking. Like many of the sets made in the Juniors line this set comes with the ship itself as well as a mini build, in this case a gun turret or cannon from the Death Star Trench run.
The set has 132 pieces but does include 3 minifigures. These are Luke Skywalker, R2-D2 and a Stormtrooper. A great set to for a young LEGO Star Wars fan.
75273 Poe Dameron's X-Wing Fighter (2020)
With a whole new design, the brand new Poe Dameron's X-Wing is completely different from that of the conventional X-Wing used by the Rebellion. This X-Wing ( the T-70) used by Poe Dameron in Episode IX: The Rise of Skywalker, not only sports a brand new colour deco but it also has changed in terms of the design. This X-Wing has larger engines which split when the wings are open. It makes for a different build than you may be used to utilising different types of bricks.
The minifigure selection includes Poe Dameron himself, Jenna, one of the Knight of Ren and R2-D2.
This style LEGO X-Wing will be a new building experience and includes some pretty cool play features. The ship itself is very 'swooshable' and there is an easy-to-access lever which controls the S-Foils.
The slot for the droid can fit an R2 unit or a ball-shaped droid such as BB-8. Also included are both spring-loaded missiles and stud shooters for that extra battle experience. The set includes a printed cockpit but also makes use of sticker.
Overall, this is a fantastic looking set.
Year: 2020
Piece Count: 761
Ages: 9+
Minifigures: Poe Dameron, Jenna, Night of Ren, R2-D2
Original Retail Price: $90

75297 Resistance X-wing Starfighter (2021)
Very similar to the 2019 Juniors X-wing, this set is designed for the younger Star Wars fan. Based off of the X-wings in the The Rise of Skywalker this set includes a really good Poe Dameron minifigure and BB-8. So even adult collectors that wouldn't normally be interested in the set, will want to buy it purely for the Poe Dameron minifigure. The set has 60 pieces and looks very basic.
75301 Luke Skywalker's X-Wing Fighter (2021)
Although this particular X-Wing Fighter is smaller than previous standard sets its still a great looking model and fun build. With just 474 pieces it could be described as a more basic build but still manages to include all the main features of previous sets.
The X-wing features an opening cockpit with room for one minifigure, space for R2-D2, wings that can be switched to attack position, retractable landing gear and 2 spring-loaded shooters. The set also includes Luke Skywalker, Princess Leia and General Dodonna LEGO minifigures. With General Dodonna being the pick of of the bunch to perfectly recreate famous scenes from Star Wars: A New Hope.
Year: 2021
Piece Count: 474
Ages: 9+
Minifigures: Luke Skywalker, Princess Leia, General Dodonna, R2-D2
Original Retail Price: $49.99
Final Summary
We have finished this detailed review of all the X-wing LEGO sets and it is time to hand out the awards and make our recommendations. The Red Five X-wing Starfighter 10240 hands down wins the award for most detailed with 1559 pieces and the colour issue being resolved from the previous UCS set. This is a must for serious collectors and any AFOL (Adult Fan of LEGO), however, I would not recommend it for young children.
The mini-figure award goes out to the X-wing Fighter 4502 depicting Luke's crash on Dagobah. This set includes the unique Luke Skywalker mini-figure in his Dagobah Jedi training uniform.
Finally, the best set for a young Star Wars fan is the Resistance X-wing Starfighter 75149. This model has all the sharp looks and cool features of the most recent LEGO sets with recognisable and fun characters from the new Star Wars movies.
What's your opinion? Let us know in the comments.