The All Terrain Armored Transport (commonly known as the AT-AT Walker) was the largest and most heavily armored ground vehicle in the Imperial military. We saw them in the Original Trilogy (Battle of Hoth & briefly in Return of the Jedi), in Rogue One, and most commonly in the animated series Rebels.
Without a doubt, this combat walker remains a fan-favorite to many who cherish the Original Trilogy to this day. This is what also made it so popular in the LEGO Community. Our task today is to compare all the LEGO AT-AT versions we received throughout the years and see which one is the Best LEGO AT-AT Walker.
4483 AT-AT
The first-ever appearance of the AT-AT walker in the form of LEGO was released in 2003. Compared to some of the newer versions, it has a much more authentic look to the real vehicle in Empire Strikes Back.
In fact, it remains as one of the most wanted sets by collectors in present days. Unfortunately, nowadays, it is extremely rare and the price point is times higher than the original retail price of $99.99.
In terms of the build, it is not as boring as you would expect having the four identical legs. Unfortunately, it is not as sturdy as I wish it could be. During the build, some sections fall apart when you attach them to the base.
The final product will not come apart unless you are really careless but the designers could have done a better job nevertheless.
Year: 2003
Piece Count: 1064
Ages: 14+
Minifigures: Luke Skywalker, Snowtrooper x2, AT-AT Pilot
Original Retail Price: $99.99
Appears In: Episode V: Empire Strikes Back
10178 Motorized Walking AT-AT
When this set came out, it took some time for it to be appreciated by the LEGO Community. However, two years later, in 2009, it suddenly became so popular that LEGO could not handle the backorders.
For this set to be motorized, it meant a few positive and negative features. Of course, you got one of the most iconic Imperial vehicles in a motorized version. However, this feature meant a much less detailed exterior.
For this particular reason, I would not recommend this set to collectors who look for a display piece. I would rather suggest getting the older version or one of the next ones.
The easiest way to describe this motorized version is a Technic set in an AT-AT shell. The build itself is impressive and fun but the final set is nothing special. The movement of the legs is also not the same as in the movies having that it moves with two legs at a time.
Honestly, you would have to spend a fortune to acquire this set today. If once it was just above $100, today you will hardly find a new one for under $500 or more.
Year: 2007
Piece Count: 1137
Ages: 14+
Minifigures: Luke Skywalker, AT-AT Pilot, General Veers, Snowtrooper
Original Retail Price: $129.99
Appears In: Episode V: Empire Strikes Back

8129 AT-AT Walker
Shortly after the motorized AT-AT Walker set from 2007 was retired in 2010, the LEGO community received a new regular version. It came cheaper than the previous model which is always rare for a re-designed set but it also has around 200 fewer parts. Compared to the original 2003 version, it does not stand even close in terms of authenticity.
This set, however, has one or two positive features that we have to mention. The first one is the minifigure selection. Compared to the previous two versions which had 4 minifigures each, here there were 8 including C-3PO, Han Solo, and the less common General Veers.
The second positive feature of this set was the movement capabilities. Unlike the previous two models, you could bend the legs in various different angles and also swing the head around. Although these features were present, it was still quite troublesome to change the posses without breaking it.
Overall, this was a good set which received a fair amount of criticism for its price. After all, you got 200 less pieces for just about the same price. It did have a decent minifigure selection which apparently was not good enough for the LEGO community.
Year: 2010
Piece Count: 815
Ages: 9 – 14
Minifigures: C-3PO, Hoth Rebel Trooper, Luke Skywalker, Han Solo, Snowtrooper x2, AT-AT Pilot, General Veers
Original Retail Price: $109.99
Appears In: Episode V: Empire Strikes Back

75054 AT-AT
This particular LEGO version of the AT-AT walker came out in 2014 and has a couple of distinctive characteristics that separate it from the previous models. First of all, this version is smaller than the previous ones although it has a much higher piece count than the 2010 version, for example. Honestly, it could have been made bigger and that would have made fans more satisfied.
The second thing that makes this version better is how robust and sturdy it is compared to the old ones. Each one of the previous ones was troublesome and required extra attention during the build and play-time afterward.
Overall, the build itself is impressively diverse for a set with identical sections. It also has a great design despite not being really accurate. Honestly, when you take out the smaller size and the less diverse minifigure selection, I would definitely recommend this set more than the previous version.
If it had at least one or two Rebel characters included, it would have made this set a 10/10.
Year: 2014
Piece Count: 1137
Ages: 9 – 14
Minifigures: General Veers, AT-AT Pilot, Snowtrooper x2, Snowtrooper Commander
Original Retail Price: $109.99
Appears In: Episode V: Empire Strikes Back

75189 First Order Heavy Assault Walker
Although this walker is from the First Order military, we know that the majority of their military vehicles have similar designs to the old Imperial vehicles. The Heavy Assault Walker, for example, is an updated version of the old AT-AT Walker.
With a higher piece count and the additional inflation of prices we see nowadays, this set came at a significantly higher price point than that of the 2014 AT-AT Walker although the sizes are pretty much the same. In terms of minifigures, I would say the selection is great but not large enough. Expensive sets of this magnitude should include more characters.
The design itself is not as good as it should be. I think it looks rather crude and unfinished with all the large gaps between the panels and sections. The dark grey coloring, however, really suits this vehicle and I wish I could see the old Imperial AT-AT in this color as well.
One of the most significant differences in the Heavy Assault Walker is the position of the legs. The front legs here are attached at a higher point and also provide fewer movement capabilities.
Overall, the price point of this set is what made people neglect it. For the same price, people had the option to get the 75190 First Order Star Destroyer which was a significantly better set in all categories.
It does look good as a display piece and possesses quite a few playability features. The design, however, is honestly not good enough and could have been significantly improved.
Year: 2017
Piece Count: 1376
Ages: 7 – 12
Minifigures: Rey, Captain Poe Dameron, Resistance Trooper, First Order Walker Driver, First Order Stormtrooper
Original Retail Price: $149.99
Appears In: Episode VIII: The Last Jedi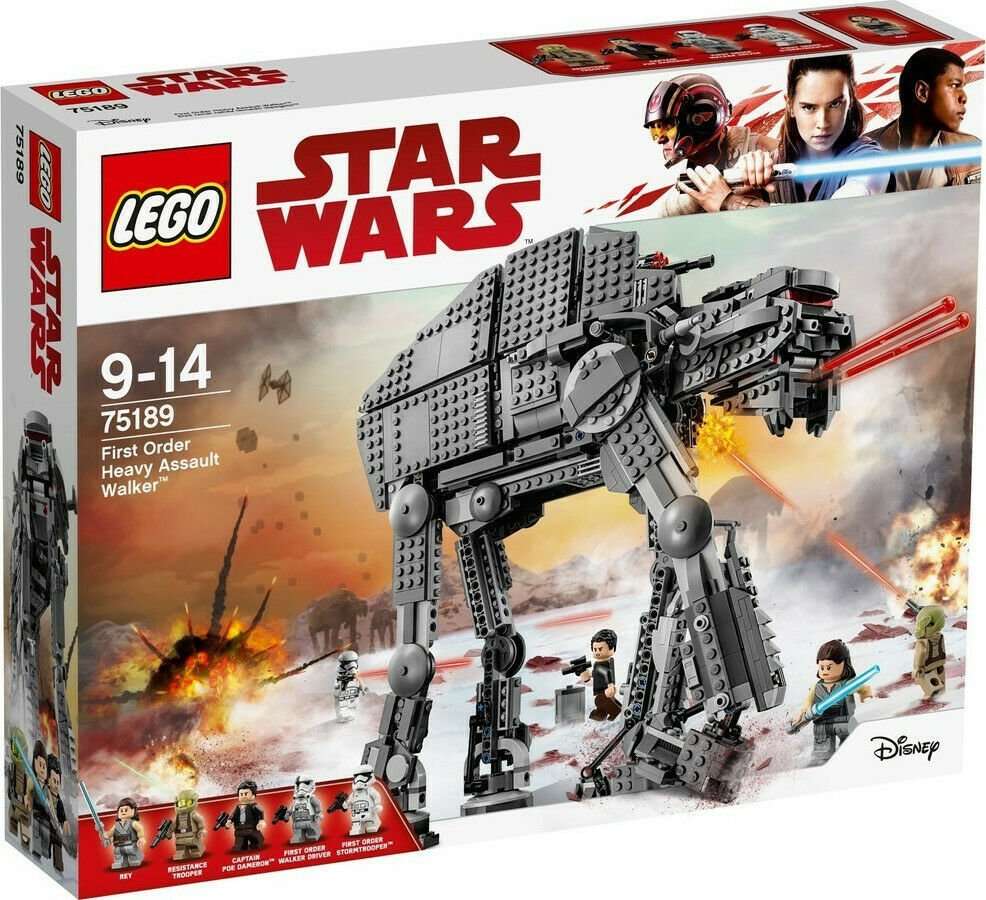 75288 AT-AT
New for Summer 2020 LEGO has revealed an updated LEGO Star Wars AT-AT which looks to be much bigger than previous sets. Commemorating the 40th Anniversary of Star Wars: The Empire Strikes Back the set comes in at a whopping 1267 pieces. Included are 6 Minifigures included the popular character General Veers.
The set looks a little different from previous models in that is seems a little taller, although to be honest I believe this makes the AT-AT more screen accurate. It has some cool play features including a Speeder Bike which fits nicely into the back of the AT-AT, plus a very cool mechanism to pull Luke Skywalker up to recreate the scene where he blows up the AT-AT with an explosive device. The set is expected to be available in August for around £150/$150.
Year: 2020
Piece Count: 1267
Ages: 10+
Minifigures: Luke Skywalker, General Veers, 2 x AT-AT Driver, 2 x Snowtroopers
Original Retail Price: $149.99
Appears In: Episode V: The Empire Strikes Back
75313 UCS AT-AT
On 9th November 2021 LEGO revealed their next instalment into the Star Wars Ultimate Collector Series in the form of a giant AT-AT (All Terrain Armored Transport). The set has a total of 6,785 pieces which firmly puts it very near the top of the biggest LEGO set list.
Most UCS sets tend to be made for display with very few play features. This is far from just a display piece. Almost every panel is removable, revealing a highly detailed interior with many play features.
Include inside are 2 Speeder Bikes, seating for 40 troopers, not to mention the cockpit which has enough space for two drivers and General Veers.
The legs have specifically designed in such a way that they require a buildable LEGO tool which when used articulates the legs in to different positions.
The chin guns move, the head articulates with the use of the lever in the back section, plus there is also a tiny hatch underneath where Luke throws in the detonator.
All in all a brilliant set that is by far the best LEGO AT-AT to date!
Year: 2021
Piece Count: 9785
Ages: 18+
Minifigures: General Veers, Luke Skywalker, 2 x AT-AT Drivers, 4 X Snowtrooper, Snowtrooper Commander
Original Retail Price: $799.99
Theme: Star Wars
Final Thoughts
When you take things into consideration, it could be troublesome to choose one that could be named the best. If you want an AT-AT that is accurate to the movie version, you should buy the UCS AT-AT.
If you want a fairly nice design and a great minifigure selection, then the 2010 version is the best choice for you. However, if you are looking for a great design which is robust and will not break when you move it around, then the 2014 version is the perfect choice. Also, it will be the cheapest option out of all today.
Overall, I think that every LEGO Star Wars fan should have an AT-AT in their collection. Whichever you choose, you will acquire an amazing display piece. With this said, which one would you choose for yourself?